In kindergarten and first grade, I attended a small, rural school, and one of my only memories from that time was birthdays.
In kindergarten, you knew when it was a special day when the teacher retrieved a special jar from the high cabinet and opened the lid.  The euphoric smell of freshly manufactured rubber filled their air as she dipped her hand into the jar and produced a single, fresh bouncy ball and bestowed it on the lucky birthday child.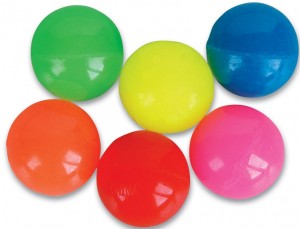 I waited with great anticipation for my bouncy ball.  When was my birthday going to be?  What color ball would I choose?  Would everyone sing extra-loudly for me?
Then we had the unit on learning your birthday and I was crushed to find out that I wouldn't be in school for my birthday!  I had a summer birthday!
Rats!
The world came crashing down.  What was I going to do?  Were my chances of cradling that sweet rubber  ball on my birthday gone?  Just because I had a summer birthday?
For the first time I felt the stinging pangs of birthday discrimination.
Then, the last week of school, a miracle!  Our teacher gave out bouncy balls to all the summer birthday kids!  I still felt shortchanged, though, because I had to share my special moment with 3 other kids who also had summer birthdays.  Arg!
In first grade, the story was different.  Now that I was attending school for the full day, I was introduced to the phenomenon of school lunch, and quickly found out that birthdays for first graders were infinitely more cool than in Kindergarten — because you got a cupcake!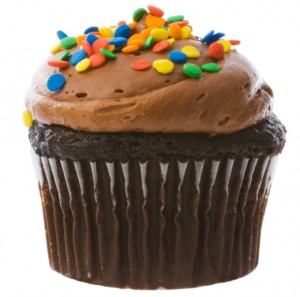 (This gives you an idea how small the school was, that the lunch ladies knew everyone's birthday and make cupcakes for each birthday in the whole school.)
I was first introduced to this cupcake phenomenon (and the accompanying covetous feelings) when my brother (just a grade older than me) had his November birthday.  There it sat, the beautiful, fresh, handmade chocolate cupcake with a single candle standing erect in the middle.  I'm not sure if we sang, but for this story's sake – we sang.  Ben blew out the candle.  The children cheered, and life was grand.
I wanted a cupcake really badly.
Then I realized, my June birthday might preclude me from having a birthday cupcake!!
Panic!
I wondered outloud, "would they give cupcakes to all the summer birthdays during the last week of school?"  "Would I get my chocolatey moment in the spotlight?"  "Would I be the envy of children around the lunchroom?"  "How could they in good conscience give chocolate cupcakes to only some of the children?"
Heartbreak.
The answer came in a resounding – NO!  No cupcakes for summer birthday kids.
I was devastated.  (Kid devastated – lasts for about five minutes, until you blog about it 23 years later.)
So this post is dedicated to all those kids with summer birthdays out there.  May your birthday never be forgotten by your singing school peers, bouncy ball giving teachers, and cupcake making lunch ladies!