This month seems to have been the month for plumbing mishaps.  First, I finally got fed up with the valves under my sink which had been leaking on and off for months.  After tightening and band-aiding the system for far too long, I decided it was time to just replace the fittings.  As I tore into the project, I realized that the plumber didn't even use standard brass compression fittings to put the valve on.  He used some kind of crappy aluminum/plastic combo compression fitting.  On one of the sides, the plastic had basically disintegrated.  Three hours, one trip to Lowes, and plenty of muttered obscenities later, the sink was back in good order.
The good news was, I had my helper – who crawled over on his own volition to see what daddy was doing: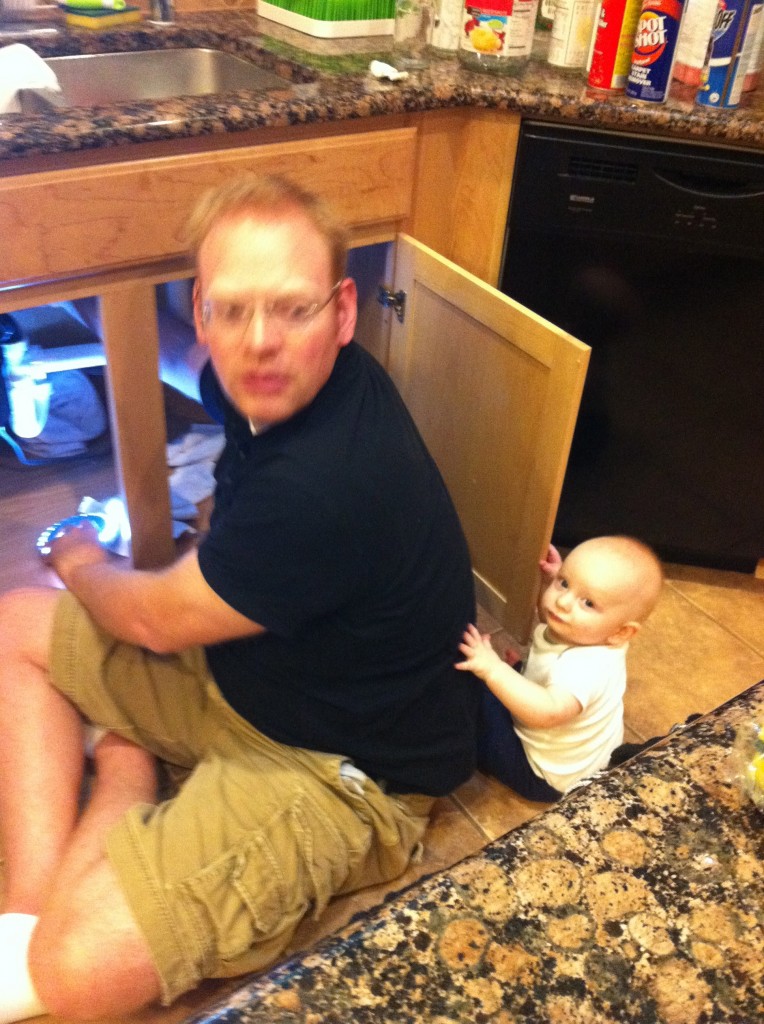 This morning, I woke up and smelled a faint smell of gas.  After poking my nose around, I found the source – the pipe next to the oven.  This same pipe had a leak about 4 years ago when I had overnight company visiting from my home town.  (It's always heartening to company to walk into a house with a gas leak in it and know they are staying the night.)  Thankfully, the gas company has people on call 24/7 for fixing such issues – and they were called.  Now, the same spot is leaking again.  Argh!
I'm convinced that whatever crackpot plumber they got to plumb this house when it was built was high on PCP or something.  *Sigh*  The joys of home ownership!