My latest Outlandish Wants are kind of lame.  I mean, I started big.  I started with a Tesla Model S, a product that represents the newest technology available, and costs a LOT of money.  Heck, the product isn't even released yet.  If I had as much money as Elon Musk, I still couldn't get a Model S.
As you can tell by this post, my outlandish wants have gotten a lot more tame and (shiver) domestic.
I'm going to start with my friend, the Onkyo TX-508.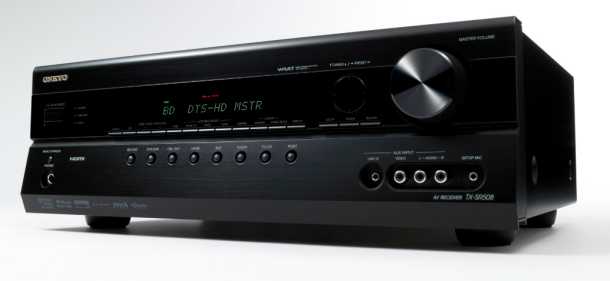 This is one of Onkyo's newest home theater audio and video receivers.
What is a receiver?  Put simply, it's the part of the home theater that is responsible for processing the sound, but in recent years it's also started processing the video signals as well.  Receivers have gotten very complex, especially with all of the surround sound capabilities and video technologies that are out in the marketplace.  My current Onkyo reciever is great; I got it refurbished for a really good price, it puts out nice sound, and has a lot of power.  Sadly, it doesn't process video.  The end result and annoyance of this is that you have to use 3 different remotes to change devices on our home theater.  That's a lot of buttons.  My wife still refuses to learn how to do it.
So… I'd like to consolidate some of the functions of those remotes, and getting this receiver will make switching between TV, Movies, PS3 (not mine, my brother's) and other devices very easy, effectively eliminating one of the remotes to our system.
It's not the flashiest new model.  It's not top of the line (Tio), but it does everything I need it to do.
MSRP: $399.  Amazon.com: $269.73.  (I only need to scrounge $200 more into the TSF (technology slush fund) before I can justify this one.)
Item #2 is pretty embarrassing, but here goes…
I want a Dyson Vacuum.  These puppies suck!
See, at the WhiteEyebrows household, my wife typically makes me choose between cleaning the shower or cleaning the toilets.  I choose toilets.  She also makes me choose between vacuuming and mopping.  I choose vacuuming.
In my vacuuming escapades, my dissatisfaction has been growing with my Bissel Whirlwind vacuum.  On an empty canister with a relatively clean filter, it loses suction after about 1 full room.  It's very annoying.  Cleaning the filter and emptying the bin usually makes me sneeze and spill dust right back onto the floor or into the air.  I need a better solution.
I give you, the Dyson DC25.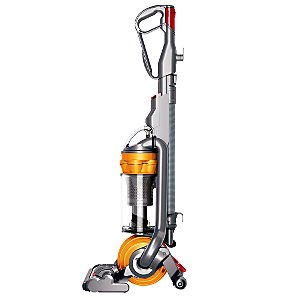 It's a high capacity vacuum.  It never loses suction, has no filters that require cleaning, and has a canister that is easily emptied.  Everyone I know who has a Dyson loves their Dyson, but for $500 they'd better love their Dyson!!  I could spend less for a fully functioning computer or airfare to an exotic island (two things I value a lot more than completely clean carpet).
But my dissatisfaction with Mr Bissell has brought me to the brink of purchasing this radically overpriced sucker!  The Bissell has lasted me 5 years.  I'm sure I could find a new home for my old, semi-working Bissell.  What is a man with expensive tastes to do?
MSRP: $599  BestBuy.com (Refurbished): $357.05.
Truth be told, Mrs Brows has already approved the purchase of the Dyson – I just can't yet bring myself to pull the trigger.
Convince me, please.