This week has been pledge week on my local NPR (National Public Radio) affiliate. For those purist capitalists among you, NPR is the radio version of PBS which is Public Television/Radio. These don't believe in advertising, instead they use government, corporate, and public funds to pay for their programming. What this equates to is LONG, BORING, FREQUENT pledge drives where talking heads yammer on about supporting your public station, etc, etc, etc.
I hate beg week.
Don't get me wrong, I am all for public broadcasting and less advertising. I love watching a show on PBS and not having to suffer or fast forward through the commercials. That is BRILLIANT! But is interrupting every 15 minutes to beg for donations for 20 minutes. Isn't there ANY better way to get money? What about the internet? What about bank robbery? Man… just stop begging me for money.
One of my favorite quotes about public television was on an episode of The West Wing. Toby is defending a spending bill on public television to some congress members visiting the White House in this spirited exchange:
"There's one other thing: product licensing for Big Bird dolls and Fuzzy Bear toys?"

"That's Fozzie Bear," Toby notes.

"Whatever."

"It's Fozzie Bear, not Fuzzy Bear."

Sidekick-Boy says that twenty million dollars a year in licensing fees are paid to the Children's Television Workshop, and none goes to PBS. He adds, "This is a company whose chief executive earns high six figures in salary and benefits per year, yet Sesame Street is subsidized by taxpayer dollars."

Toby says that this is perfectly reasonable complaint. Well, part of it is.

Toby continues, "And I don't care. We're going to see to all those things. In the meantime, at a time when the public is rightly concerned about the impact of sex and violence on TV, this administration is going to protect the Muppets, we're gonna protect Wall Street Week, we're gonna protect Live from Lincoln Center, and by God, we are gonna protect Julia Child."
The West Wing (one of my favorite shows, btw) has quite the history with PBS and The Children's Television Workshop. After all, this is the TV I was raised on, so you can imagine my delight when Big Bird (and that annoying next generation character Elmo) had a cameo appearance with CJ Cregg (played by Allison Janney, a notably TALL actor)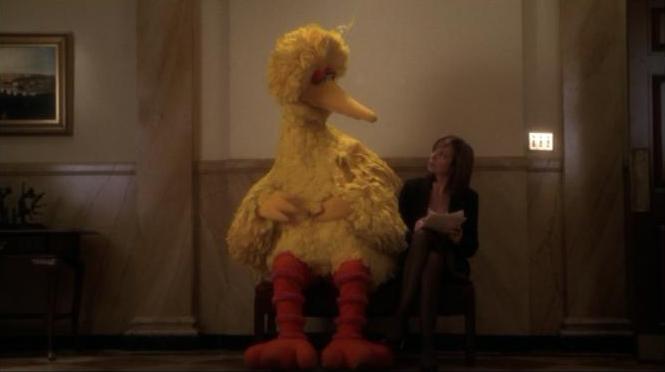 How can a true red blooded American not want to support Big Bird? I mean honestly! We all want to support public television. But few of us actually do. And why is that? Because they are just so freaking annoying about it.
So STOP the BEG DRIVES EVERY 3 MONTHS for public broadcasting!!! It is super annoying. Maybe if you'd back off, I would actually consider donating.