Day six was our second day in Florence, and the mid point of our trip.  How did I know it was the mid point?  It was time to do LAUNDRY!
We slept in again during the morning, then got up to eat breakfast and get ready for the day.  Since we hadn't gotten a reservation for anywhere to stay in the Cinque Terre (our next stop), we also spent the morning online and calling around to various places we might stay when we left Florence.  Sadly, all we could find was a hotel suite that was about twice what we were hoping to pay.  *Sigh* oh well.  Lesson learned.  We should have booked in advance.
We then went out to do our laundry at the "WashNDry".  It was a lot cheaper than sending our clothes out to be washed, and didn't take long at all.
After we got done, it was time for lunch, so we found some panini shop and ate our lunch while it started sprinkling outside.  Boo for the rain!
Afterward, we decided to wander around a bit more.  We found Michelangelo's home, wandered around a few more piazzas and cathedrals, then stood in line at the Uffizi Gallery and then gave up on that line in pretty short order.  I hope we didn't miss anything too great in the Uffizi!  (I guess that's just one excuse to go back some day!)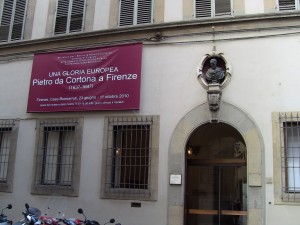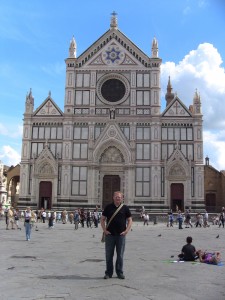 We went over the river again to see the Palazzo Piti, one of the largest, most imposing palazzos in Florence.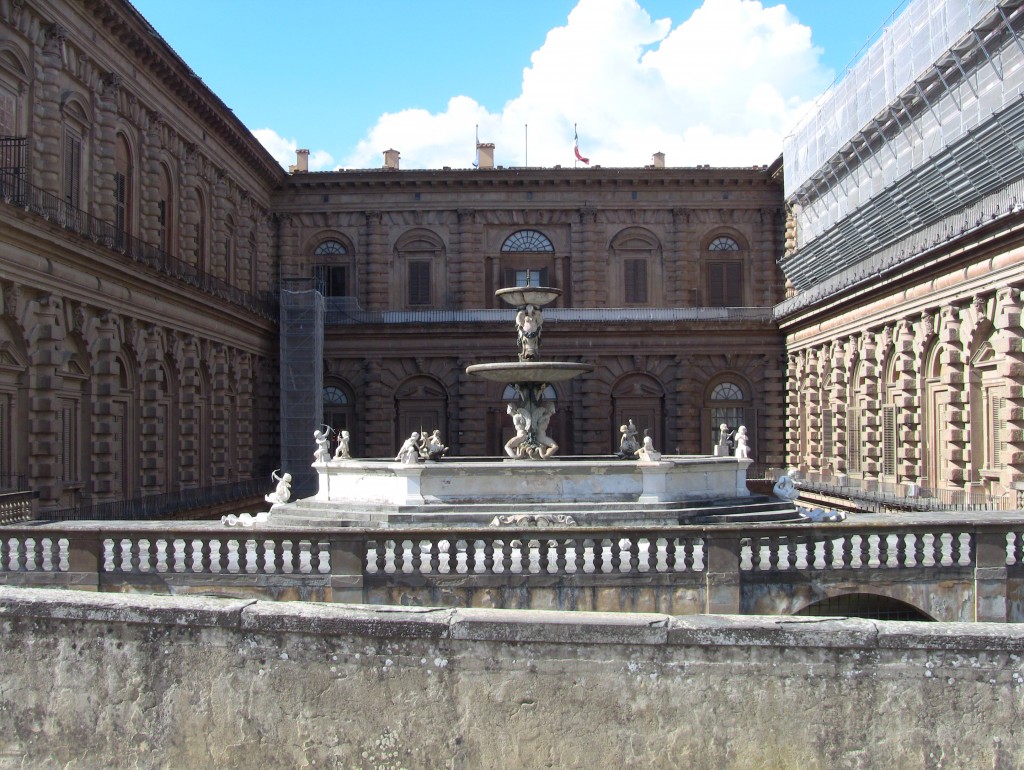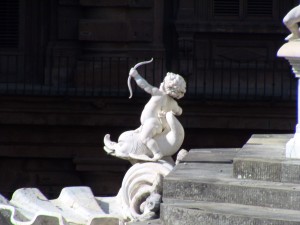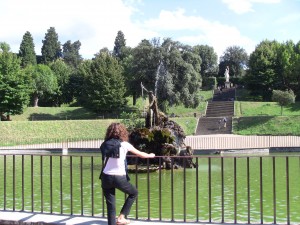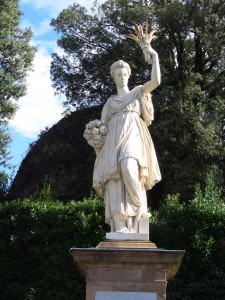 When you buy your tickets, you have to choose between tour "A" or tour "B" – not knowing which tour would be cooler, we just flipped a coin and chose B.
Mistake.
Tour B was mostly the gardens, which ended up being mountain climbing.  It was at least 100 yards straight up from the palazzo to get to the top of the gardens, where they kept – wait for it – the fine china.  For reals!  I guess the servants had to scale up and down the hill to get the china out of the dish room for the fancy dinners they were to have.  🙂
The gardens were beautiful and they did have a nice view of Florence…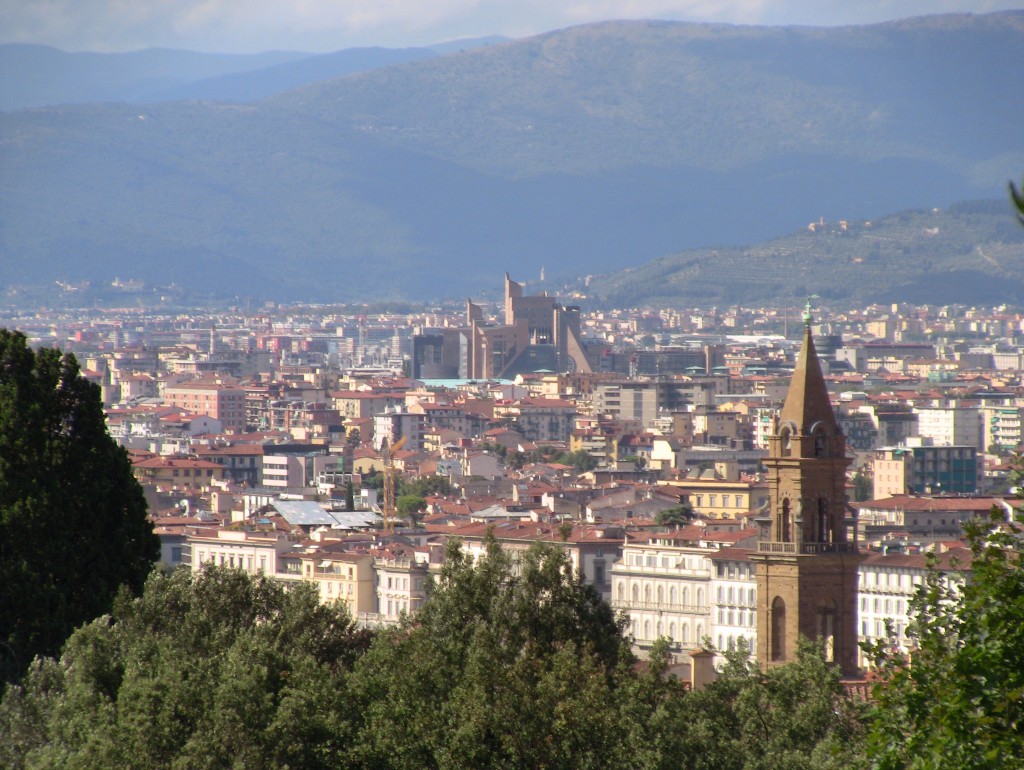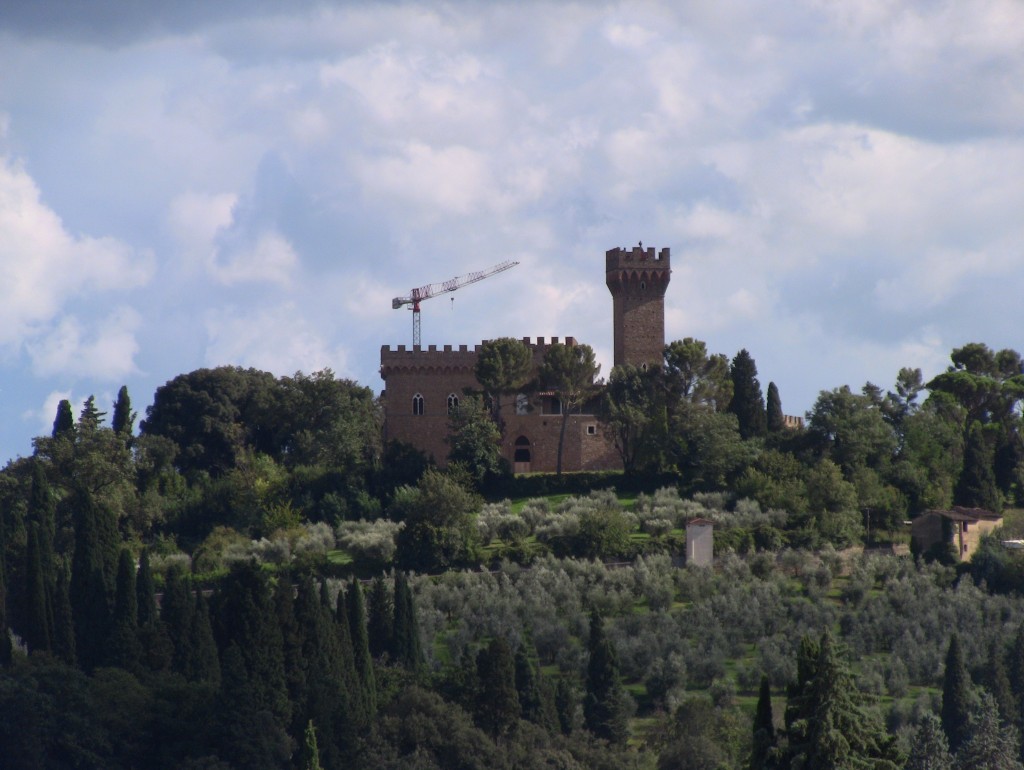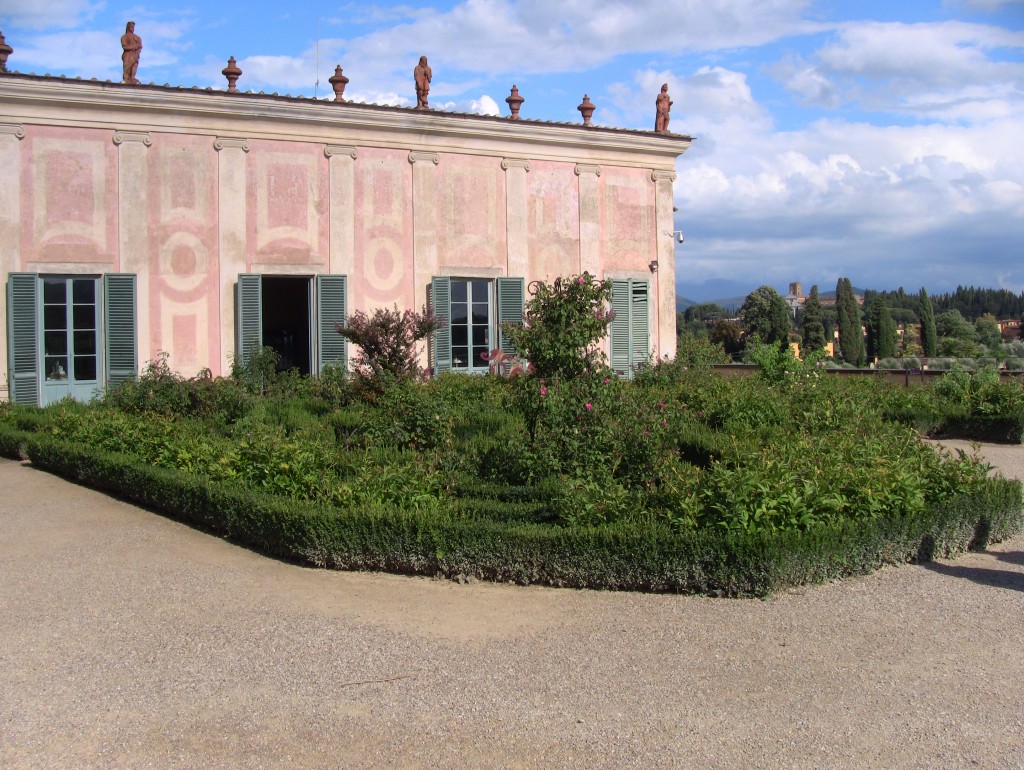 On our way down the hill back toward the Palazzo, we discovered something very curious…
an unused pedestal!  Perfect!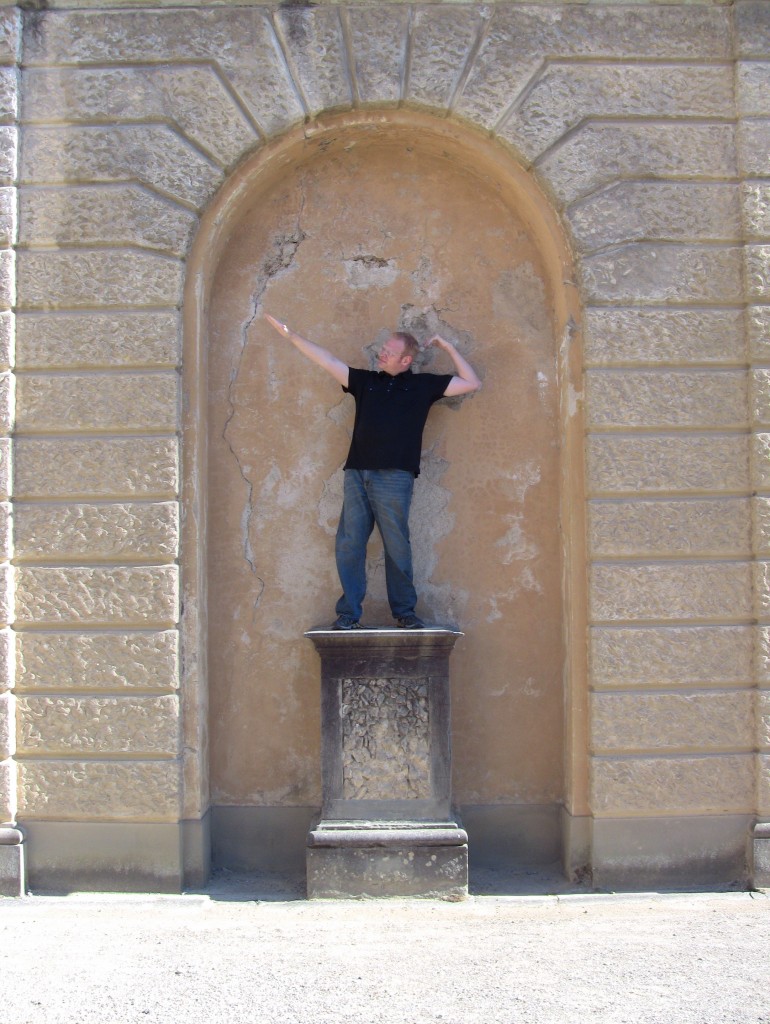 So, I'm not exactly the David, but not terrible looking either, right?!
After our little hike, we did a lot of shopping, looking at the European trends in retail and comparing and contrasting the stuff they carry at JCPenney.  There were a lot of really swanky retail shops in Florence.  We walked through the leather-making district, but didn't look at much leather.
Then, after a pizza and salad dinner, and as darkness set over the town, we happened back into the piazza where Palazzo Vecchio is located, and saw a band setting up for an evening concert in front of the palazzo.  We nestled in among the crowd gathering on the covered, terraced steps near the statues of the Palazzo Vecchio, and listened to the first few numbers the band played.  I had visions of some romantic, symphonic numbers, but instead they played a series of marches.  I felt like John Phillip Souza was leading the band.
Oh well, back to the B&B we went.  Day 6, done!