OK. I'm kind of upset today. The blog had a lot less readership this week. I'm not sure what's going on out there in America, but my numbers are WAY down – across the board. Fewer comments, fewer visits, fewer love.
And don't ask me how the statistics measure love, they just do.
I know they done turned this recession thing on. Are you sad because of that? Or is it simply because Brittany is having another custody battle?
So. Today I'm pulling out all the stops for you to read and comment on this blog:
First let me start by taunting you… THBBBTHBBBBT
Now this highly controversial photo of a monkey: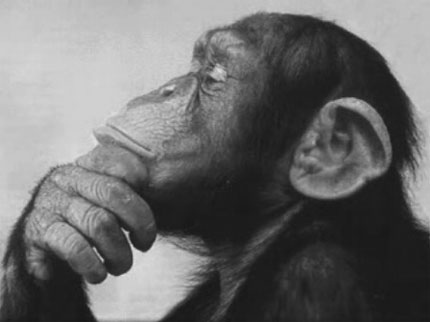 And now a few political buzzwords:
timetable
cut and run
climate change
surge
not on my watch
evolution vs intelligent design
And to top it all off, some politically incorrect terms:
illegal alien
oriental
white trash
Now if you aren't incensed enough to comment on this post… well you are just passed feeling!
Let me also say that this is blog number 126. I'd like to thank all those who got me to this point, including Hillary, Bill, and Bono.