If you have seen Fox's Glee at least once, I suspect that I am the person that might have popped into your head as your friend-most-likely-to-be-watching-and-enjoying-this-show-regularly.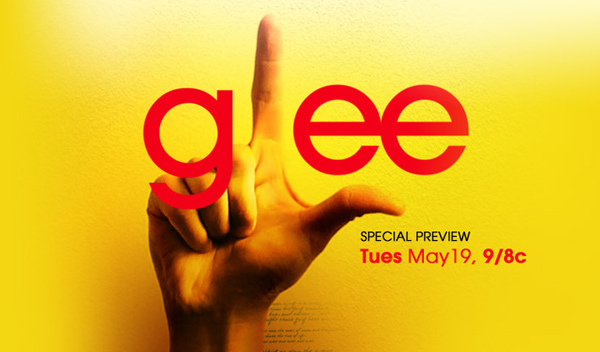 You would be right.
Let me tell you, though, Glee and I have a strange, love/hate relationship:
Love: The music.  The mixing is fantastic, the arrangements are (on the whole) really good.  It's fresh and catchy and downloadable.
Hate: The promotion of the stereotypes.  This reinforces the concept that queens, freaks, misfits, and homosexuals are the only ones who belong in a high school choir or drama program.  This just isn't the case.  I know a lot of normal, heterosexual people who enjoyed drama and choir in high school.  They also ran track or played basketball or did cross country.  Yes, there were some like me who insisted on doing choir, drama and band – and yes we're the ones responsible for the stereotypes seen on this show – but I just want Choir or Drama to be cool enough where it's not such a big deal if a football player, like Finn, can also be in the choir.  It's not outside of the realm of possibility.  After all, very few high school football players actually ever amount to anything anyways go on to college or professional football.
Love:  Sue Sylvester!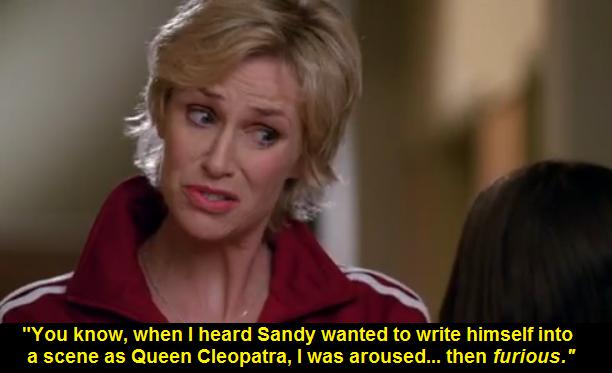 This is quite possibly the best character to hit the small screen in recent memory.  She is dirty and clean.  Sinister and righteous.  Holy and evil.  She is right and she knows it.  She is up even when she's down.  She isn't afraid to kill to get what she wants, but can do it with a smug smile and wink.  I love love love Sue Sylvester.  It is absolutely worth suffering through the campy parts of Glee just to see her grace the screen.
A few of her best quotes:
This is what we call a total disaster, ladies. I'm going to have to ask you to smell your arm pits… That's the smell of failure. And it's stinking up my office!

You think this is hard? Try being waterboarded, that's hard!

It is my strong suggestion these two students be hobbled.

Let me be the one to break the silence. That was the most offensive thing I have seen in 20 years of teaching and that includes an elementary school production of "Hair."

I'll often yell at homeless people: 'Hey, how is that homelessness working out for you? Try not being homeless for once.

Schuester! Yeah? I'll need to see that set list for Sectionals after all, and I want it on my desk, warm from the laminator at 5:00 p.m. And if it is one minute late, I will go to the animal shelter and get you a kitty cat. I will let you fall in love with that kitty cat, and then, on some dark, cold night, I will steal away into your home and punch you in the face.

I have reasonable confidence that you will be adding revenge to the list of things you're no good at — right next to having a marriage; running a glee club; and finding a hairstyle that doesn't make you look like a lesbian.

Never let anything distract you from winning. Ever.
In case you didn't hear me laughing my butt off all through those quotes, let me make it perfectly clear: WhiteEyebrows seriously hearts Sue Sylvester!
Hate: The writing.  Well, more specifically I hated the way the writers completely threw away all the conflict and suspense they had built through the whole first season.  Any conflict that can be resolved with one scene, or worse, a few lines of dialogue wasn't done right.  They had the chance to make something of Will's divorce, Quin's pregnancy, Sue's Cheerios, Will's job, the wedding – but too quickly wrapped everything up in a nice little bow in under 1/2 an episode.  It just didn't have the proportional wind-down that justified the season long wind-up.
Bottom line:  I'll probably get sucked into season 2 of this mess.  Sorry everyone, I'm now outed as a Glee fan.  But this doesn't in anyway change our friendship, right?