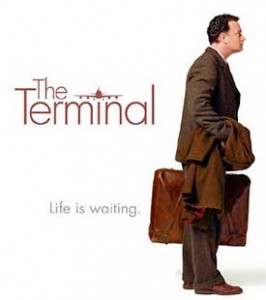 I love airports. They are exciting.  Everyone is either going somewhere or coming back from somewhere.  There is movement.  There is anticipation.
Then there's also exhaustion… lots and lots of exhaustion.
I've often wondered why some business travelers insist on wearing suits and ties onto the airplane.  My brother-in-law informs me that this is because they're always worried about who they might meet, and want to look professional.  I think they are plain nuts!  Especially if they are flying coach with we common folk.
So while at the airport today, I noticed a man standing outside of security drinking a gallon of distilled water, as if there was no water on the other side of security – or maybe even no water where he is going. He has a clearly coordinated fashion theme: red baseball cap, backpack with red highlights, red strap around his grayish black hardcase luggage, and carrying a plastic shopping bag which is a similar shade of red. How one man gets so many red accents in one place is beyond my comprehension. And there he stands, drinking and drinking his gallon of distilled water.
One man, clearly double the age of the woman walking next to him, says a long passionate goodbye at the security entrance. She then walks off, revealing her short jean shorts which do not hide her cottage cheese legs. Clearly not the right choice of bottoms this morning, ma'am…
Then, I went to the restroom and noticed I have a DOT candy melted onto my shoulder. Exactly how it got there, I'm not really sure.  The only time I recall having interacted with a DOT candy was yesterday (Saturday) at aproximately 1:37pm, when I instructed one of my nieces to spit it out if it didn't taste good.
Then my flight was cancelled… looks like i'm not coming home today after all.  This calls for a large frowny face… 🙁
But look at the bright side – tomorrow I get to go to the airport again!