As day 8 dawned, we were extremely excited to get exploring the Cinque Terre. This turned out to be one of the most amazing parts of our trip, and here's why…
We took the train from La Spezia to the first of the 5 terre, Riomagiorre. Riomagiorre is one of the more overlooked and walked-through cities in the 5 terre, and that's basically what we did there as well – overlooked and walked-through. The first and most popular hike of the Cinque Terre starts in Riomagiorre and goes to the next town, Manarola. It is called the Villa dell'Amore. (Walk of Love)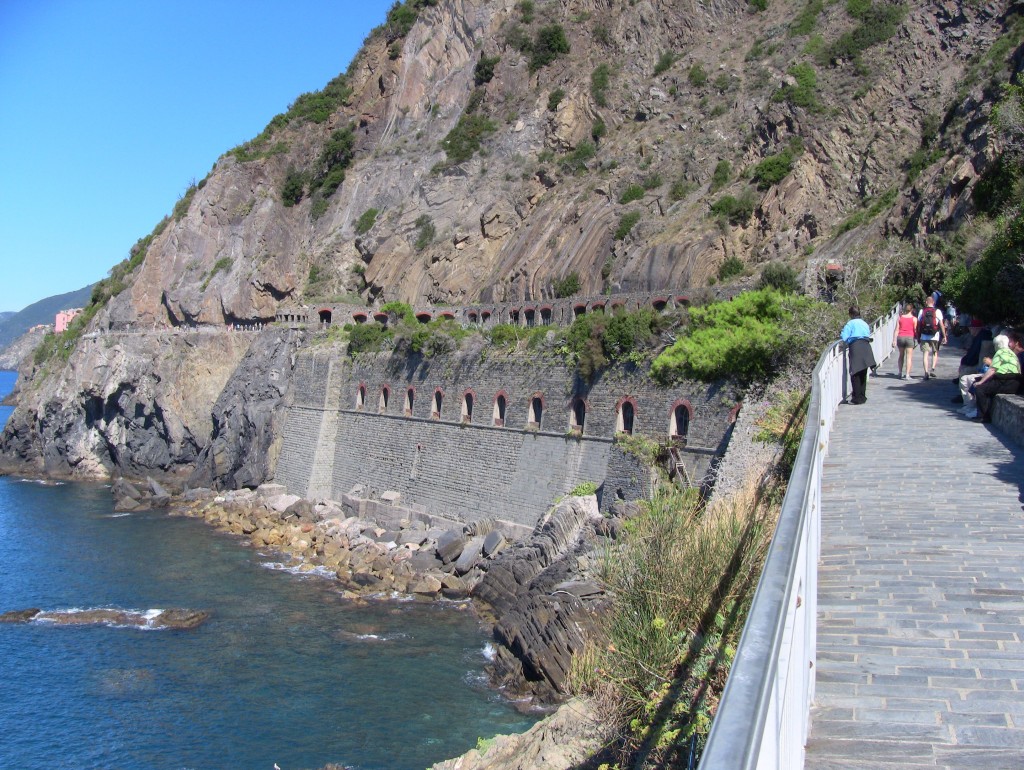 This pathway is easy enough for any senior citizen who can still walk. There are only a few steps here or there, and it's well paved, wide, and relatively level. The views of the blue Mediterranean are stunning, though you aren't really high enough on the cliff to enjoy the coast of the 5 terre as you will be on other trails.
One thing you do start noticing along the way are the beautiful terraced vineyards that grace the hillsides.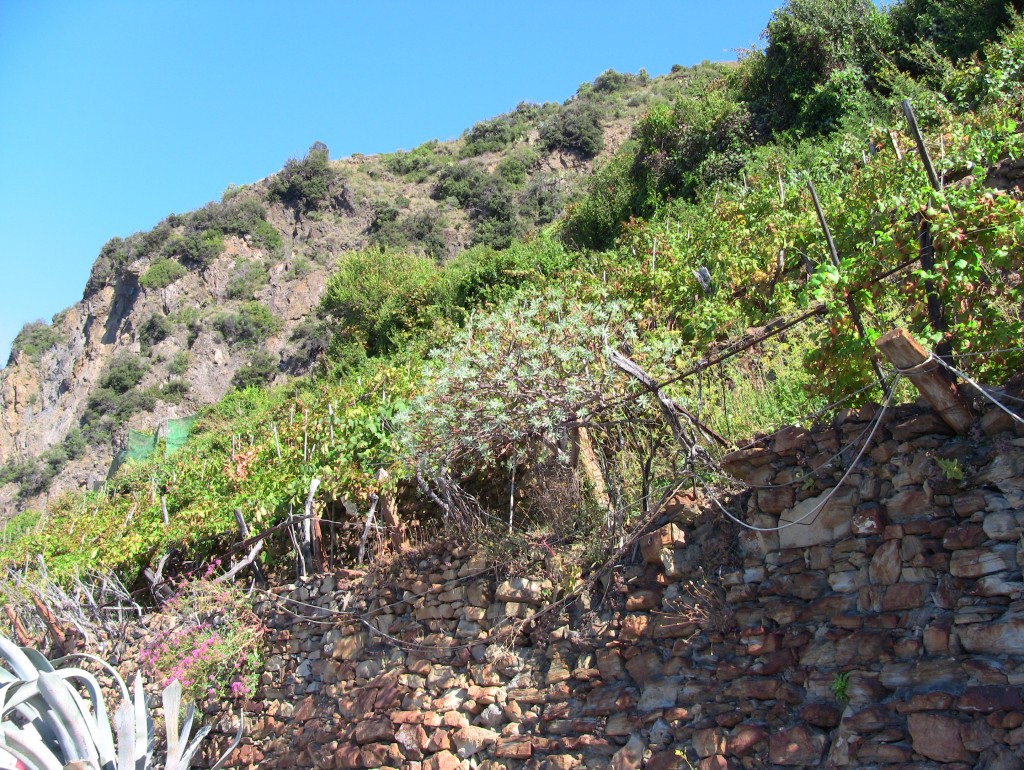 Before the 5 terre were tourist attractions, these vineyards were the largest source of income for the area. There wasn't much over-land commerce, it was only by sea.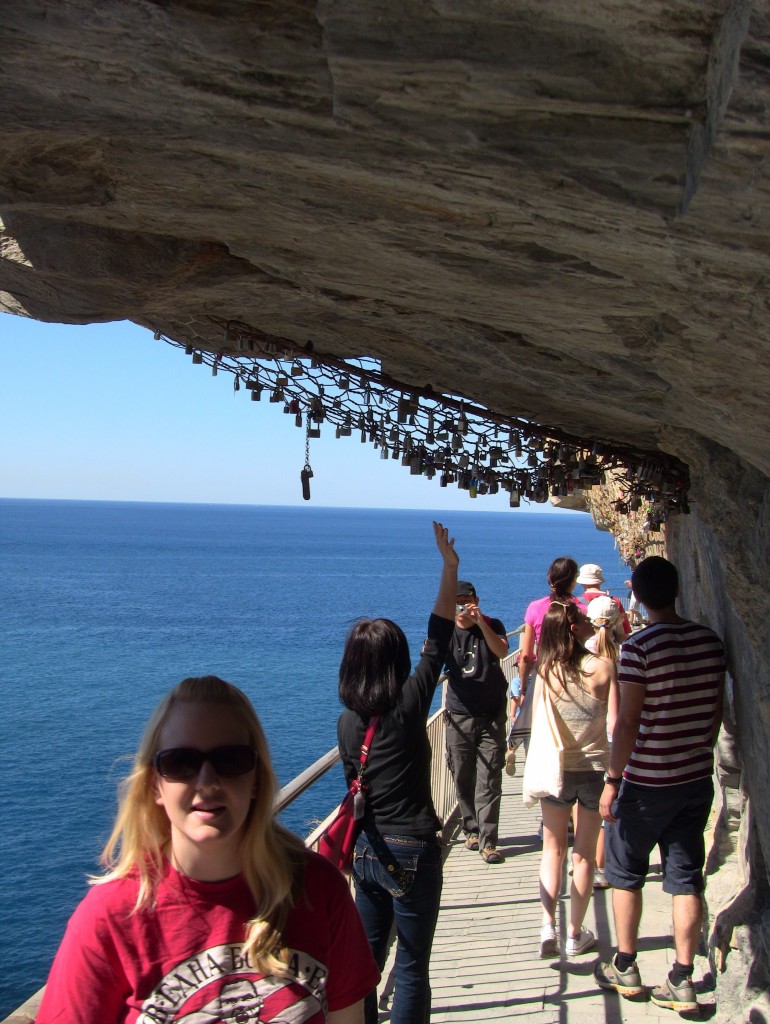 All along the Villa dell'Amore are places where people have attached locks decorated with their names and dates. We wish we would have known that so we could bring one to leave along the trail. Also, toward the midpoint, we enjoyed sitting on this famous kissing bench that overlooks the Mediterranean.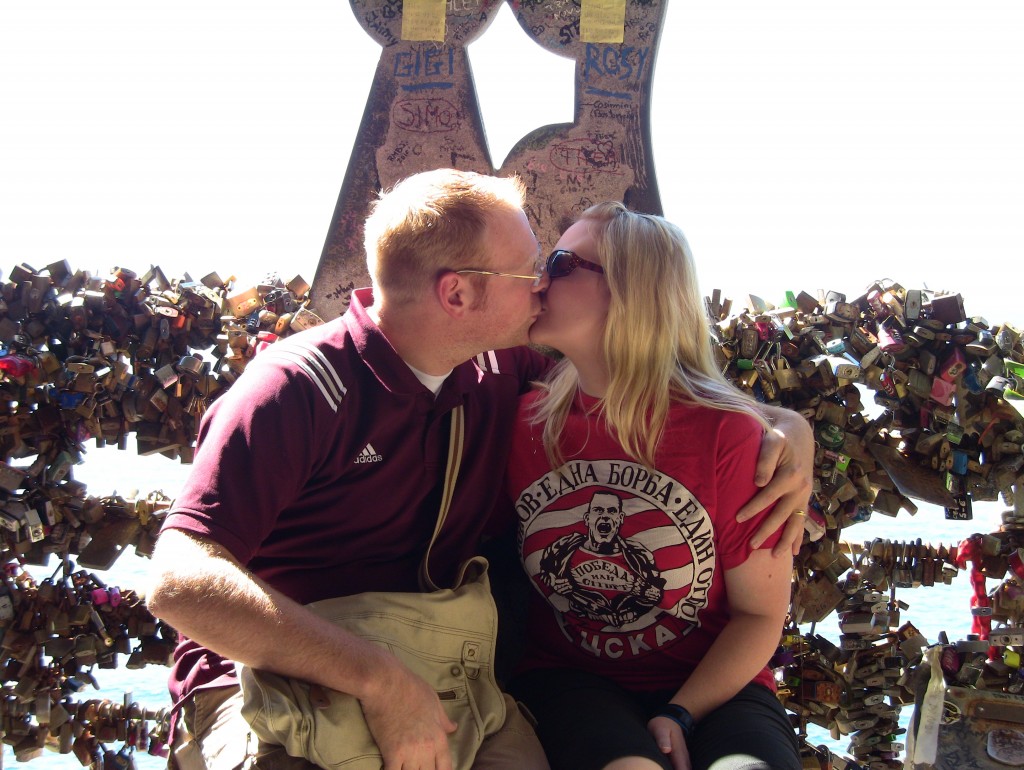 Sure, we felt touristy, but hey – that's what we were there for! This initial 'hike' took us only about 15-20 min.
We arrived in Manarola, still excited to explore and adventure through the towns. We spent some time in Manarola looking at the shops and checking out the coast. This town goes down closer to the water, and had a good number of people who were there to swim and sun bathe on the rocks. We didn't spend much time, though, as we were still excited and energetic to start on the 2nd, more difficult hike, between Manarola and Corniglia.
At first, this hike is relatively easy and downhill. We went along the way quite quickly, and stopped to rest under one of our favorite palm trees ever. 😉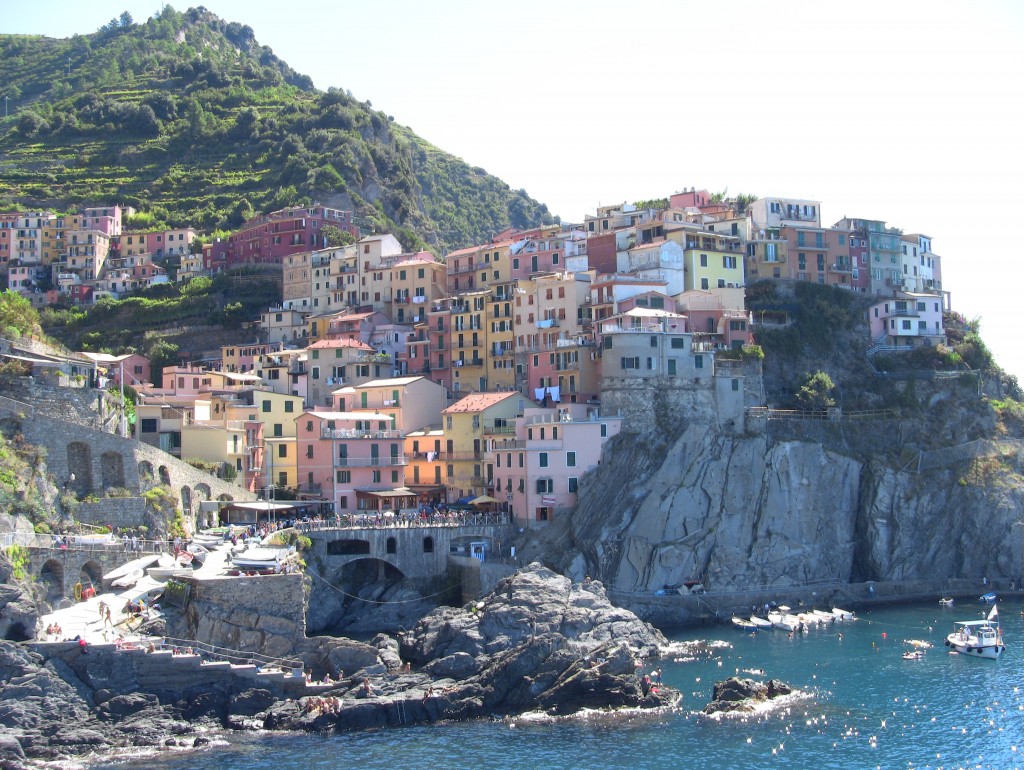 When you get to the foot of the hill near Corniglia, you have started climbing a bit – but here is where the REAL climbing begins. There are 382 stairs that you must take to get up to Corniglia, and after already hiking for a bit, it took some energy and resolve to make it up the stairs. The key was to not stop and rest for too long, and to not think about how your knees felt.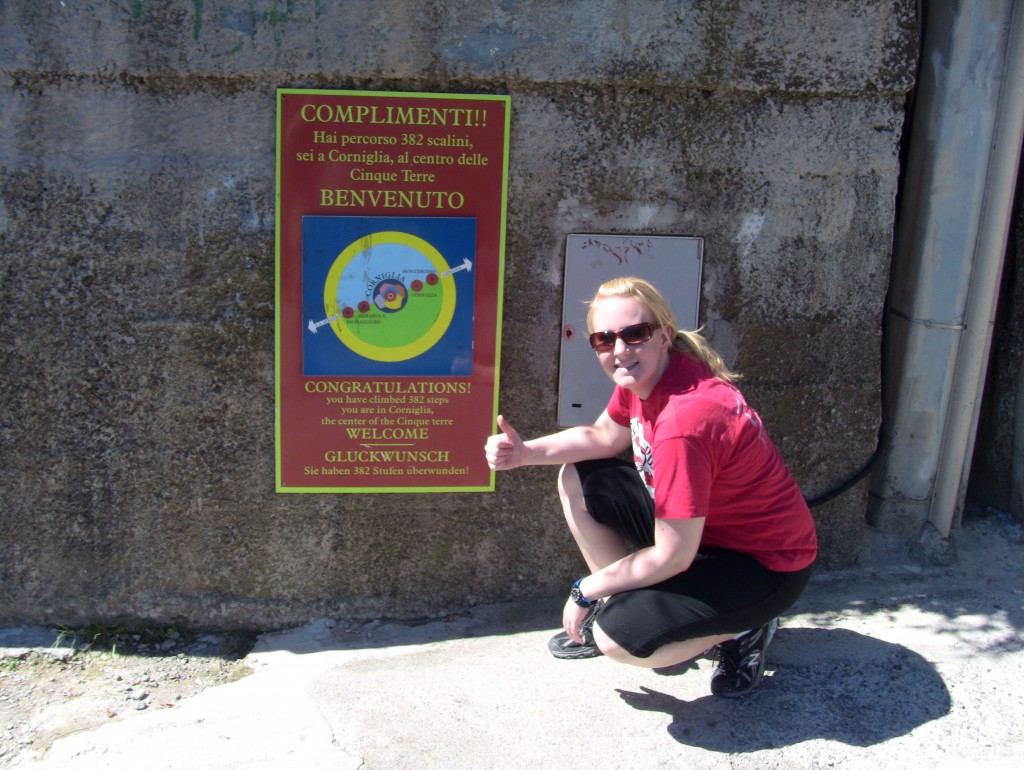 Even so, we made it to the top of the stairs and into the town of Corniglia. We finished this second hike in about an hour.
Corniglia is slightly different than the other terre. Since it's perched up on the cliffs, it is harder to reach and less "beach-bum" filled. We ate a small panini lunch in Corniglia, as well as tried some of the local grapes we bought in a shop. After resting, buying water, and eating for about an hour or two, we were ready to embark on what we understood to be an even harder hike from Corniglia to the famous Vernazza.
This hike was much more rugged than the first two, and involved a lot of steep incline and steep decline. The trails were safe and well kept, but were narrow and treacherous. I would trust a teenager on them, but not a child.
Some of the views, though, from the peak of the trail were absolutely breathtaking!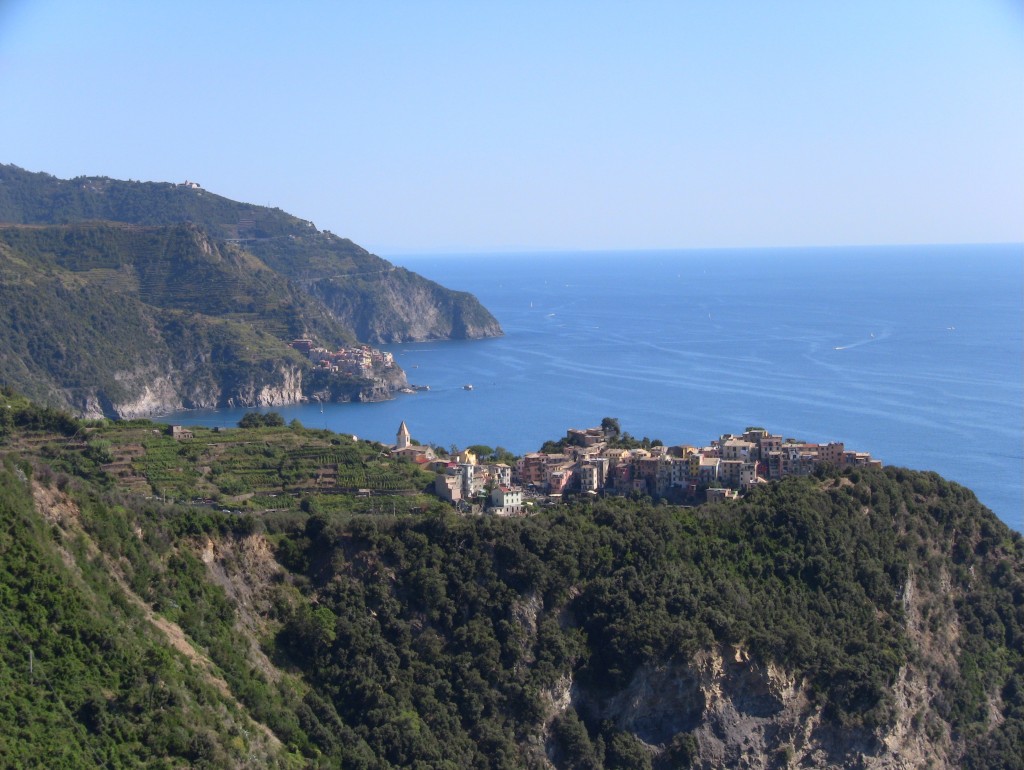 Since a majority of this hike is uphill, and the last 30 min is downhill, we were exhausted by the time we reached the peak, and our legs had turned into Jello by the time we reached the downhill section of the trail. All in all, I think we completed this third hike in about 1hr 30min.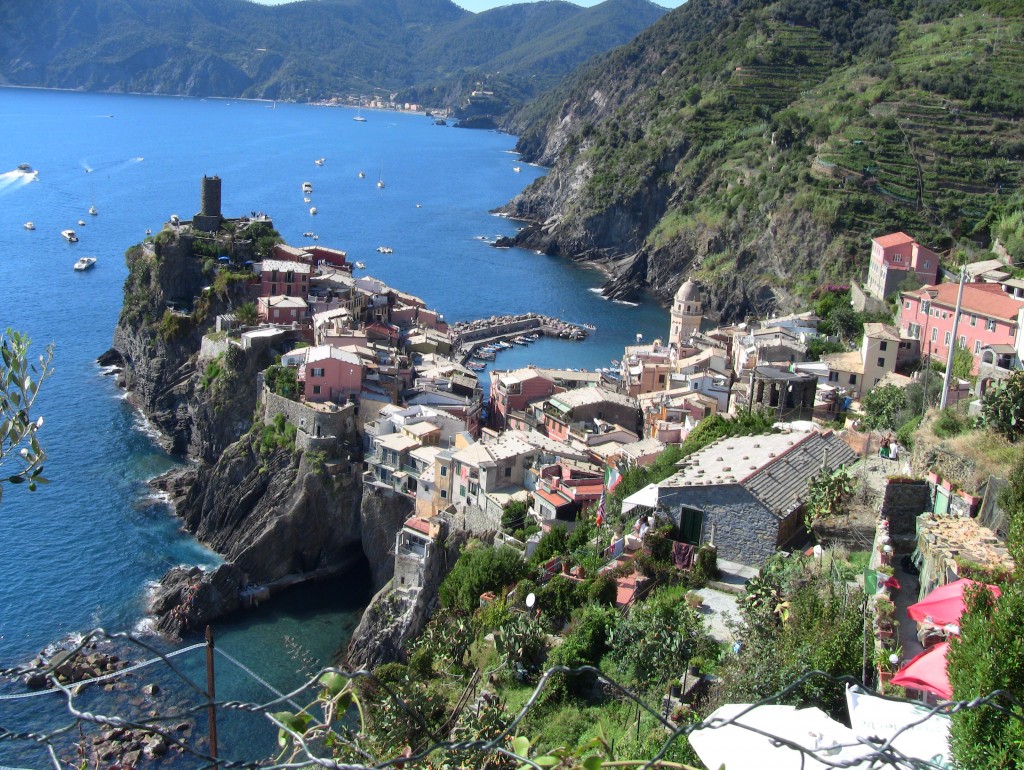 Vernazza is a magical little town, and most people's favorite of the 5 terre. We liked it just about as much as we liked Manarola, but to be fair we really didn't get much time in Riomagiorre to compare it to. It has a really fun town square right by the harbor where there is a small sandy beach. People enjoy laying there by day and playing in the water, with plenty of places for people to sit around and enjoy the square.
While we were recovering from our wobbly legs and sitting around enjoying the ambiance, we also heard the bells ring in the neighboring church, and as a group exited, the square erupted in applause. From what I could gather, a baptism had just taken place in the church. It was a pretty interesting thing that though more than half of the square was full of tourists, there were still some local happenings taking place.
We decided to forego the final hike between Vernazza and Monterosso. It is the longest of the hikes (at over 2 hours) and we had heard it wasn't quite as beautiful as the hike from Corniglia to Vernazza – and to top it off – we were just exhausted. So we hopped on the train to Monterrosso.
At the train station, we met the funniest ladies from the US, the self-proclaimed "Wal-Mart Greeters" of the Cinque Terre. They had plenty of advice for us, including a great tip on where to enjoy dinner – at Il Pirata dell'a Cinque Terre (the Pirate of the Cinque Terre).
We made it to Monterrosso al Mare, and saw why this was the biggest tourist draw of all the 5 terre. It featured a very large, nice, sandy beach, which was just wall-to-wall chairs and umbrellas. The vibe was quite a bit younger, as it seemed to be full of young European tourists. We enjoyed some Gelato here, scouted around for the nice parts of the beach, and looked for a place to eat dinner later on.
Since nothing really struck our fancy, we decided to get back on the train and perhaps eat at another restaurant. However, we jumped on the wrong train and ended up back in Riomagiorre. We scouted around a bit for a place to eat, and settled on a nice-looking restaurant that was perched up overlooking the steep decline of the town.
Dinner was very nice, but the most memorable part was our dessert – Panna Cotta! YUMMMMMMMMMM! We devoured that, it was so good.
We headed back to our hotel in La Spezia, and were drained from a long day hiking and enjoying the beautiful sun and views of the Cinque Terre.
One last image, especially for Heidi… Just so you know – in Europe you're never too old to be a sun worshipper!!!