The last two weeks have been a rude awakening for me and my wife to the potential pitfalls of future parenting.
We've been watching our cousins, ages 16 and 13, while their parents were away on vacation.  The parents let them stay at home, under our randomly watchful care, and laid down a few very specific rules.  We didn't have a lot of rules, but we were deadly serious about the rules we had.
… And the 16 year old broke all of them.
All.  Of.  Them.
By Wednesday, the cell phone and car keys had been permanently confiscated, and they were living at our house under our constant vigil.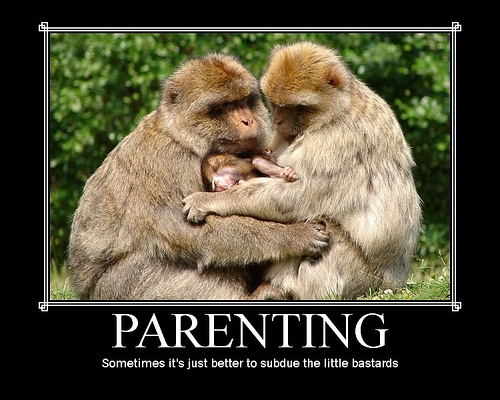 What do you do with kids who just insist on breaking every rule?  What do you do when kids just ignore the truth of a situation, and feel comfortable lying through their teeth to get out of anything?  What do you do with kids who are just plain mean to each other?
Yesterday, in church, a precarious little 3 year old turned around to a girl who was visiting for the first time, looked her straight in the eye and said, "I don't like you."  When her mom got on her about it she said, "I don't like her shirt."
We had a good laugh about her 3 year old antics, but I don't think it was funny to the parents.  I mean, how does a 3 year old learn to be that mean to other people for no reason and with no provocation?
Parenting just sucks when it's hard.  "Grounding" a child tends to punish the parent more than the child, and do you really teach a child anything by restricting their freedom?  But can you, in good conscience, give them the independence that they so clearly demonstrated that they couldn't handle when unmonitored?
I'm a little nervous that I might be too draconian of a parent.  I don't see anything wrong with ankle bracelets, eavesdropping, and disciplining so that the punishment fits the crime.  I have a very low tolerance for dishonesty and a very short attention span for tantrums.
The problem is, my wife and I were both cut from the same cloth: the peacemaking, law-observing, trouble-averse, do-what-is-expected-of-me, and never-get-into-trouble cloth.  My concern is, how will we ever relate to a child that to pushes the limits, does stupid things that we advise against, and then lies to us about it?  (The latter of which I would be most upset about)
While discussing my babysitting misadventures with various family members, friends, and co-workers, one thing is quite clear: there is no one way to parent a kid.  Most people seem to agree with the importance of setting a precedent in youth.  You are their parent, and the authority figure in their life.  You don't have to be mean, but you do have to be obeyed. You don't have to always justify your every move, and you are not there to be negotiated with.  You have to stick to your guns and follow through, rather than making threats.
I know several parents who make it through early teen-hood with amazing kids — obedient, kind, and fun-loving.  I definitely admire their families and their parenting.  I am interested to see, though, how their kids will change as they turn into teenagers.  It seems that when teenager-dom hits, all bets are off.  Any prediction of a particular child's behavior based on previous records is futile.
I know they don't come out as teenagers, and that you have a lot of years of cute cooing, barfing and pooping before they really make a mess out of your life.
I have a new respect for those who are parents, and am here to emphatically announce that I am not ready to join their ranks.