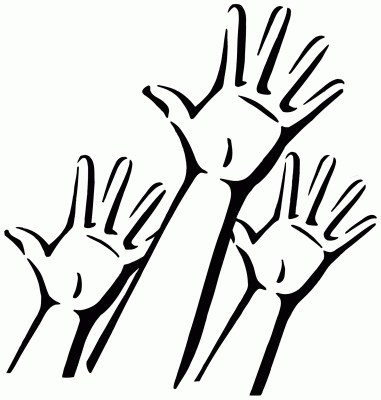 In Sunday School lately, we've digressed back to the time in our youth where it was uncool to read things outloud in class.  I mean, what's more embarrassing for our budding egos than mispronouncing the name Kishkumen or Pahoran or Ammonihah? (come on folks… amone-aye-hah? or amun-eye-uh? pick one!)
So lately to counteract the trend of deathly silence when the teacher asks "who will read…" I have been randomly jumping up and down in my seat, waving my hand in the air while shouting "pick me! pick me!"  Totally kindergarten style!  Then I proceed to mess up every proper name, place, and punctuation in the section.
So what's the deal?  Why is it so uncool to volunteer for a simple, menial task?  Do you really want other people to 'have that opportunity' so badly, or are you just afraid to stick out, or are you just hating your life that much??  Please folks, you're killing me here!
Once upon a time, I toured an educational show to a bunch of elementary schools.  Those kids were revved up to do EVERYTHING!  Our show was admittedly too detailed and even slightly boring at times, but they still volunteered like it was going out of style for every audience participation gag.
Today I had jury duty for the first time in my life.  I'm astounded at why people don't like this, and try to do anything to get out of it. I mean, it's nothing as fun as Pauly Shore's movie, but it's a great way to take the morning off of work, meet some new people, and hang out with a bunch of pulse-less, power hungry bureaucratic government employees whose sole purpose is to slow down or impede everything you actually want to get done…
So I went in (after being mocked in the hallway by the Bailiffs for not having my shoes tied), took my seat, and decided: "Hey, I kind of want to be picked."  But then a sad thing happened… I wasn't picked!  Now I have to wait at least 2 more years before I can have the next opportunity to sit on a famous 'jury of my peers.' How disappointing!  Shouldn't you be able to check a box on the form that says "pick me! pick me!"?  Or maybe I should have tried my Sunday School antics in the jury holding room?
Granted, the case would have been some silly misdemeanor, lasting less than a day, which I would have considered a total waste of my time.  Nothing like the OJ trial or anything, which I would totally have hated.
One last thing about being picked… Remember in elementary school when you'd get to pick teams for a game in P.E.?  Yeah… I was always picked second-to-last.  I don't think I'm emotionally scarred for life or anything, though.  After all, PE for me was always about surviving through the hour, so I could get back to brown nosing my teachers and cracking jokes in class.
To get back at the athletically gifted, I always picked them last when it came to picking teams for the academic bowl.  (those Jeopardy-like lockout buzzers were super-cool!)