We have a problem. A big problem. This problem is bigger than Iraq and iRan put together. It's bigger than the medicare and social security problems put together.
Recently the original seasons of Sesame Street were released on DVD. However, the package carries a clear warning: "These early Sesame Street episodes are intended for grown-ups, and may not suit the needs of today's preschool child."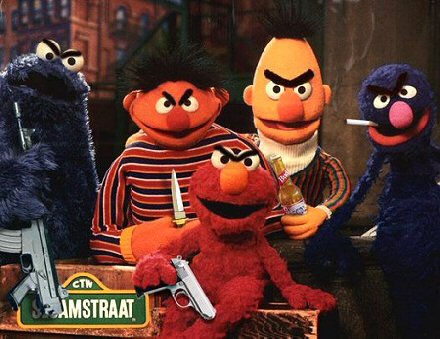 Um… OK. So either 1) today's preschool child has drastically different needs than I did as a preschool child or 2) we are just too freaking hypersensitive to the creative programming our children watch.
Apparently while no one was looking, cookie monster became "vegetable monster" and Oscar the Grouch was sent to rehab and years of group therapy. The Count had to go for sensitivity training, and Grover had to go get his narcissism evaluated.
Is it just me, or have they taken the "character" out of the characters?
I really don't think I was adversely affected or scarred by these rogue sesame street episodes. If you want to talk about shows I am scarred by, let's talk about the guy with the affro who wore the skin tight unitard with a representation of his internal organs on it.
Sesame street is innocuous. In fact, I feel so strongly about it, I think I'll buy these DVDs, and purposefully show them to my children, just to make sure they end up as awesome as me!