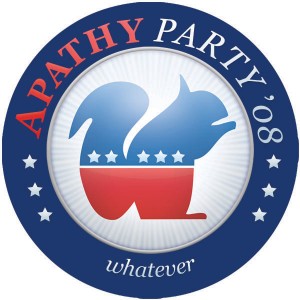 I'm still not sure who I'll be pressing the button for tomorrow, Obama and McCain both present positions that are untenable in my opinion.  Neither of them represent my core values and beliefs on the role of government.  I can't even pull a "lesser of two evils" as I did in 2004, because these guys are so off-their-rocker that it's just sad!
It's not like it matters much, though.  I live in the state of Texas, which will send all its electoral votes for McCain, no questions asked.  Most of you who read my blog are from either Texas or Utah, which both enjoy a stranglehold by the Republican party in Presidential politics.  So whoever I vote for would be a vote of conscience, without much real meaning.
The electoral college sucks.  It was a 18th century necessity, but not a 21st century one.  It's no wonder we have such great voter apathy in this nation, since a great majority of American's votes really don't count for jack.
From the latest polls, though, it is obvious that the Republicans are going to get spanked this year, and the only question which remains is: How big will the landslide be?  In my opinion the Republican party totally deserves it.  They had 6 years of control of Congress and the White House, and their only accomplishments: No Child Left Behind and repeatedly funding the Iraq War.
McCain's campaign has not had a cohesive, resonant message for months (no, I DO NOT consider "Joe the Plumber" to be a message), nor did they set up any kind of overarching campaign theme that resonated with anyone from the outset.  They have been spending months and millions of dollars hacking at the leaves, and not striking at the root.  Now, in the final days of the campaign, they are running a fear-based campaign (I'm less bad than that guy).  McCain deserves to lose in a landslide.
My friend Michelle recently articulated her views on this subject, when she described why she decided to cast her vote for Obama:
I am not a democrat and I have never voted for a democrat before. As far as political philosophies go, I am a true conservative. I believe in a limited government. I don't think it's the government's place to regulate personal freedom or morality. …True republicanism, to me is ordinary citizens electing the wisest, most educated and intelligent leaders to govern for them, not over them…

…The Republican Party used to be a party of conservatives and if they had produced a conservative candidate, I would have voted for that person. Instead, the Party has been overrun by a "base" that I neither respect nor identify with. Conservatism has been replaced with a dangerous populism that celebrates an "us vs. them" world view, seeks to erase the line between church and state, and uses fear as a primary motivator. The Republicans have had the last eight years to implement these ideals and the results speak for themselves…
If Obama wins tomorrow, I hope it is proof that:
Campaigns based on hope, optimism and the future are better than those of fear, misinformation, and a hunker-down-and-dig-in mentality.
The Republicans have moved too far to the right, leaving out the moderates and centrists in many ways.  Bush's failure to deliver on the promise of compassionate conservatism ended up being a big slap in the face to those moderates who believed in that promise in 2000, and calls into question whether such centricity is even possible with such a crazy, wild-eyed, right-wing base.
The Republican party will only be able to win future elections by reaching out, rather than reaching around to pat itself on the back.
The good news is that parties can change relatively quickly.  Remember the mess the Democrats had been in since the mid-nineties?  And here they are, remade as a party and electing a historic candidate to the office of President.  The Republicans will have some work to do, that is if they are truly listening to the voices of me, Michelle, and a whole lot of other people I know who are totally dissatisfied with how they've run the joint this year.
This will be my last political post for a good long while!  I'm done thinking about this.
Everyone get out and vote tomorrow.  Remember, if you don't vote (however meaningless your vote may be), you have no right to complain about anything for the next 2/4/6 years.