May turned out to be a really fun month for us.  We were able to take two shotgun vacations – one to Florida and another to Houston – before Audrey returned to work and our life began its new rut.
Part I: South Florida
Our Florida trip was to Weston, Florida – just west of Fort Lauderdale and right next to the Everglades.  We stayed at Vacation Village – a great resort that had the world's most hideous color palate… BUT… it was CLEAN!  Huzzah!  I love clean rooms!
This was one of those vacations where we GO GO GO.  Here is the quick run down of what we did did did:
Saturday:
Fly.  This would typically be the least interesting part of the trip, but it becomes a whole new animal with children.  Come to find out, the friendly skies aren't as friendly to families as I thought.  There was no family boarding allowed, and the gate agent wasn't very accommodating with seating us in a less crowded area of the plane where we could have a little breathing room.  Fortunately, there was an empty seat across the aisle from us, and the kind gentleman moved over to give us a little extra room for WEJr.  He actually did awesomely on the flight.  He just sucked sucked sucked on takeoff and landing, and slept the rest of the time.  If he's always so good on flights, we'll travel with him more often!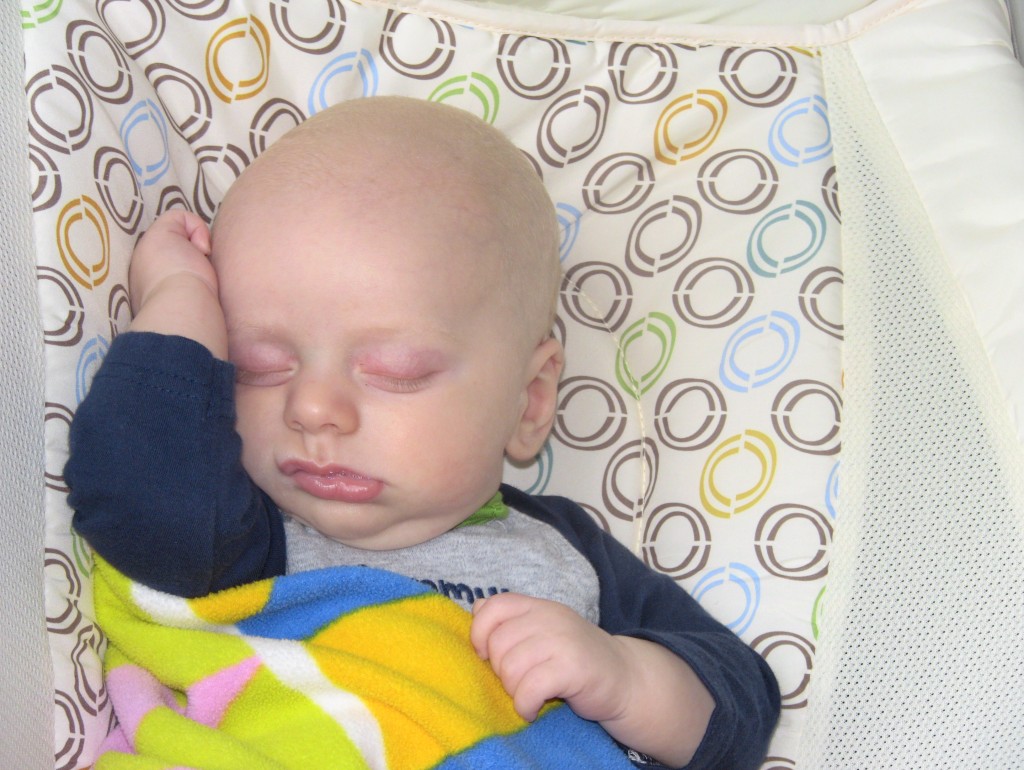 We arrived, met A2's parents and GG and got situated in our rooms.  We then searched for somewhere to eat and settled on Flanigans, a casual dining seafood place that is well known for its (wait for it) ribs!  The ribs were pretty good, but I think the winner was Ron's dish – the tuna.  I had the mahi mahi, and it was only marginal.  Major plate envy!
Sunday:
We found the church in Weston, which we found out is closer to the site where the recently announced temple is to be built.  We also found out there is some political wrangling going on over the name of the temple.  It was announced as the Fort Lauderdale Florida Temple, but there is a campaign to call it the "South Florida" temple for "political" reasons.  (I got the impression that Weston is much more politically and morally conservative than Fort Lauderdale.)
The best part about going to church was that I spent the second two hours of church data mining the ward for great things to do in the area.  We got tips of where to go, what to see, and where to eat.  It was great – and Mormons are super-nice people!
Monday:
We heard the previous night that the shuttle launch would take place that morning – so headed out early (5:45am!) to the Fort Lauderdale beach to see the sunrise, take pictures, and see of we could see the shuttle launch.  Sunrise on the beach was a fantastic idea.  It was practically deserted, we easily found parking, and the atlantic ocean was warm!  Who knew it would be warm!?!  Not me.  So we even enjoyed a little swimming, and got some great sunrise pictures of the family.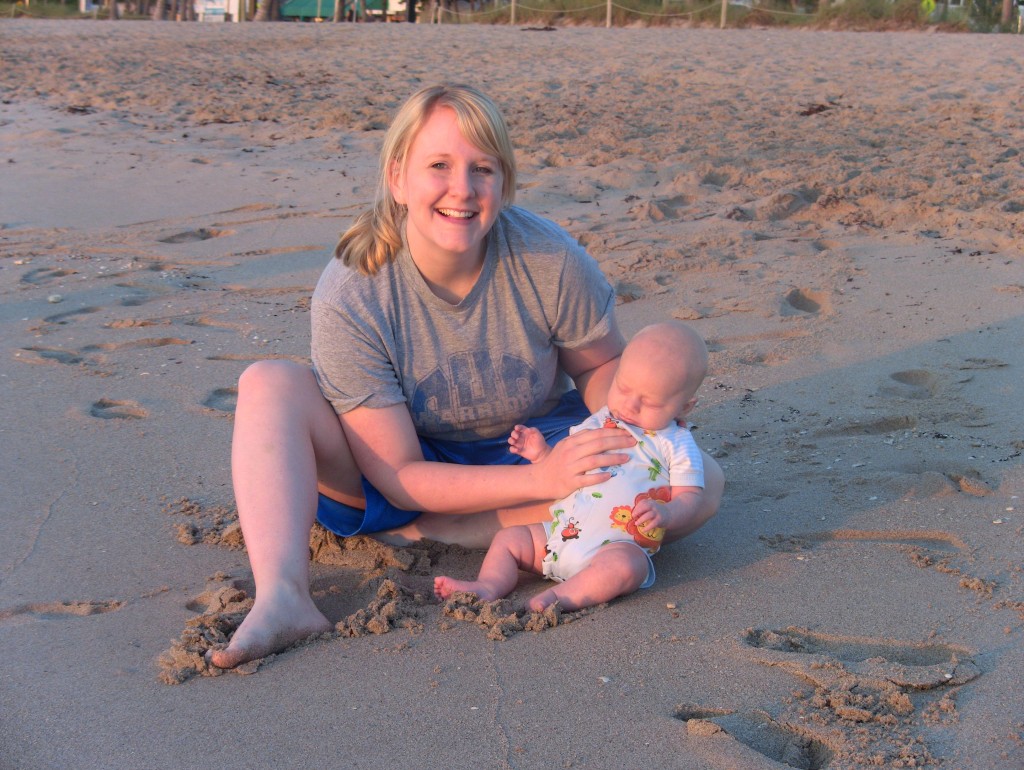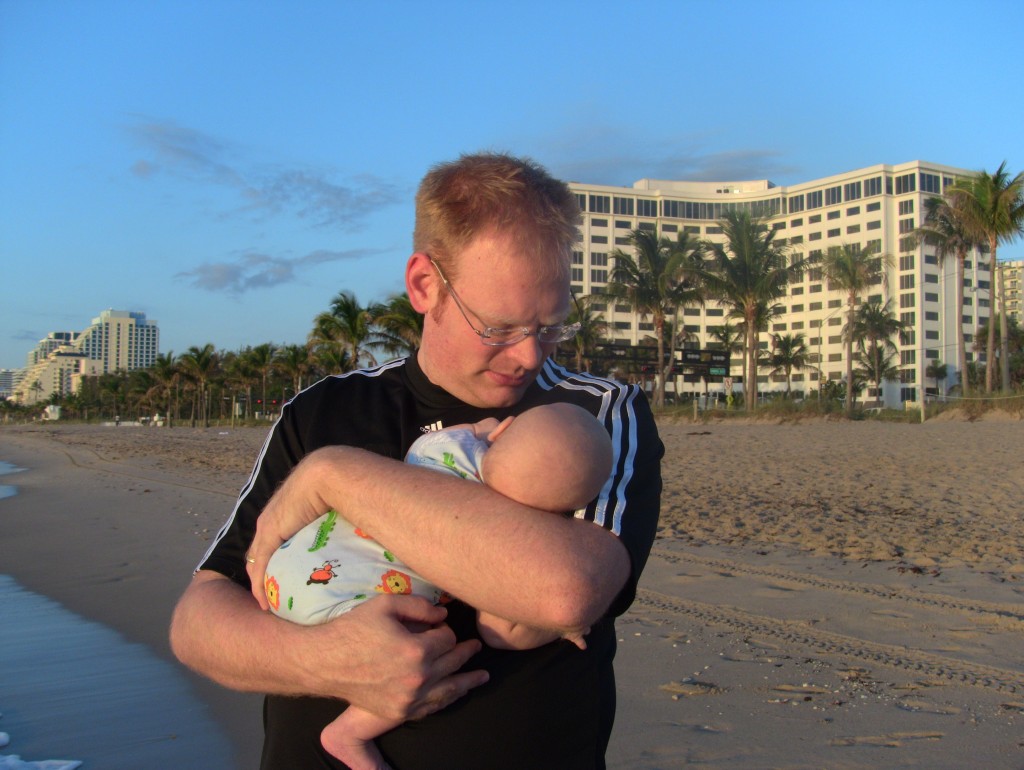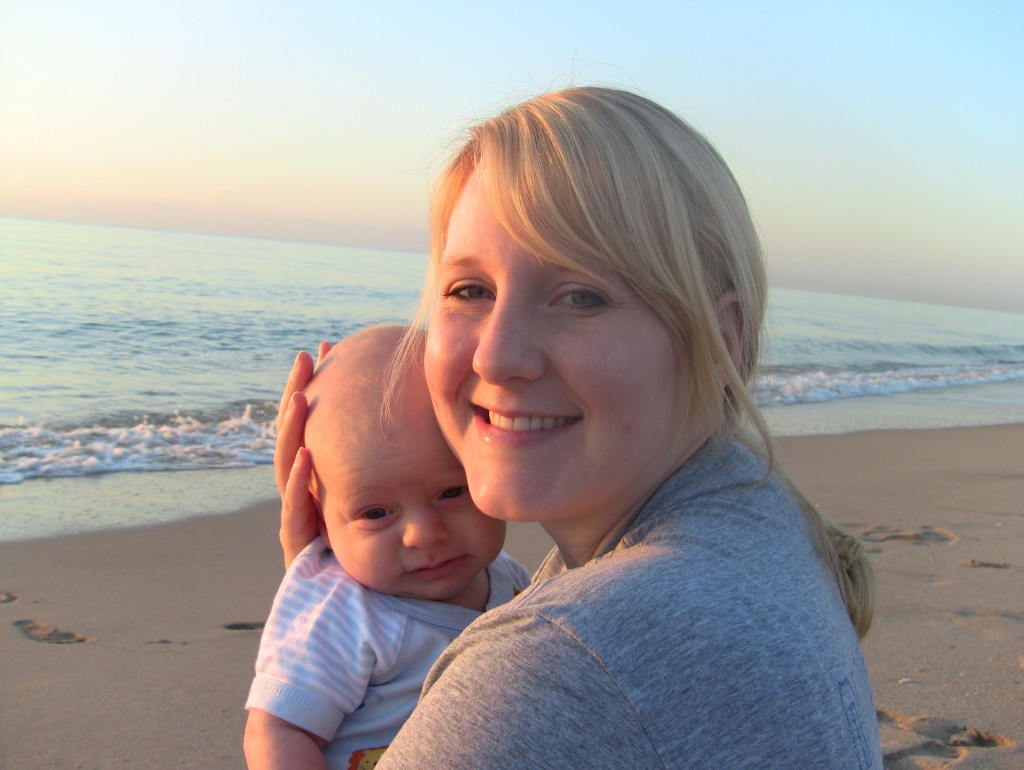 We were able to see a few contrails from the shuttle launch, and we spent time traveling up the A1A to see all the beaches in the area.  We returned in the afternoon to take naps and get ready for dinner.
For dinner, we decided to go back to Fort Lauderdale beach to the Bubba Gump Shrimp Company.  I had some really great Shrimp Scampi.  Yummmmmmm!
Tuesday:
We decided to get up a little later on this morning and go out to "Shark Valley" – a spot in the Everglades where there are a lot of alligators.  This plan was thwarted when our rental van got a flat tire on the interstate.  Poop.  And can I say that Dodge could not have made it harder to retrieve the spare tire from under the van?  Argh!  So we spent the morning changing the tire and returning to the car rental facility to get a new car.
The day wasn't completely shot, though.  We chose to go to the closer Everglades attraction, and were able to take a fan boat ride through the wetlands, seeing alligators up close, as well as walking through a large exhibit of other exotic animals.  The day wasn't completely wasted, but we got home just in time to be really tired.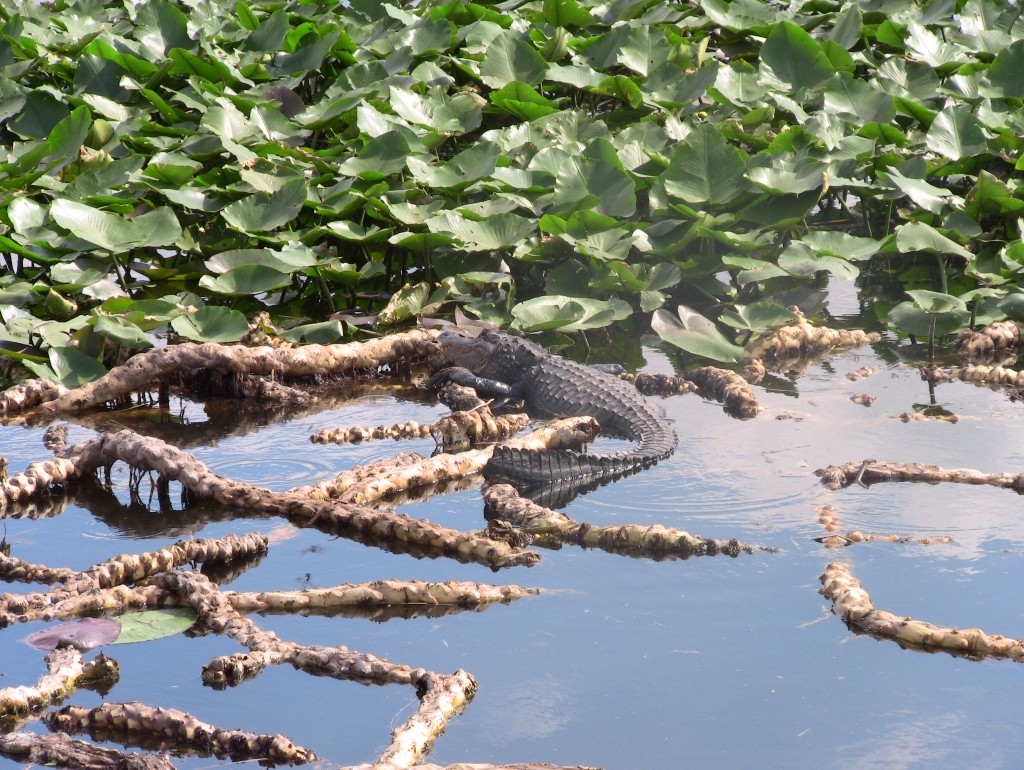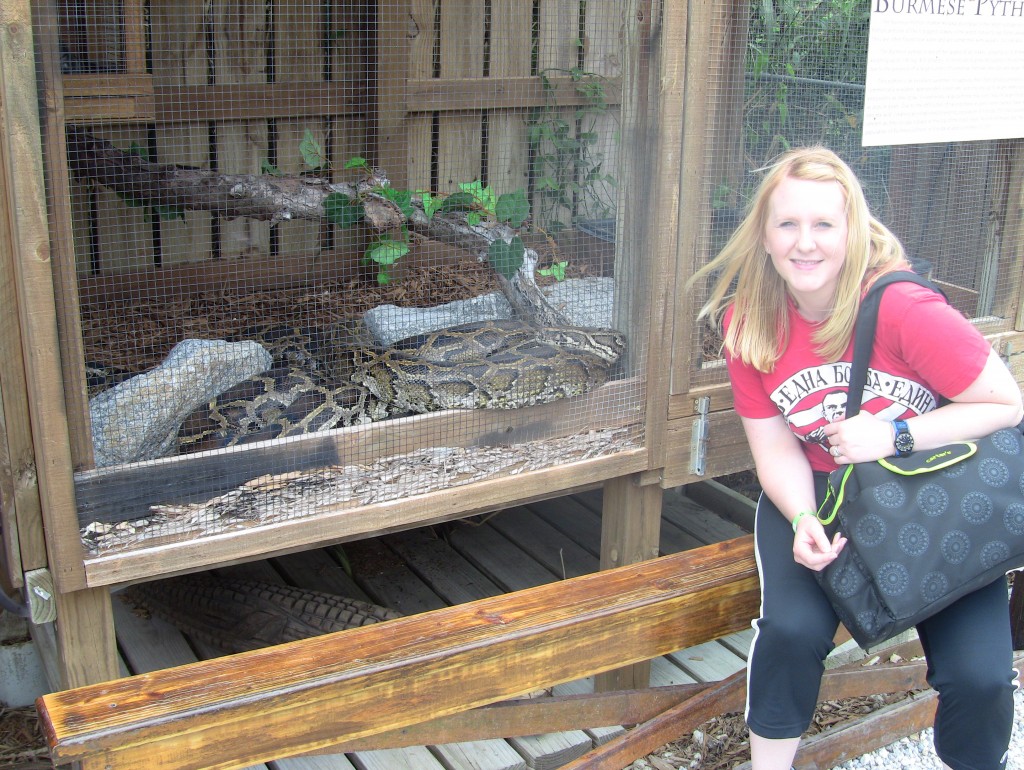 A2 and I took off that night for our first date without WEjr.  We went to try Cuban food at "Las Vegas Cuban".  I had the sampler plate, which included a little of everything.  My favorite part, however, was the fried banana.  Ohh, that made me miss Brasil!
Wednesday:
We took the drive down to Key Largo to visit Pennekamp Park.  We had heard there was a great reef there with snorkeling and glass bottom boats.  We lucked out when we stopped at the first information point there and met Captain Slate's crew that does a combination glass bottom and snorkeling adventure.  We got on the first boat we could, and headed out to the reef.  A2, Papa, and I all snorkeled, while Baba and GG enjoyed the boat and tended WEJr.  Baba got a little seasick, but other than that we had a great time and returned from the trip unscathed.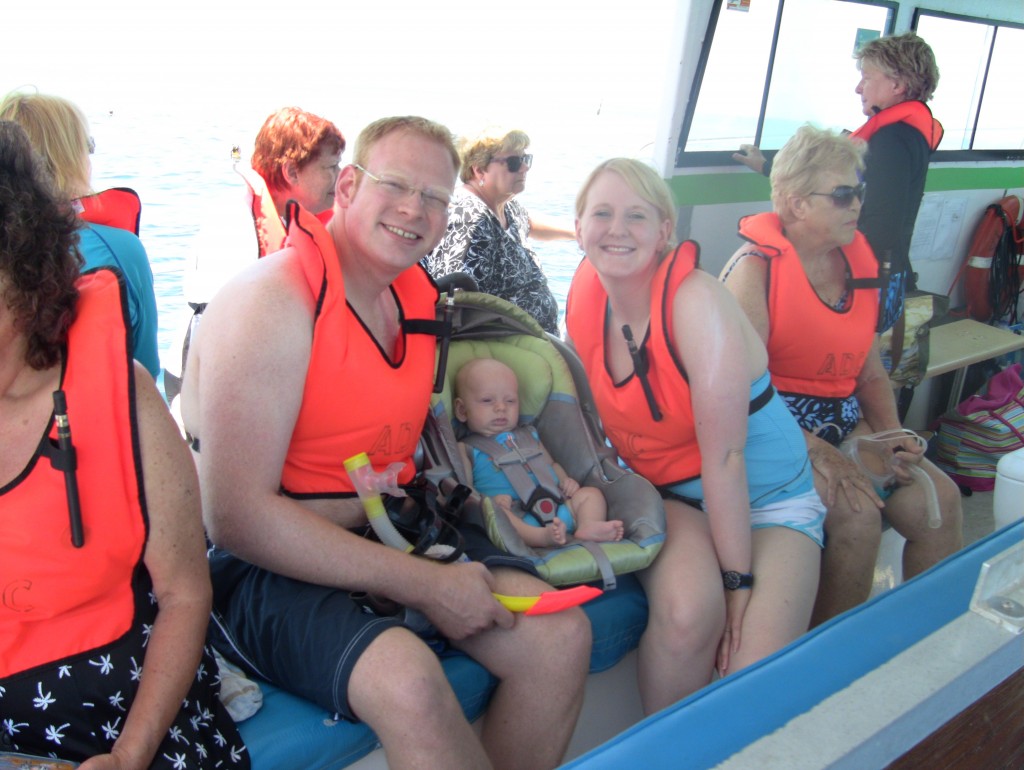 We were tired and hot, though, as the Florida heat zapped the life out of us.  We did a little more driving through Key Largo, but ultimately decided to come back north through Miami Beach.
At Miami Beach we ate at another recommended restaurant; Joes Stone Crab.  A2 had the Stone Crab which was much better than the waiter's description sounded.  I had sea scallops which were VERY good, and we all tried a plethora of menu options.  Overall, though, we were tired and hot and ready to go home.  We got in the car and made a pretty long trek back to the hotel, winding through the many highways of Miami and the surrounding Beach.
Thursday:
We decided we had done enough exploring and had a pool day at the hotel.  We enjoyed left over food, and had noontime entertainment from the staff and guests at the resort.  They had a raffle and there were old men trolling for young staffers to dance with.  I felt like I was on a weird cruise ship.  The day was hot and the pool felt good, so I guess that's all that really matters.
Dinner that night was at Salad Creations – we were ready for something a little lighter after all the heavy and expensive food we had been eating…
That night, we also had a wicked game of pinochle.  Score A2/WE 1 – Papa/Baba 0
Friday:
Friday, our last day, we decided to spend some time shopping.  We went to Sawgrass Mills, the largest outlet mall in the US, and walked around several shops.  The shopping was very disappointing to me.  I guess I just don't fit into anything, or mens clothes have just grown too pretentious.
We ate a late lunch at Cheesecake Factory in the mall where I enjoyed their Cuban sandwich.  Mission accomplished.  I had eaten all local food during this trip.  It was really yummy, too.  I could really eat Cuban food more often!
Second game of pinochle tonight: A2/WE 1 – Papa/Baba 1
Saturday:
We got up early and flew home.  WEJr was a trooper on this flight as well, opting to sleep the entire trip.  He was actually an amazing kid for the whole vacation.  He was so easy to take anywhere and everywhere — and we did!  He's been on plane, boat, and car.  He's been in wetlands, oceans, pools, and strollers. He pretty much let us man handle him the whole time – and the best part… it was in florida that he learned to SLEEP THROUGH THE NIGHT!  Huzzah!  Not a moment too soon for when mommy was going back to work, too.
Part II – Houston
As if this post isn't long enough, I have YET ANOTHER short vacation to chronicle – and that was our quick Memorial Day trip to Houston to meet WEJr's cousin DalPal.  DalPal is 6 months older than WEJr, and is a smiley young man.  We loved getting to know him and hug him.  I tried to lay the boys down on the ground to rough house and wrestle a bit, but they both just started crying when I laid them on each other and taught them the sleeper hold.  Oh well.
Huge thanks to Al for making WEJr an awesome tie and onesie.  Let's make this happen, sis… 🙂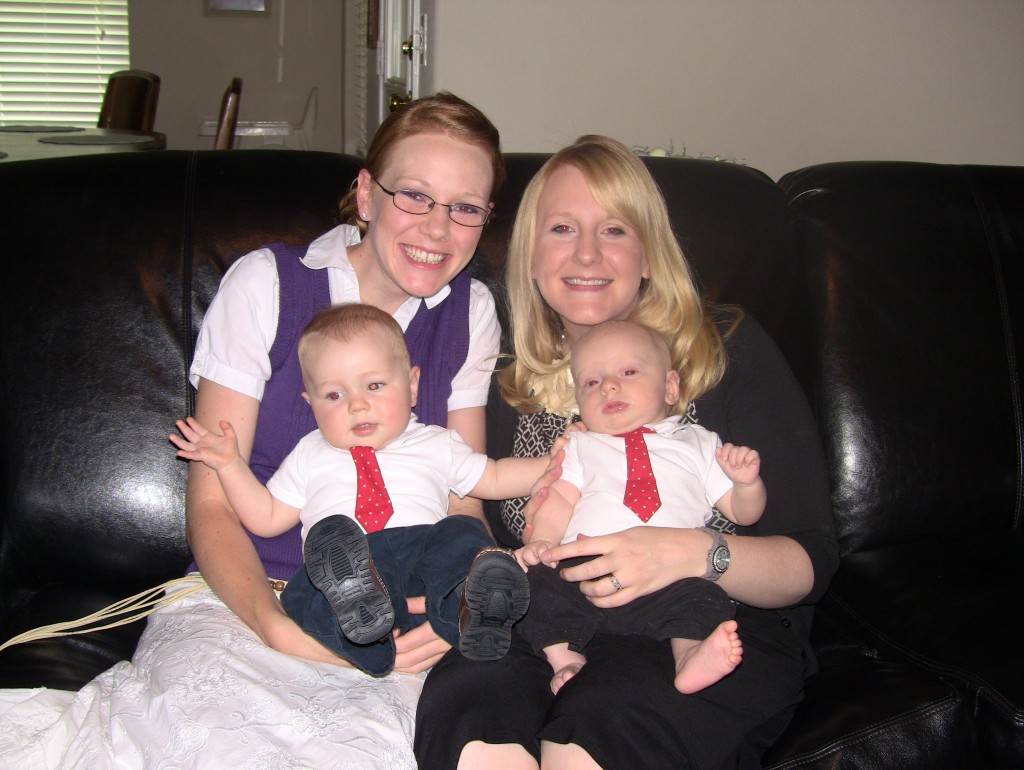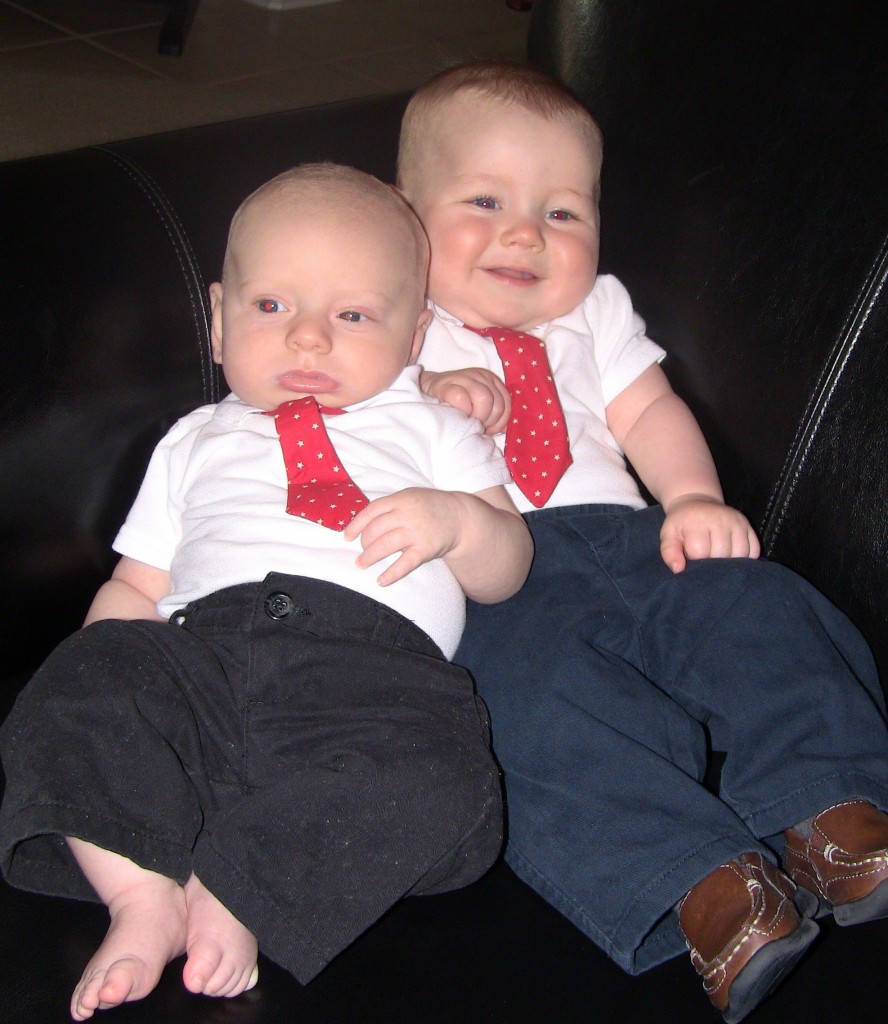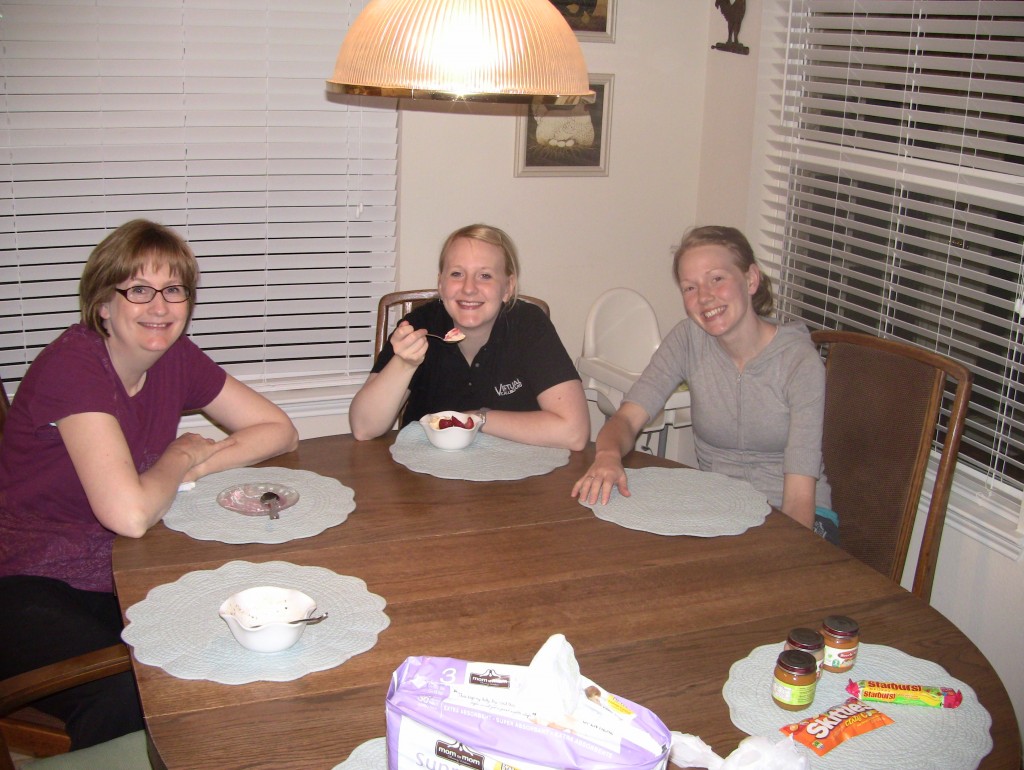 Third game of pinochle:  A2/WE 1 – Papa/Baba 2… the series continues!!!
… We also enjoyed some GREAT thin crust pizza at this place down the road from their house.  We'll have to remember that one.  It was fantastic!
Thanks to Baba, Papa, GG, and Al for making another great weekend.