This is the post I was referring to the other day.  Please note, before you read, that THIS IS NOT A POST TO BASH ON MOMMY BLOGS.  This is simply a post making a few observations about blogging in general.  Please don't read anything between the lines.  I enjoy looking at pictures of your kids just as much as you enjoy posting them.
That being said, here we go…
Something has been irking me lately, and I haven't had the wherewithal to sit down and actually write through it, so here I go…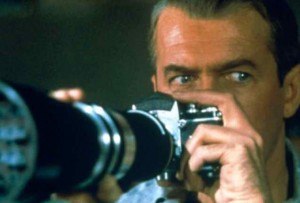 Voyeurism at its Best

I read a blog a while ago that disturbed me.  It was a blog by a LDS woman who has a GRUNDLE of readers.  I'm talking comments by the 1000's.  The top story when I visited was a "secrets" post where commenters would reply anonymously with their deepest, darkest secrets.
As I read through a few of them, I was deeply disturbed.  These were soul-destroying, life-altering, family-betraying things that people were just causally posting on the wide open internet, all served up with a hefty dose of guilt, shame, and a follow-on promise to never tell anyone and let the problem perpetuate.
Then I start to think of the people involved in this – your friends and neighbors.  The ones who drive your kid's carpool, coach their basketball team, and teach the Sunday School lesson on Sunday.  In their off time, they retreat to the supposed anonymity of the internet and air their dirty laundry for all the world to see.
Things like this have gone on ever since Crazy Uncle Albie invented the internet, but I have only recently seen it hit a new level and availability with the 'Mommy Blogs.'
So let's have a chat… about what a blog is, why people blog, and what bugs me about some bloggers.
Navel Gazing

Navel gazing is a fun hobby.  Navel gazing is examining something (usually involving yourself or your own life) which is absolutely irrelevant to anything.  Navel gazing is the fascination with the useless and uninteresting.  In a certain sense, it's the definition of this blog and most blogs out there.  I mean, you can only write so long before your writing about the same aspects of your life and personality over and over again.  Life is really only slightly interesting for most of us – most of us have pretty mundane, run-of-the-mill lives.
'Mommy Blogs' are also navel gazers, but to a stronger degree.  Some have fun, interesting content.  Some of the stories literally have me falling out of my chair with laughter.  But by and large, most of them are boring rehashes or useless diatribes on some irrelevant detail of their mundane personal life (and of course, throw in a picture of a kid).
This is absolutely fine if your audience is your family, your friends, and those who you expect to care about such things.  No sweat!  I'm not bashing you (see prologue).
I am bashing on those bloggers who write out about the most mundane, uninteresting, unoriginal things, who give no original thought or perspective to their life, and expect to (and in some cases become) incredibly popular and widely read.
See, some of them actually think other Mommies are interested in and care what they write about – but honestly, many don't.  Mostly, they are out there looking for the proverbial scratch-on-the-back telling them how cute they (or their kids) are… which leads me to comments…
i wuz here
When I was in elementary school, I remember it suddenly becoming popular to write 'i wuz here' everywhere you went; on the chalkboard, scratched into the desk, in the sandbox at recess… everywhere.  We were young, budding graffiti artists!
I love commenting on blogs.  Mostly, because I enjoy saying something unexpected or in some other way adding to the conversation that the blogger started. Sadly, most comments I read on Mommy blogs contain hundreds of fun-but-meaningless comments. They just as well could have written 'i wuz here'.
Really, that's what they really want… Ok.. we… I'll include myself here.  That's what we really want.  We just want to know someone is out there and listening.  If you don't have anything useful to say, but want to them to know you care and you read, then just post 'i wuz here.'  It'll be our new little thing, k?
Are You Just a Trail Horse?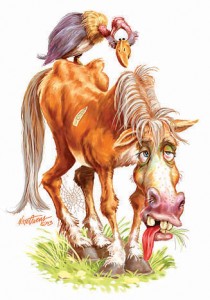 To illustrate my point further about the blogging popularity contest, I'll tell you about horses.  I'm no equestrian expert, so I grossly lump the horses I have known into three different types of horse categories: trail horses, wild horses, and 'awesome' horses.
Trail horses are completely useless to me.  They simply stick their nose up the rear end of the horse in front of them and walk in a line.  Don't even try to get them to go anywhere else or do anything else.  They have no free spirit and have been trained and 'broken' beyond repair.  They are a total bore to ride.
Then there's the wild horse – the ones who not even experienced cowboys will attempt to ride.  These horses are incredibly spirited, but also absolutely useless.  You can't approach them, use them, or get anything but a toddler-like tantrum out of them.  I run away from them.  They're bigger than me and have no qualms with trampling me.
Then there's the "awesome" horses.  I call these awesome horses because they're spirited, powerful and independent, but still obedient to their rider.  These horses make decisions themselves about the terrain and speed, but bend to the suggestions of the bit and the spur when pressure is applied.
The pantheon of Mommy Blogs I was referring to before, are largely just a huge a boring trail horse ride – each one with its nose up the one in front of them, dragging along merrily.  They are blissfully unaware of their lack of originality, and don't seem to understand that they are reading the same thing as they are writing all day long – over and over again.  They depend on each other for their direction, speed, power, and energy.  They think they're having a good time, but are completely unaware of the possibilities around them, and their own power as a horse.
So I really just shake my head at those bloggers who go on a blog popularity binge, amassing thousands of eBFF's, and pretending that they are something amazing gift to the blogosphere, when all they have done is jumped in the trail horse line with 1000 trail horses behind them and 1000 ahead of them.
The Conclusion
Be an "awesome" horse: spirited, original, independent, willing to really let loose and show your personality on your blog. Be yourself, and enjoy blogging for what it is.  Blog for yourself and those who really know and love you (in real life), and don't expect to become some overnight internet sensation.  (Lessons I have learned, yo.)
We all blog for different reasons, and I suspect that long after no one reads this blog anymore, I'll still keep blogging just to hear myself speak.
Because I'm just that crazy.