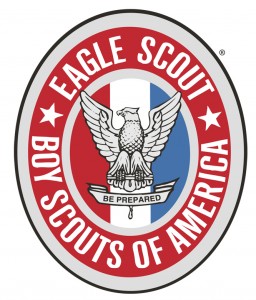 I am an Eagle Scout.
Ever heard of it?
Apparently more and more people don't even know what that is – and the days of "this is a good thing to put on your resume" are long gone.
This weekend I had a lively discussion prompted by my new Home Teacher in which we extolled the pros and cons of the Boy Scout program as it is sponsored by our Church.  This prompted an extended conversation afterward with our house guests (thanks for coming McKay and Annie!) about the scouting program.
Which gets me to the question of this blog: Should the Church continue to mandate that each congregation in the United States and Canada sponsor a Boy Scout Troop?
Pros:
The BSA has taken firm stances, especially in recent times, about what is stands for and supports.  It is a non-profit, inter-denominational group that supports many of the same morals that the Church tries to teach the young men.  The commonality of faith, showing the young men that other boys (not nec
The BSA provides a structured program where boys can have a broad exposure to an array of different activities, giving them a good chance of finding their niche in society and discovering their aptitudes.
Cons:
Scouts and the "Duty to God" program compete for the time and attention of the young men.  They have to work on the two awards simultaneously.  In this sense, Scouts can be a real distraction from the boy being focused on and setting the more spiritually-based goals in the Duty to God program, and understanding and developing himself as a priesthood holder.  Duty to God was designed to prepare young men for missions, while Scouts prepares them to be men and tie knots.
Scouting is SUPER expensive!  Not only for the Ward, but for the Scout leaders, their parents, and the ward members who are oftentimes guilted into giving to the Friends of Scouting program.
Wards with "great" scouting "success" have turned into machines that just crank the boys through the required merit badges and an Eagle project in 2-3  years, since they have found the boys who do not finish scouting by the time they're 16 rarely do.  Many wards don't even register their Priest quorum as Scouts.
Scouting has turned into a babysitting program.  The Church calls leaders who give up most (if not all) their vacation time to take the boys camping, with little to no support from the parents in these activities.  This was most aptly described by my home teacher when he said that one particular young man told him during scout camp that as soon as they got home, his father was taking a week off to take him to Alaska — and yet this leader was taking his precious time off, away from his own family, to provide free babysitting and other activities to the young man.
The rest of the Church in the world does just fine without scouting.  Why does the US and Canada need it if they don't?  (especially inasmuch as it consumes precious church resources)
The callings associated with Scouting consume the most precious church resource: good people.  You have to put your best, most dedicated ward members in callings related to scouting, and you lose the chance to use them in other much more crucial priesthood capacities.  These leaders can easily and quickly get burned out by the rigorous demands of the scouting program, due to their already backbreaking load of church meetings and assignments.
Boy Scouts have become a very un-cool organization.  Young men nowadays do not want to be affiliated with the program.  If the church embraces this program so tightly that they lose the attendance of young men to church, then we are doing a disservice to the young men.
Factors to Consider
Many in Church leadership are die-hard scouters.  They firmly believe in the program.
Many in BSA leadership are LDS.  The BSA recruits heavily from the Church's universities.
President Monson and others have received top scouting honors, including the Silver Buffalo.  It would be very awkward for the church to turn its back on an organization that it has championed and become an integral part of for so many years.
Myths
Without the Church, the BSA would die.  McKay shared with me his research that this simply isn't true.  The BSA would definitely be dealt a difficult blow, especially in the western US, but it would not be eradicated.  In fact, Troops would continue outside of the church in places with high concentrations of church membership, and church members would have to decide for themselves (just as they do with athletics and other activities) if the cost of participating in this organization would justify the benefits of it.
The truth is that Scouting provides little to no value for the young men, their leaders, and their parents.
It is no secret that Eagle Scouts typically only get their award because of their mothers or scout leaders.  Rarely will you find a Boy Scout who can honestly say: I did this all on my own, and because I totally wanted it.
Scouting provides nothing that the church itself, following the Duty to God program, could not provide.  In fact, Scouting cannot provide an environment where the Gospel is taught and where Priesthood holders are trained in their duties.  This is a responsibility to be held by the church, not the scouting program.
In fact, if the church is so much in support of service organizations with conservative morals, why doesn't every High Priest group of the church sponsor a Rotary club?  Or a Masonic lodge?  Or any other inter-denominational, morality-based service organization?
The Church needs to take ownership and supply it's own program, not rely on an outside organization to muddy up the water for these precious young men who are already "hemmoraging" from the church at the first young adult opportunity.