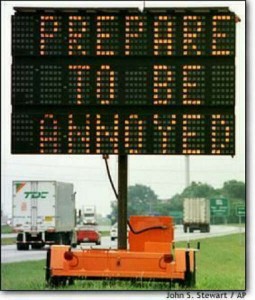 We drove 981 miles from Dallas to Denver over the Thanksgiving holiday.  I drove all of it, which means I am now intimately too familiar with every mile of road between here and the mile-high city.  Please allow me to share some of my findings:
Guilt-Trip Anyone?
Kansas wins by having the weirdest road signs.  Every few exits there would be another billboard condemning abortion or praising Jesus.  It must be really awkward to be an atheist and to drive through Kansas.  Heck, I'm a Christian and it was kind of awkward for me…
Kansas is also the king of the roadside point of interest dis-interest.  You know, those brown road signs which try to lure you off the freeway to some off-the-beaten-path site of some important historical event or museum?  My favorite was the "Kansas Underground Salt Museum".  DO HUH?  A museum celebrating underground salt?  Why don't I celebrate above ground salt and have some BBQ instead!
Our Cross is Bigger Than Your Cross
Oklahoma is the land of absurdly large crosses.  There is one particular cross on the north end of Oklahoma City that is just gigantic.  I remember when I lived in small-town Oklahoma, each church was adorned with a slightly larger cross than their competition friends.  It's as if we'd forget Jesus if we didn't have these huge reminders dotting the landscape…
Trashy Hotels
Is there no hotel between Oklahoma City and Denver that has been renovated in the last 10 years?  Does everyone who travels said distance smoke and spill coffee on the floor?  We had some luck with staying at the Holiday Inn Express in Salina.  At least the room was clean, but the bed was uncomfortable and the furnishings were less than stellar.  Staying in Wichita was absurdly gross, though.  We looked at 4 hotels, all which were in varying degrees of slum.  Finally we just lowered expectations and crashed somewhere we could get points.
Politi-rado
Since when did Colorado become a hotbed for political opinion?  The road signs, TV commercials, and even conversation seems extra-political these days.  Leaving Colorado there was an especially creative sign right before the "Now leaving Colorado" sign which said "Now leaving Taxorado".
Narcoleptic Dogs and Conclusions
All in all, it was a good trip.  My favorite part was when I tried to get creative in a pick-up game of charades.  Trying to best people who were just simply sticking to the category "pets", I tried to throw in an adjective and do a "narcoleptic dog."  Unfortunately, my narcolepsy led to injury as I fell on my rib cage wrong and bruised a rib.  Don't ask me how.  I've been in pain for almost a week now.
Conclusions?  What did I learn from my Thanksgiving vacation?
If you can, just drive through OK, KS, and CO with your eyes closed, and try not to injure yourself when pretending to be a canine with a disability.