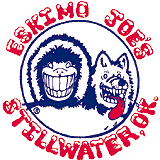 Growing up in southern Oklahoma, I always saw people wearing clothing from a restaurant called "Eskimo Joe's."  It is a very memorable logo; an eskimo with a huge toothy grin on his face along with his dog.  I didn't know much about Eskimo Joe's except that it was a restaurant and that everyone seemed to have a shirt from there.
When I found out I'd be spending my Christmas in Stillwater, OK the memory of that shirt came rushing back to me.  I was going to have to go check out what this "jumping juke joint" was all about!  I mean, here is a distinctive brand that was ever present in front of me, but that I've never really understood or experienced.
My co-worker, an OSU alum, even recommended I get their world famous cheese fries!  All right!!!
So we went to Eskimo Joe's.  I was warned that the food wasn't much to write home about, so I started with low to moderate expecatations.
To make a long, nasty story short, the cheese fries made everyone sick, and the chicken chili that one of our group had gave her 2 days of food poisoning and bad, bad digestive problems. (She has a sensitive GI tract anyway… and I know exactly how that feels, yo!)
So, thanks Joe.  We'll always remember the good times we had together – just me, you and the commode.
Of course, I still bought the shirt and took home the souvenir cup.