So, it's no secret that I try to keep my personal life out of the blog as much as possible. As I've said before, I prefer to make this blog about things (as I see them), rather than about myself and all my awesomeness.
…But…
There are certain events in a man's life that completely change everything – that deserve to be blogged about – and this is one of them…
I'm engaged!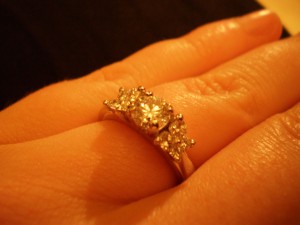 I picked that ring all by myself! (…OK… TLS helped too)
My fiance didn't want anything to do with the ring picking.
How'd I do?  I'll be honest… I'm pretty proud of myself!
Yup. I've been dating a girl for a good while now, and we've gotten to that point.
Whaddya mean you can't believe it? … I can't believe it!! Here I was just minding my own business, enjoying my singleness, and then this amazing woman just pops into my life! (Ok… it was a little more involved than that.) But really, what was I supposed to do?!
Let me take you back a few months… remember that couple of weeks about 4 months ago when people started asking me if I was OK, because the blog was really suffering, and I was sounding like an idiot every day?  I just wasn't performing to my usual blogging standard. Well, that's why. That's when the relationship started. I've since recovered and brought the blog level back up somewhat, but I fully expect the same dip in blog performance to happen over the next few months.
Anyway, dear readers. Let's not belabor this point, nor dwell on all this wedding madness. I will make a pact with you. I will not be gushing and/or complaining and/or bragging and/or spilling every detail about my impending wedding here on the blog. This blog will be a mostly wedding-talk-free zone. Please note, however, that this is going on in my life, and I just might get a little distracted.
If you would like to be thoroughly sapped out, here is our wedding website: http://www.samandaudrey.com/. Check back often for updates as we get closer to the date!