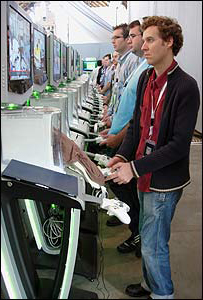 This is article 3 in the series, "Celebrating Singleness":
I was recently sent two articles: "Marry Him! (The case for settling for Mr. Good Enough)" and "Child Man in the Promised Land". Both are extremely long treatises (which actually kind of stall about 1/3 of the way through, so don't feel bad when you stop reading at that point), so if you're not up for that much reading on a Monday (I understand), here is the summary:
#1 Single adult women should stop searching for Mr. Perfect (a.k.a. Prince Charming) and "settle" (not a pretty word) for the best thing they can get to commit. The article alleges that women live in a fantasy world where their ideal man is mature, responsible, great looking, romantic, rich, and who is free from all disgusting habits.
#2 Single adult men are often stuck in a state of adult adolescence. They are unable to commit to women, or anything in life (a job, a roommate, a sexual orientation). The premise of the article is based on a number of comparisons to 1960's adults and points out that today's adults are not taking on the responsibilities of marriage, property ownership, and career as early as those adults do.
I will not be able to respond to everything in both of these articles (you'd fall asleep in your chair), so I will point out a few things that get my goat, and then allow you to point out what you think in comments.
Response to Article #1
I have very little to say to this article, as I am not a woman and cannot validate or contradict their conclusions. However, I will invoke one of my favorite previous posts entitled "A Fixer Upper" to reiterate the fact that every guy I know, including myself, has some 'fixer upper' qualities. There is no such thing as a Bisquick marriage (just add man), and if you're waiting for Prince Charming to come sweep you off your feet, then get comfortable cause you're going to be 80 by the time a man has evolved to that level.
To paraphrase one of my favorite quotes from Gordon Hinckley: "Men, the woman you marry will take a great chance on you." Women, that means you have to actually take that chance.
Response to Article #2
I get to take more issue with article #2 since I am a guy.
I like to consider myself a guy who is pretty well-adjusted. I know many other guys who are as well. I also know yet other men (sheesh, I know a lot of people) who are total wrecks. When I say "wreck", what I mean is these are those who go home, cook up their Totinos Pizza, and plug in to the Xbox or Playstation 3 every night. They are the epitome of this article.
Yes, they do exist.
It's not really fair, though, to compare us to the post-war optimism of the 50's… because of that whole pot-smoking, woodstock attending, bra burning, 60's thing – you know our parents and counterparts who INVENTED the concept of "finding yourself" in your 20's. (monkey see, monkey do?)
Sidenote: Why does 'finding yourself' always get associated with self-destructive behavior?
News flash. Things have changed in the last 58 years. 20 year olds in the 50's didn't have nearly the bills and the consumerism that we have today. No cell phones, no $3.75 gasoline, no expensive cars (they were just coming on). Also, the concept of a 'career' in the 1950's was that you'd get a job in a good trade and work there your whole life and then the company would take care of your pension when you retired.
Obviously, the world today is much different. Our job market is super-fluid, especially for those under 30. Most people have cell phones, cable bills, rent bills, car payments, student loans, and credit card debt. And then, of course, with all the advances in transportation, communication, and health care (mostly in the mental health department – and the importance of finding a chemically balanced spouse) – there is far less simplicity by limitation. People rarely fall in love with and marry their high school sweetheart anymore.
Sad, huh.
I'm not saying these are things that should keep men from wanting to get married and committing, I'm just saying things have changed.
Even the excuses.
So what's my excuse? I'm still working on one.
In the meantime, I keep celebrating this wonderful, limitless phase of my life.