Last weekend, as a celebration of sub $2/gallon gasoline, the open road called our names and a road trip was embarked upon!
The first stop was San Antonio – and the famous River Walk.  Uhhh…. hello!?!  The sidewalks are quite narrow and there are no safety rails!  This is an accident just waiting to happen!  The river is deep, too: eight feet.  This is no "Small World" ride, you're gonna have to swim if you fall in!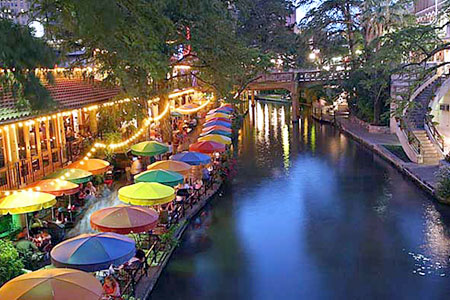 I learned that, on average, four people per week fall into the river.  Our river guide informed us that the last person fell in not because of drunkenness, but because they were TXT messaging.
As part of the trip, we swung through Bandera, TX – the self-proclaimed "Cowboy Capital of the World."  I thought this was a slightly pretentious claim, so I went about verifying whether or not this was the actual capital…
A random Cowboy, dressed in a slightly strange hat was standing on the 'sidewalk' with his 13 month old buffalo, telling people about it and letting people take photos with it.  He wasn't asking for money or selling anything… just decided to bring the buffalo into town and show it around.
The man at the real estate sales office we visited was describing the current economic conditions.  He mentioned that only people who had a "giddy-up on their credit" were having a hard time purchasing land.  I assume a "giddy-up" would include not having sent the local fat-cat banker a Christmas card last year.
We went into The Cowboy Store and they had everything anyone would ever want to get all gussied up: hats, belt buckles, boots, etc.  I have decided I am only part Texan since I only own boots…
One of the large road sign outside one of the many junk stores read: "Welcome all you deer people.  God Bless us All"
In the local BBQ joint, the food was served on paper plates, but no one cared.  It was that good.
Yes, we had hit the cowboy jackpot!  I give Bandera TX a solid 8.5 out of 10 on my Cowboy-Up-O-Meter.
These cowboys were surprisingly advance, though.  In the same BBQ joint, when you went to dry your hands in the rest room, your only option was a mega-hand dryer which didn't say "place hands here" as a typical motion activated dryer might.  No, it said "FEEL THE POWER!" and then it blew the top quarter-inch of skin off of your hands.
We swung by Houston to attend church, and I experienced another first: the first YouTube video ever shown in Sunday School.  The video was of a nice girl playing the ukulele and singing a snazzy version of "Search, Ponder, and Pray."  Directly after the clip, the teacher was so obviously impressed with his own clip that he rhetorically stated that the lesson could just be over right then.  I was confused.  Apparently there's an inherent spiritual power in a ukulele that I have yet to discover…
Sidenote: Huge shoutout to all the great company I had on this trip.  You know who you are!  I had a great time, and couldn't have done it without the four of you!