I need to start these live shows – the real part of American Idol – right by complaining up front: I don't like the 12 cut to 3 format!  The cut is too deep too soon!  We can't get to know any of these people or see them progress on a weekly basis.  It changes the voting entirely, and leaves to a much greater chance the 'top 12' that we might get to see.
Wow… Doogie Howser and Ted Danson are in the audience.  I'm star struck.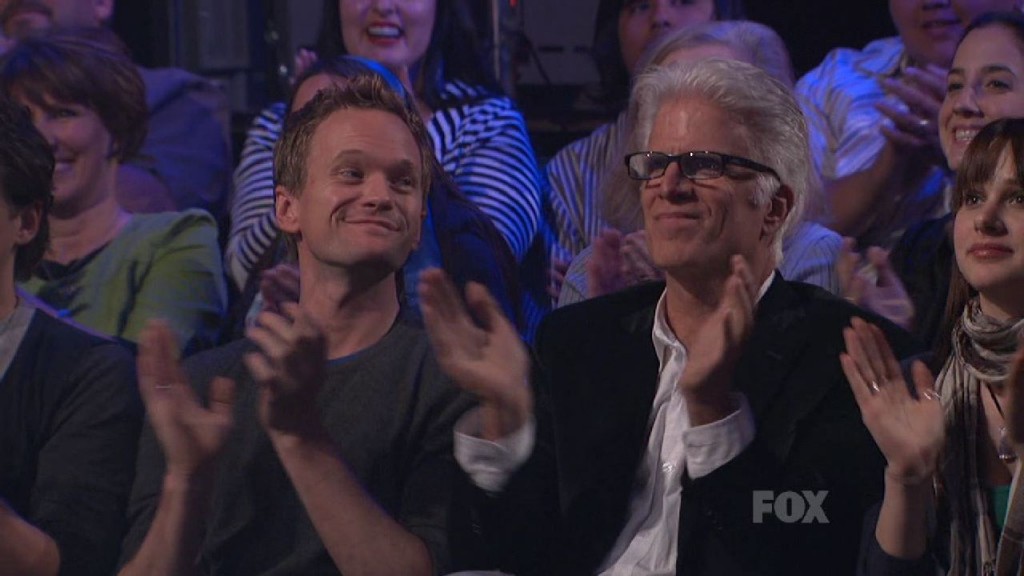 That being said, let's take 'em one by one…
Jackie Tohn
We never got to see her in the Hollywood Round. So I'm not really excited about her. She's trying really hard, and what's up with those sneakers – Are high tops coming back in? And what's up with the reflective pants?
Perfect is sometimes boring.
-Paula
Thank you, Paula.  Way to open the season up right with a stupid comment.  Let 'em flow!
BAM!  Then Simon came out the gate hard at her!!!  Yeah!  Nice work, Simon!  Way to keep the bar high.
Ricky Braddy
We didn't even see him on the auditions did we?  Great song choice, I think.  He needed to shave the sides of his ears.  With the back lighting you see the fuzzy ears.  I like his vocals, I'm just not sure he is or has "it" — but he is good.  Some times he does weird things with his mouth which makes the tone do funky things.
Alexis Grace
Nice bold lip color.  She is working that microphone, hard core!  Trash it up, yo.  I mean, to sing the blues you gotta dig, and I think she accomplished that. But I have to say that I disagree with Simon.  She was really into it, but I think the whole thing was a little 'put on' – a little Tatinana-esque.  I just didn't totally believe it.
Oh yeah… and …Drink Coke… Buy Ford
Now a shout-out to Seacrest for his MAD SKILLZ at hosting AI.  When the tape didn't run of Brent Keith, he totally was solid under pressure.  He's been doing this like 8 years.  You would think he could have done that interview with his eyes closed.
Brent Keith
Snoozer.  He maybe should have chosen more of a slow, tender ballad.  He just didn't have the power to really do that country song. At least he went down swingin' – taking a few hits at Simon!  He should have just gone over there and decked him!  Then I'd have voted for him. He's barely keeping it together during the interview too… wow.  He was P.O'ed.
Stevie Wright
The top of the song was too low for her, and her voice was super-shaky.  Oh… Sad.  Just so sad.  So pitchy.  All over the place.  This was a bad bad thing.  Poor lady.
Which all led to the best quote of the night:
Paula: "America Votes…"
Simon: "Yes, but they listen to me…"
She's a cute girl, though… maybe a career in modeling?
Anoop Dawg
Besides his eyebrows, I'm really excited for him.  I've never seen an Indian guy who could sing like him.  Sadly, though, he went to the David Archuleta School of Stage Presence.  (Which is probably as widly successful as Paula's little fake star jewelry)
I really like him, though, and I'd like to see him in the next round – just to see what he can do.  He has a great voice, but I'm not sure this is the song he needed to catapult him into the next round.
I got mad love for you
– Randy
He is a class act, and he is hugely likable.  Let's hope that's enough to get him through.
Can I just take this moment in the middle to say that Ryan is looking more and more like a grown up each year?  A little less fake bake.  A little less open shirt action.  Nice touch, Ryan.
Casey Carlson
She kind of looks like my cousin Rachal.  The subtext of her song seems to be: "I'm lookin' hot, huh.  I'm gonna say the lyric 'turn him on' now.  Bam.  I did it.  I'm super cute.  Awesomeness!  K.  Remember to open your mouth on the long notes.. nice and wide."  It's too bad.  Sad, sad, sad.  Bad.  The song was just too big for her.  Way too big. Even the track sounded like a karaoke track.
Michael Sarver
That was a train wreck… or an oil rig wreck… or whatever.  Not great.  My guess is the judges pick him as the wildcard when he doesn't make it through.
Anne Marie Boskovitch
Well, the song was bigger than her, and the middle was WAY shaky.  The end, though, was good.  Way good.  I thought she almost made it happen there at the end.  Oh well.  Better luck next year.  I don't think it was enough, especially after the tongue lashing she got from the judges.
Stephen Fowler
He's took a big chance with the song choice, and totally pooped it.  It was super-poopy.  Big poop.  I'm talking diaper blowout with streaks up the back.  EWWWW!
He isn't going anywhere with such a poor performance of a song that's indelibly linked to Michael Jackson.  The song killed him, but I think he's a candidate for the Judge's wild card pick as well.
Tatiana DelToro
This girl is going to be my undoing.  Her voice is actually not terrible, but I can't even stand to look at her.  She is so awkward and young and insecure.  And, yes, wearing Paula's ring on her microphone hand.
She is totally schizophrenic, too! When asked where she fits into the music business by Kara, she replies:
I fit everywhere.
– Tatiana
She is just a complete mess.
You are desperate to be famous.  …A complete and utter drama queen.
– Simon
I couldn't have said it better, Simon.
If she wants to "market" herself, I know a few street corners she can work, but please don't make me watch her sulk in front of the cameras any more!
FAKE, FAKE, FAKE, FAKE, FAKE, FAKE.
Danny Gokey
The best of the night, as expected, was Danny.  Ending was great.  Beginning was nice.  The song was nice.  He was for reals when he sings.  He's not putting on a show, he's not.
[flashvideo filename="/video/ai8/36-gokey.flv /]
Conclusion
A HUGE disappointment for the first night!!  Thought it was going to be a killer night, and I am really sad that some of the ones I was totally counting on let me down.  Danny is the only one who earned it tonight.  Everyone else who makes it through is just getting a lucky second chance.
Here are My Picks:
Top 3
Danny (and Jamar)
Doogie Howser
Ted Danson / Santa Claus
Needs another chance
Anoop
Ricky
Stephen Fowler
Anne Marie
Take Them or Leave Them
Alexis
Stephen Fowler
Worst
Tatiana
Stevie
Casey
My Guest's Picks
Best
Jacky
Alexis
Danny
Worst
Stevie
Casey