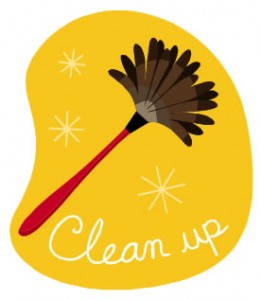 I can't count the number of times I've heard my mother say:
I just can't leave a dirty house.
Growing up, I never understood this phrase.  Sure you could!  I left my room dirty every morning (and it often miraculously cleaned itself after I was gone) and no one seemed to bat an eyelash.  No cleanliness god punished me for shirking my duty.  No strangers ever came in for a house tour and wanted to specifically walk into my room.  What was the big deal?
Well, I'll tell you.  I know now.  It's totally a psychological thing that happens after you own your own home.
Every time I return home after I've been away for any long period of time (overnight seems to be enough), I always think to myself, "I wonder if the house burned down."  Not that I expect it to have burned down, but it always adds a bit of wonder, excitement, and mystery to the return home.  Maybe it's just that we always expect something bad to have happened in our absence.  After all, we weren't there to be the super hero and prevent it, right?
You know how they say we all become our parents?  Well, I think I've become my mother in needing a bit of order before I leave the house… especially if I'm leaving for any extended period of time.  I think it's because I want my house in good working order if a fire crew or SWAT team ever have to break in while I'm gone.  I mean, who would want to have left your roller skates in the hallway and cause the fireman to trip on the way to putting out the fire in your network/server closet?  Come on.  I just couldn't live with that guilt!
OK… I'm sick.  I know.
And yet, I have not reached the level where I will actually delay my departure just to straighten that last shelf or wipe the counter one more time like my mom so often does.  (Which is what really, really used to annoy me growing up.)
Then again, in her words… "I'm just a little anal."