You know that really awesome Leona Lewis song, "Bleeding Love"?  Well, I keep bleedin', keep keep bleedin' out my 401k!
A few months ago, I wrote a post talking about this supposed recession and how I had yet to see any real signs of something they had been talking about for months already…
Well, here is your sign: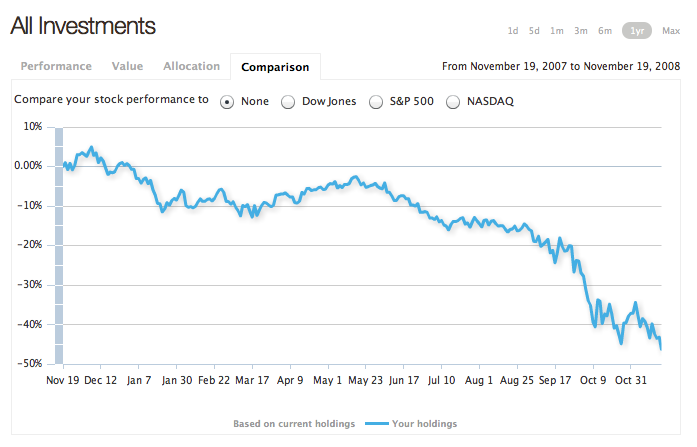 (BTW, I get these nifty charts from Mint.com which is the coolest, best finance application out there (beats quicken and money) … And it's free!)
So… hmm… I wonder when the <bagel> started…   My guess would be somewhere around Sept 1?  Or at least that's when we finally had our come-to-Jesus moment and realized the emperor really didn't have any clothes on.  (That poor emperor just keeps getting nakeder and nakeder.)
So far I'm incurring my biggest losses on an international fund, which invests in overseas companies.  At the beginning of this year, I believed that whole 'decoupling' thing… that exports would improve and other countries would grow quicker as the dollar got weaker, and how the world economy wasn't tied to the American economy.
I guess I was wrong.
So, any professionals out there wanna tell me what to do now?  Do I move anything around, or is it best to just keep everything where it is?
I think I'm just gonna stay where I am and ride this puppy out.  The good news is that every contribution to my 401k now is buying more and more shares (I'd up my contribution if I could), and when the uptick happens (and yes, it will happen), I'll be sitting pretty.
What I do feel bad about is for those who are less than 5 years away from retirement.  Not a lot of time to regain pre-plummet values…
Yes, my friends… the bagel is here!!!