We woke up early on Day 3 so we could get down to the Vatican and get into one of the first tours of the Vatican museum.
We thought we had signed up and paid for a guided tour in an information kiosk on the previous day, as recommended by our B&B host.  However, we came to find out that this was a huge group that just got together and paid in advance through a tour company to skip the 3-4 hour line and get into the Vatican Museum much faster.  We found out much later that we were eligible for an audio guide, but the line of that was pretty long, and we just weren't clear on how the whole operation was working – so being the independent tourists we were, we just started running through the museum.
The Vatican Museum is only moderately interesting.  They have a lot of stuff, but it's not very well tagged or presented in a way that informs the viewer of its importance or significance.  You have to go through a lot of hallways of unimportant art to see the real masterpieces.  (For example, after the sistine chapel, we had to walk through about 10 hallways full of empty cabinets.  They were beautiful cabinets, but these were nothing but hallway after hallway of painted ceilings and cabinets lining the walls).  Granted, having an audio guide might have helped us understand more, but we were mostly just kind of making up stuff as we went along.
But – wow – when you saw a masterpiece, it made all the hiking through the cruft worth it.
We did get to see the Sistine Chapel, Michaelangelo's ceiling masterpiece.  The art in the Sistine Chapel was amazing!  (Though you kind of get a crick in your neck from looking up for so long.)
The environment in the Chapel, on the other hand, was kind of disappointing.  For a 'holy place' where there were no photos allowed and where they asked everyone in advance to remain silent, it sure was LOUD and there sure were a LOT of photos being taken.  They keep the chapel packed, as well.  It's just wall-to-wall people.  No benches, no furniture.  Just benches lining the sides of the walls.  It was kind of dark, too, so you really couldn't see the fantastic colors that the restoration of the 1990's brought out in the art.
But it was epic just to have been there.
There were a few other interesting bits in the museum.  There was a replica/cast of Michaelangelo's Pieta, which I now wish I would have paid more attention to since the original was so hard to see.  (Details later).  We ate a nasty museum lunch before leaving back to St Peter's Square.  St. Peter's Square is pretty incredible on its own merits.  The sculptures lining the collonades on both sides are incredibly epic, and just blend right into the beautiful exterior of St Peter's Basilica.
By the time we got out of the museum, it was late enough that the lines to get into the Basilica were non-existant, so we decided to complete our Vatican experience by going through the basilica as well as the crypt where many of the Popes were buried.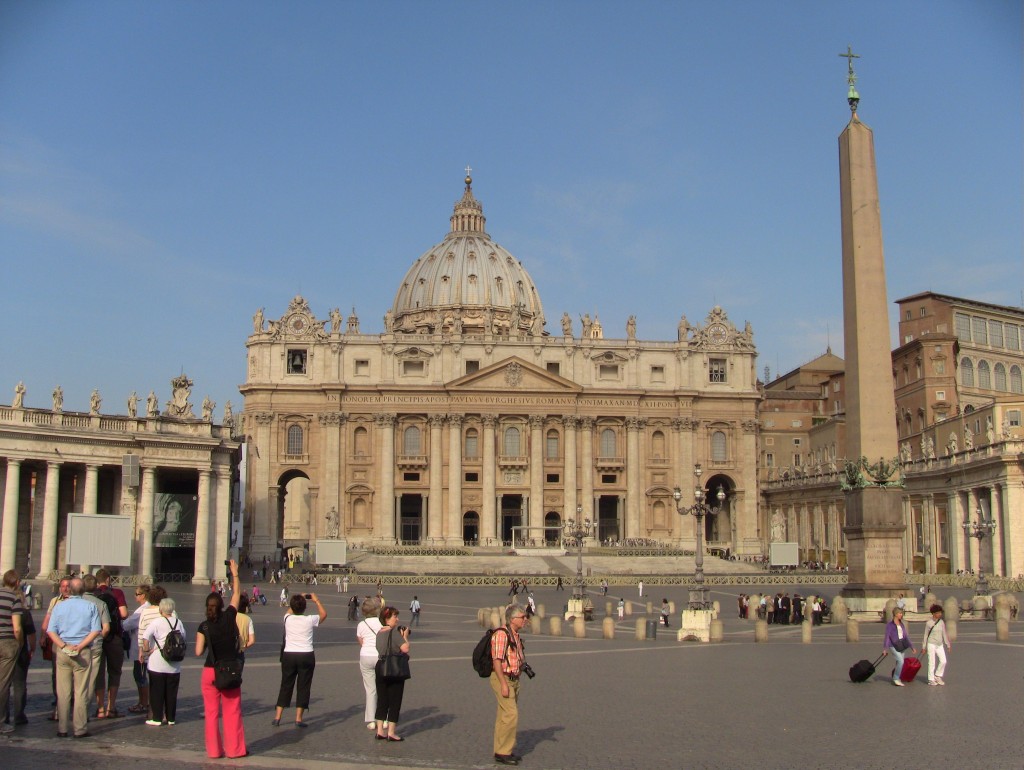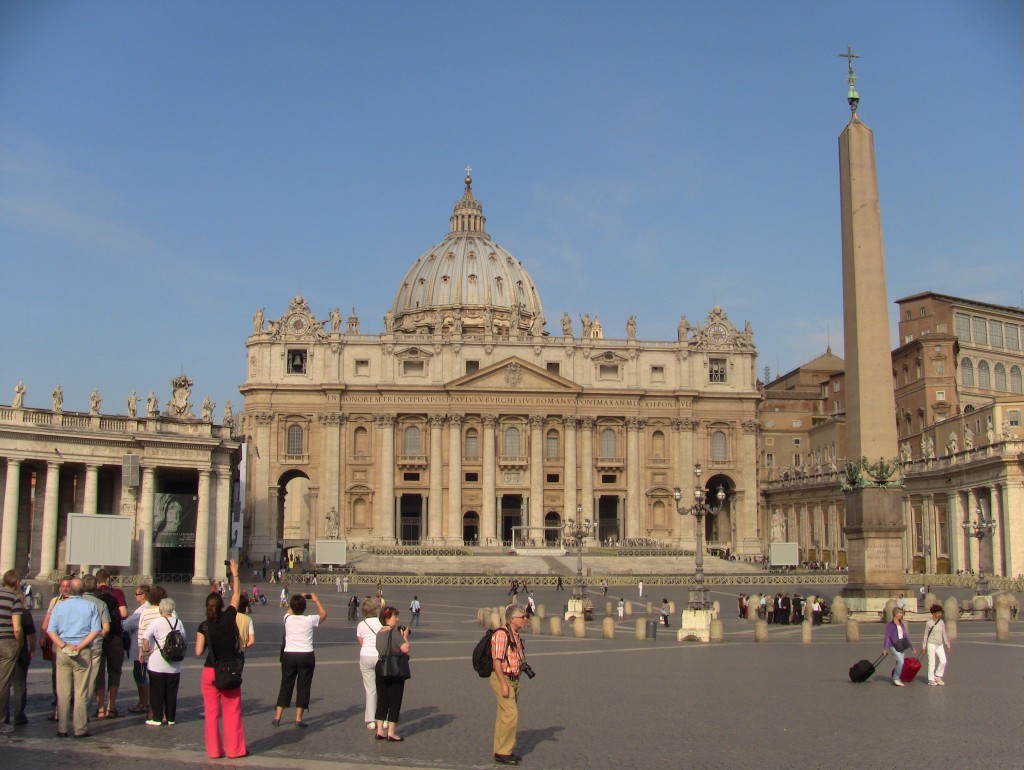 St. Peter's is mammoth, and a marvel of architecture and art.  In the little side chapels of St. Peter's are various interesting relics, the fist of which is Michalangelo's Pieta, set in the far distance behind a lot of glass.  For a sculpture, I found this pretty inaccessible.  I'm sure that security is a huge problem, as well as some people's fervor over the religious implications of the sculpture, but it would have been nice to put it within 10 or 20 feet of the viewer.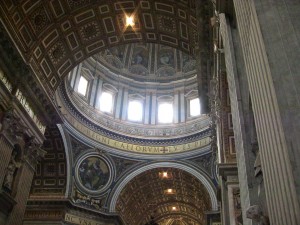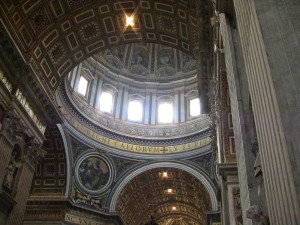 The sculpture in St. Peter's Basilica is, without a doubt, the most impressive, overwhelming, and incredible work of art I've seen in my entire life.  Ornate doesn't even begin to describe the works that are found in this place.  It's just too much to take in.  The baldaccino (the big wooden and bronze pillars) and the rostrum in themselves are incredible masterpieces that overwhelm all of the senses.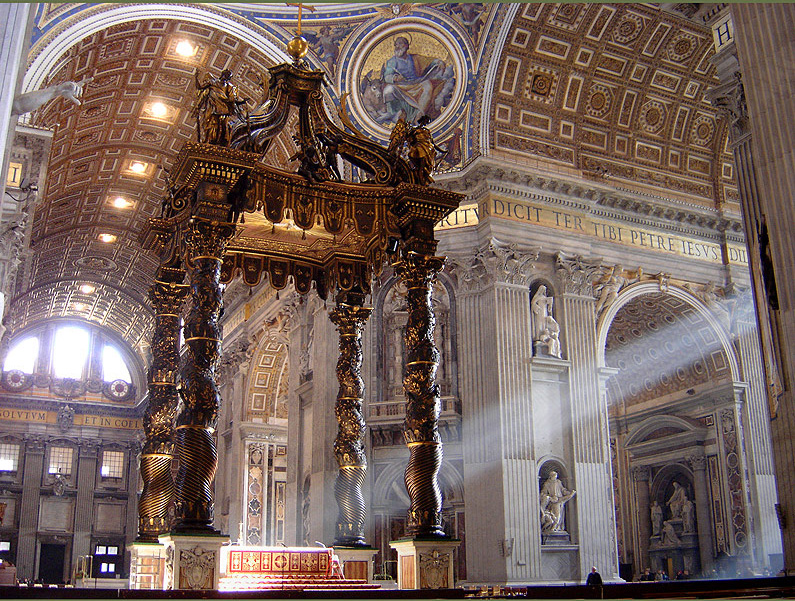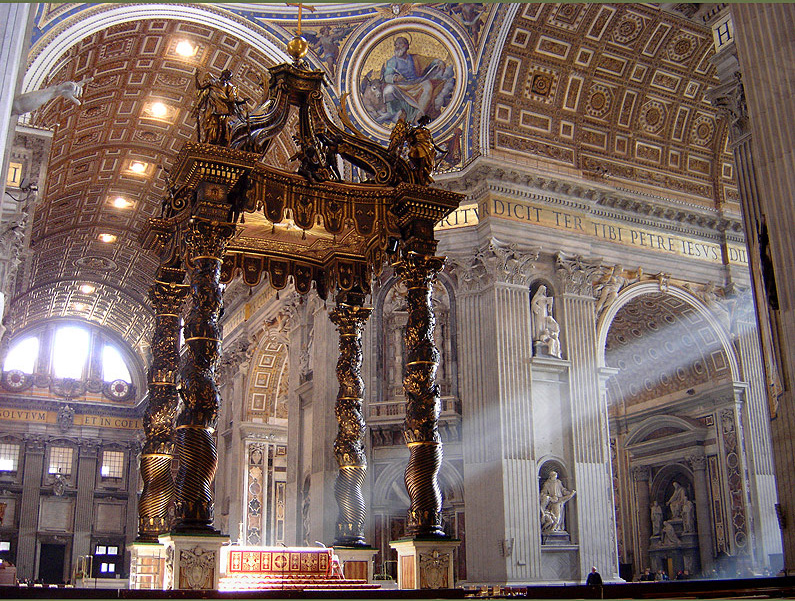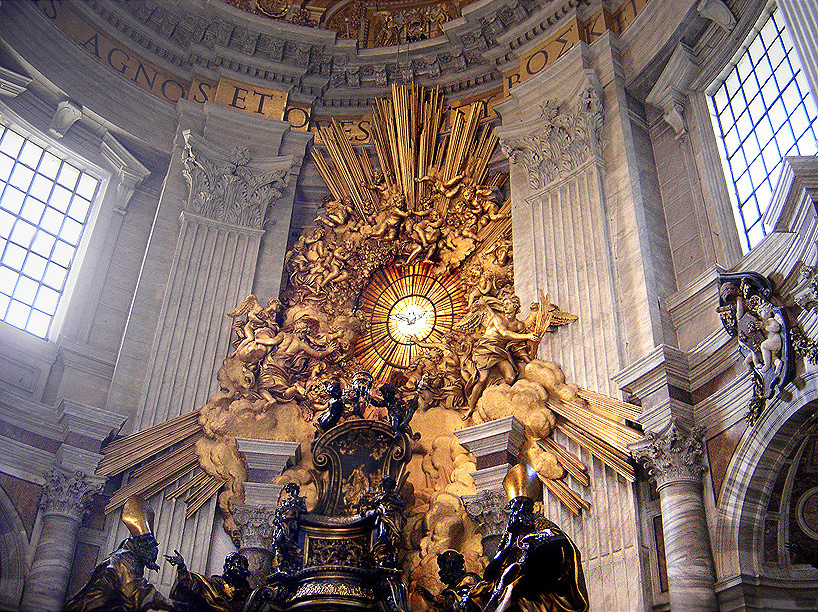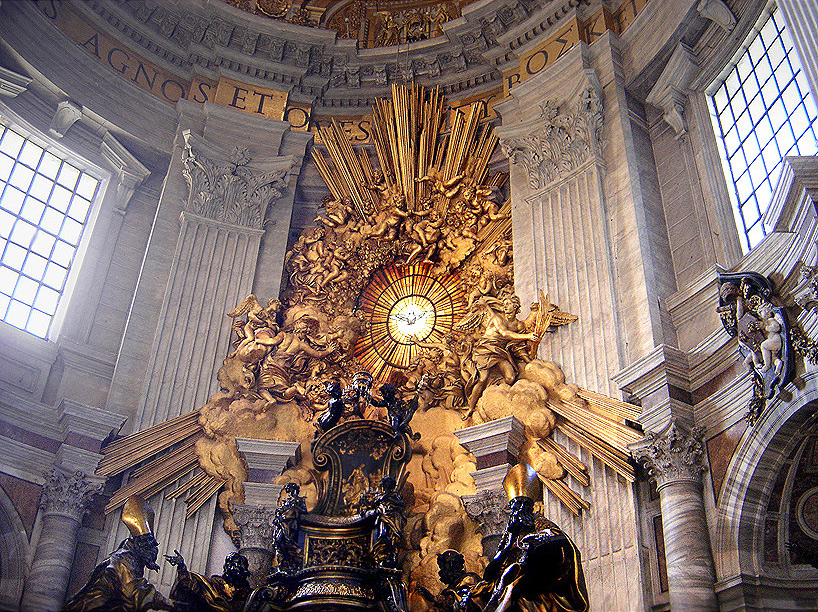 After completing our walk-around of the Basilica, we went down into the tomb of the Popes.  I was a little creeped out by it, actually, but Audrey really wanted to go through it, so we did.  They actually have Pope John Paul II's grave very nicely lit up and many people still come and leave flowers and remembrances there.  You can tell he was a much-loved Pope.  All the others just creeped me out.
After finishing our Vatican day, we were soooo tired.  We stopped at a cafe on the way back to the metro and had a large Coke "Light" (that's what diet coke is in the rest of the world) and a yummy strawberries and cream dessert. We'd been on our feet for way too long, and were ready for nice dinner and relaxing night in.
On this day, we ate at one of our favorite restaurants in Italy.  It was a place that served good, fresh seafood!!
Here was audrey with her Lobster and pasta!  Later we enjoyed an incredible sea bass, followed by a chocolate cake dessert!  5 course meal!  BAM!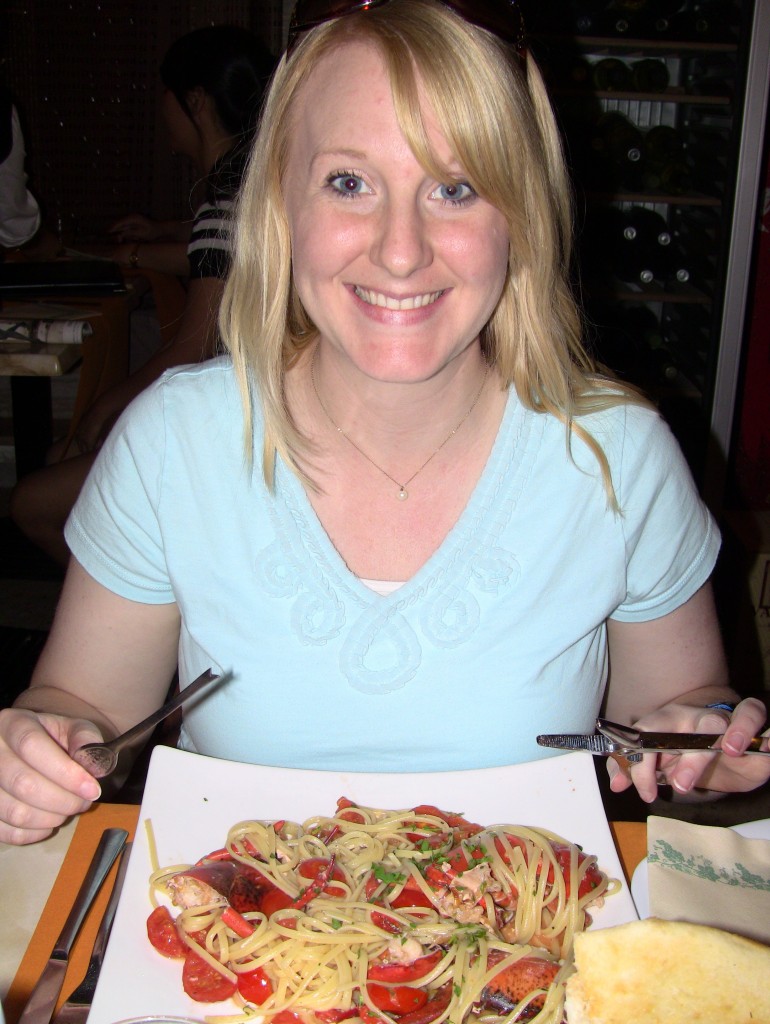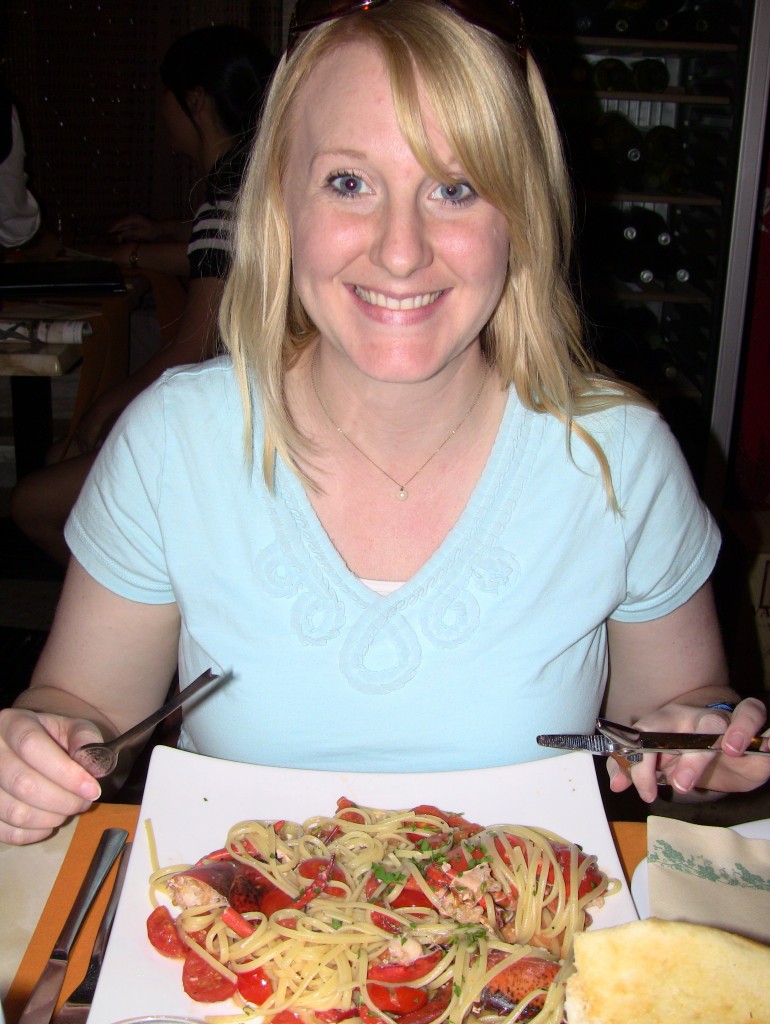 Buon Apetite!
Tips for Vatican visit:
Go as part of a tour to skip the line.  (We got tour tickets with Roma Cristina from an information booth on the street.)
Download an audio guide to your iPod before you go.
See the Sistine Chapel, the Rafael frescoes, and spend some time with the Pieta replica.