We woke up a little later on Day 4 and were quite sore from all the walking during Day 3 and the Vatican, but we were NOT to be stopped! Day four was sort of our wildcard day – we weren't sure what we wanted to do.  Paulo recommended that we take in the Villa Borghese and the Borghese Gallery – a PERFECT decision and a PERFECT day!
We took the Metro to the famous "Spanish Steps", and then walked up the steps to the Villa Borghese.
On the way we enjoyed some of the most beautiful vistas of Rome as we climbed uphill toward the Villa Borghese.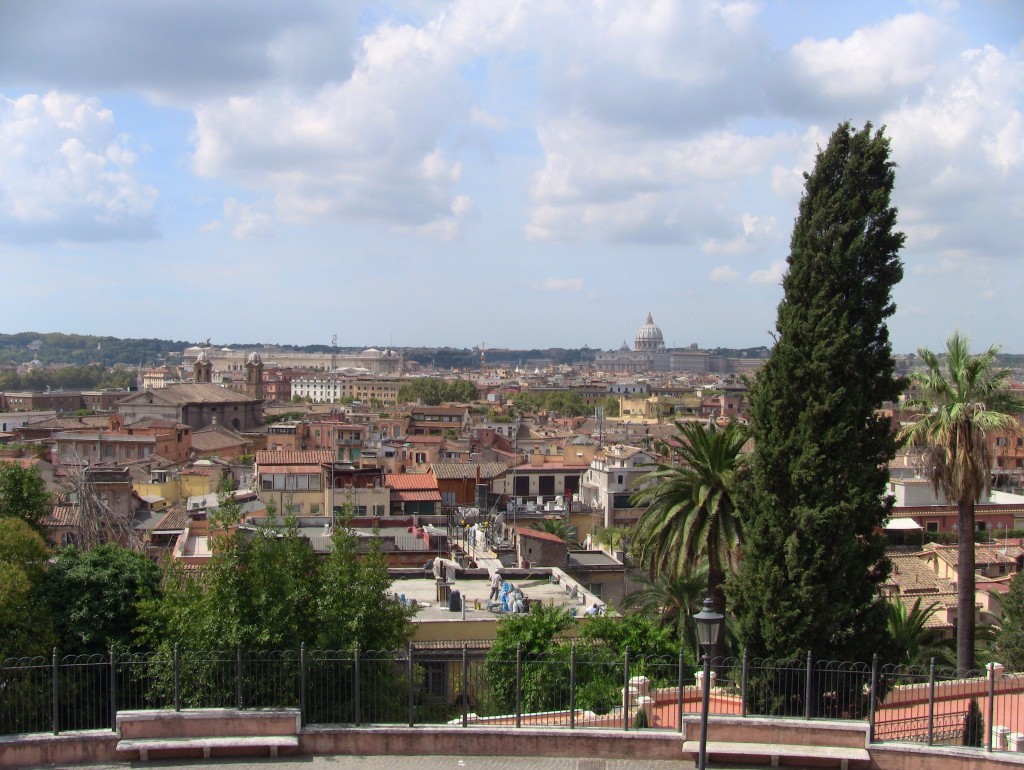 Villa Borghese is a beautiful park in Rome whose main feature is the Galleria Borghese, an incredible art gallery developed from the collection of one of the early cardinals in the Catholic church who happened to also be a major art patron.
This gallery boasts four incredible sculptures of Bernini, the same prolific sculptor who did most of the work in St. Peter's Basilica.  Often overshadowed by Michaelangelo's brilliant but rare masterpieces, Bernini's volume of work is unparalleled, and debatably possesses more innovation, brilliance, and beauty than anything Michaelangelo produced.  He was unbeatably more consistent and reliable than Michaelangelo.
I discovered my new favorite sculpture in this gallery; Bernini's "David"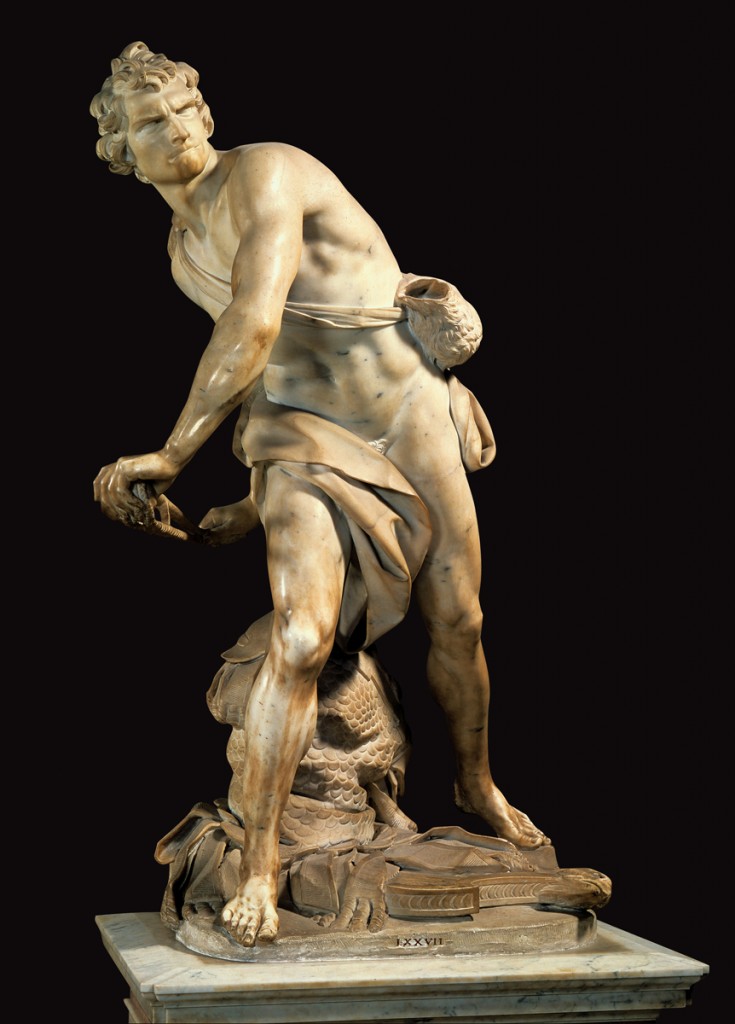 This sorry photograph doesn't do the sculpture justice.  It has since been restored and is brilliantly white.  Unlike the stoic David of Michaelangelo, Bernini's David is full of motion and emotion.  I absolutely love the determination in his face, as if to hurl that stone with all of his body and spirit.
One of the plusses of examining these sculptures up close was to appreciate the incredible things these brilliant sculptors did in stone.  Mostly, the depiction of softness was breathtaking.  Soft skin, soft couches, the touch of hands on skin: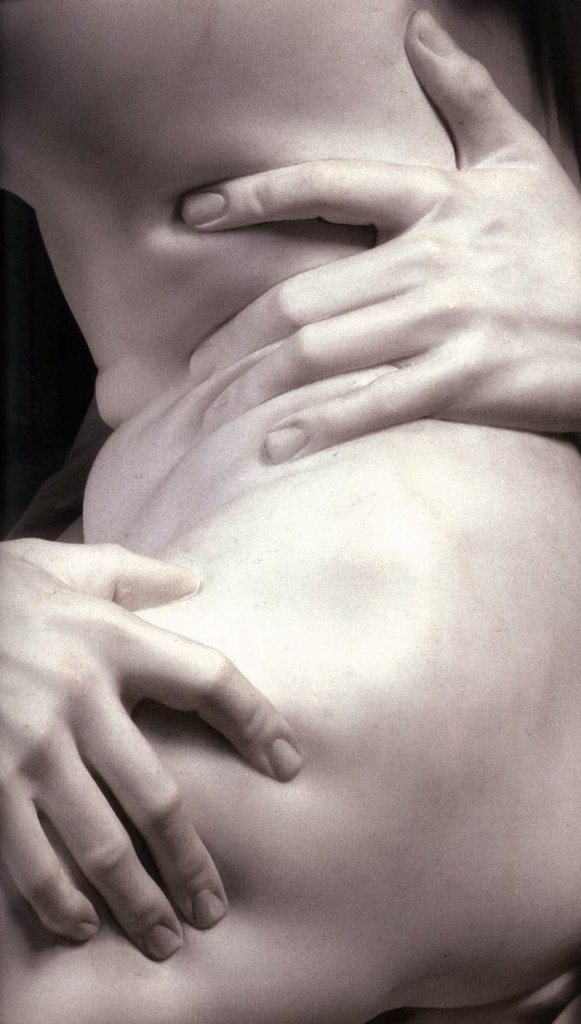 For reals… This is carved into STONE… yet looks so pliable and soft.  This is the work of a masterful sculptor!
I love Bernini!  My new favorite artist!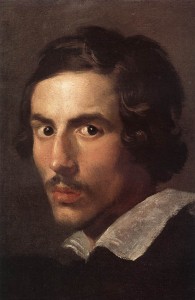 After we finished at the Gallerie, which took most of the day, we walked back to the metro through another piazza, the Piazza del Poppolo, with its awesome view and twin churches.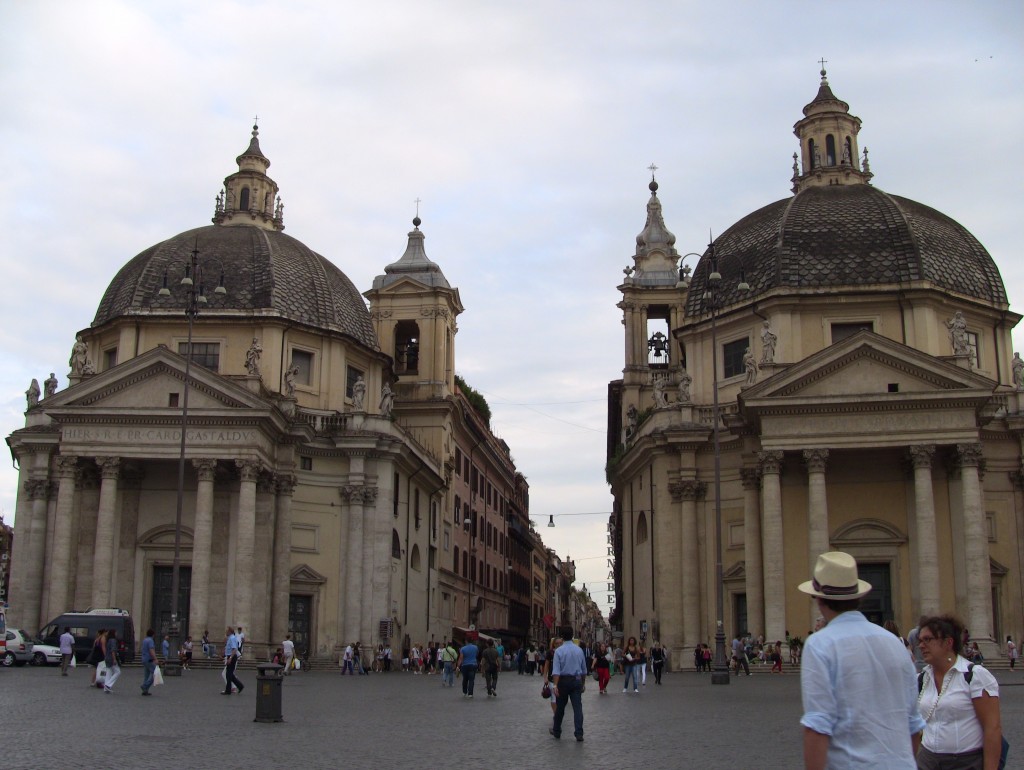 We also happened into a tourist trap off of the Piazza del Poppolo that was actually quite interesting.  It was a 'museum' that had created models of a lot of Da Vinci's drawings and ideas.  It was a nice little tribute to Da Vinci that I'm glad we saw, since none of his art is located in Rome to be viewed.
I thought my brothers would dig these:
There were tons more, including the invention of ball bearings!
After our day exploring the beautiful park, galleria, and piazzas, we were ready for another epic dinner.  We ate at a restaurant near our B&B that Paulo recommended to us.  It was just OK.  I wasn't bowled over by it.
We had a early night in bed, anticipating our travel the next day to FLORENCE!
ARRIVIDERCI ROMA, BENEVENUTO FIRENZE!