When A2 announced that she had to go on a trip to the Northeast in the fall, my mind immediately shot back to the time when I learned the phrase "leaf peeping".  It was from an episode of The West Wing where President Bartlet is upset because he has to forego a radio address packed with policy and issues for a more tempered one about "leaf peeping" in the Northeast.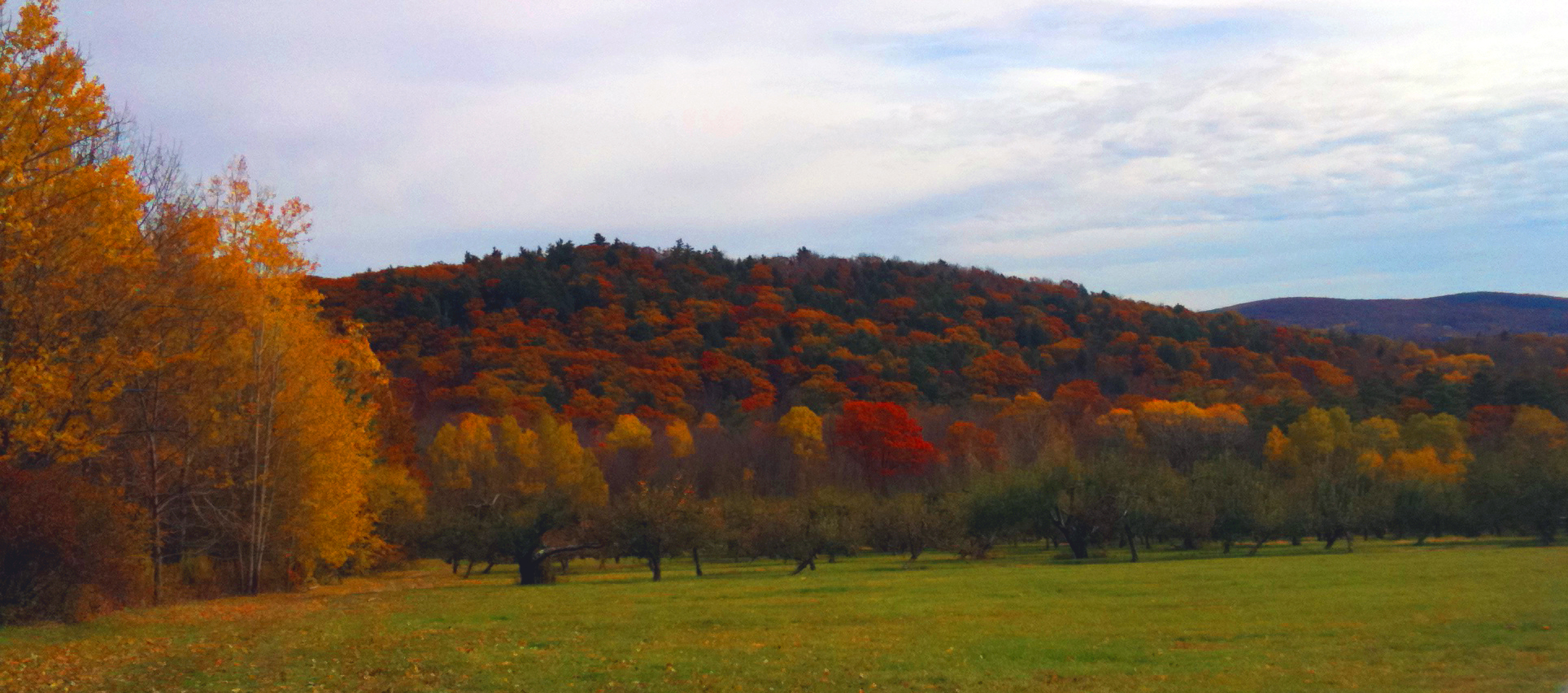 Neither of us have much northeasterly experience, so it proved to be an exciting new experience for both of us. Here is a recount of our exploits and our impressions of our dear Yankee friends:
Our Accommodations
We stayed at "Berkshire Shirakaba," a Bed and Breakfast run by Louise and Sadao.  They were incredibly gracious hosts.  Every time we showed our faces, Louise had another fun little doo dad to show us, or treat to offer us.  She and Sadao made awesome breakfasts, which included a lot of FRUIT!  (A2 says I don't eat enough fruit) They had a pool, hot tub, gazebo, beautiful porches, and a great view of the hills and woods.  A beautiful home!!!
Unlike other B&Bs we'd stayed in, it was really just their house, though.  We could hear them poking around and they could hear us poking around.  It wasn't too awkward (as they were great hosts), but I never fully shook the feeling that I was in someone else's house, keeping me from being entirely at leisure and ease.
But that's part of the fun of travel – meeting and interacting with people – and bed and breakfasts like this are great for this purpose.  We got to hear about Louise's exploits with the local historical society and about Sadao's breakthrough invention that was occupying 2/3 of their garage space.  The Japanese 'theme' to the house was really cool, but not something two meat-eaters from Texas can fully appreciate. (I'm sure my cousin Colby would have been in heaven, though!  He'd have talked Sadao's ear off…)
Hooked Up… For Once!
For the first time, I totally got a hook up on a Travel deal.
I got to Thrifty Rental Car at the worst possible time.  The line was out the door, with about 15 people ahead of me.  I had pre-arranged the "Wild Car" deal, which gives you a lower rate but doesn't guarantee the car you'll be driving (mid-size or above).
When I finally got to the counter, the guy looked up my reservation and said, "The wild car today is a mini van."
Ugh!
He was a nice, young guy so I appealed to his cool side and said, "Awww no."
"Yup.  yesterday was a Chrystler 300, today it's a van."
"Dang…  Well, do you have any upgrades available?" I countered.
For a split second, he was about to blow me off.  I saw it in his eye. It's that look I get most of the time when hospitality and tourism employees look at me and think: "white, upper-middle class kid… he can pay for it!"  I never get free upgrades.  I never get deals.  I always get screwed.  (This is one of the reasons I am becoming an angry white man.)
However, he actually went and really looked — and hooked me up!   Due to my patience waiting in line, and because he is awesome, he saw fit to upgrade me to this beauty:
Driving the Countryside
We left Hartford on Thursday afternoon and just motored around the Connecticut countryside.  We decided to take the most indirect route possible to the Berkshires, taking us through as many small towns and little highways as humanly possible.  We drove by one place that looked particularly inviting for us to get out and stretch our legs.  A2 saw a tree that was growing out of a rock: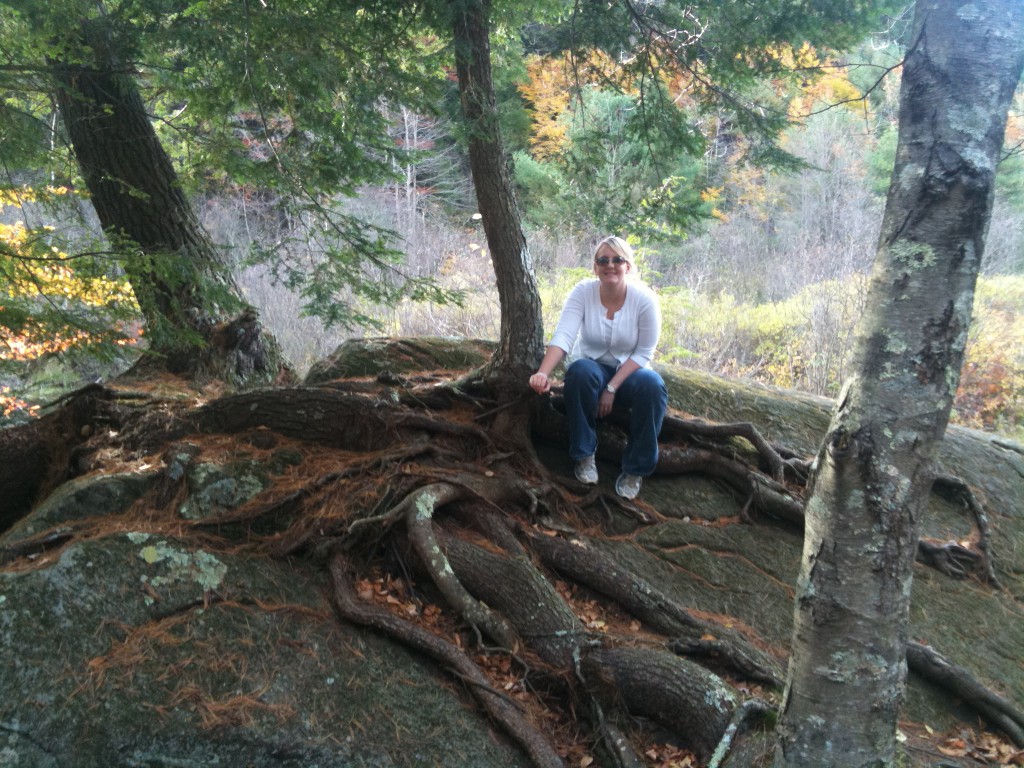 This of course, resulted in a contest to see who could keep their foot in the stream the longest: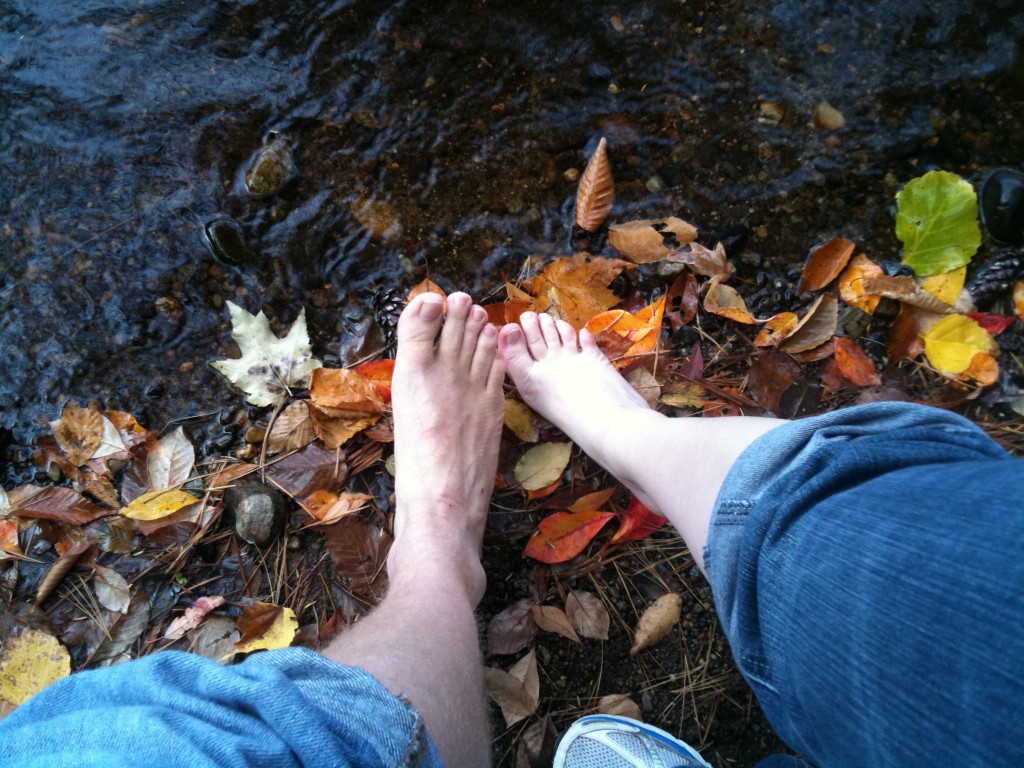 I won when I pointed out a small craw fish that was in the water near Audrey's foot.  She freaked out and I won.  🙂
Yummy Food
We ate dinner every night at fabulous restaurants.  We had authentic Italian, wood fired pizza, and lobster and prime rib.  A2 even wore the bib: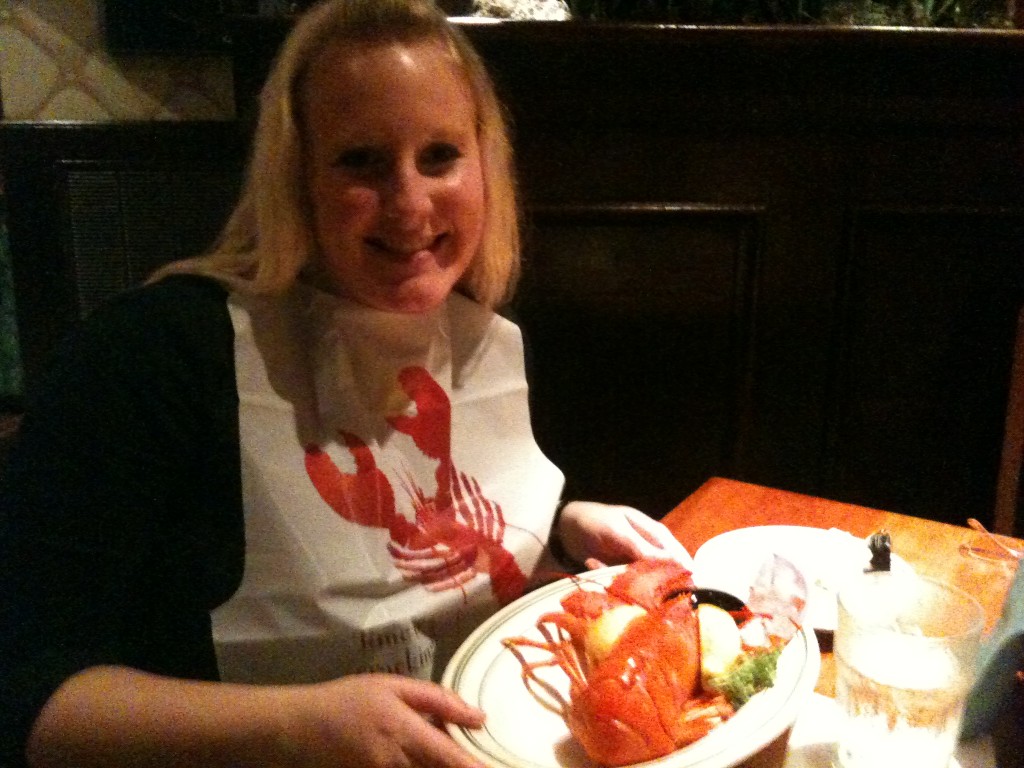 The Sites and Sounds
During the day we spent time enjoying the beautiful foliage and sites that the area offered, as well as these sites:
Norman Rockwell Museum

We had a museum tour by a docent who actually knew and posed for Norman Rockwell.  She was probably in her mid 90's.  A2 and I joked that she posed nude for Norman for the rest of the trip… EWWWW!
Berkshire Scenic Railroad
This absolutely fed my childhood fascination with railroads and trains.  I even got to walk around in a real caboose!  CHOOO CHOOO!!!  We also saw the cutest kid who was dressed up like a devil: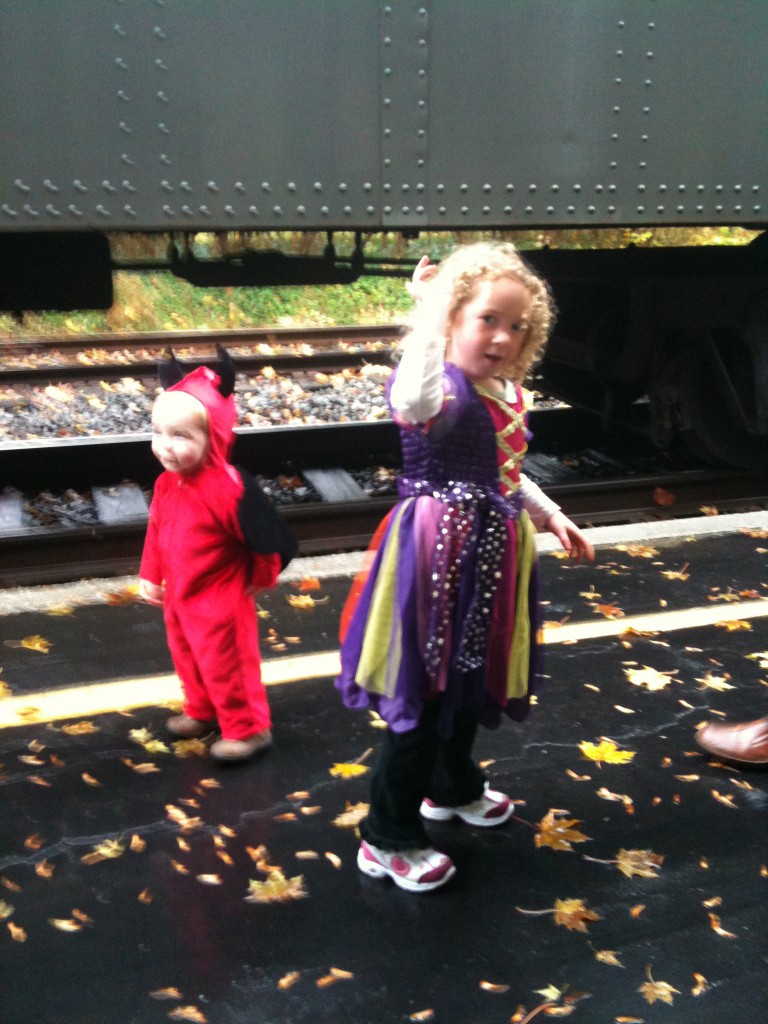 (p.s. A2 thinks taking picture of other people's kids is creepy… but these kids were just too cute!)
Mark Twain Home
Watch for a post on this later this week… A2 seems to think that Sam Clemens and I are kindred spirits… and I don't think she's completely wrong on that…
Hilltop Apple Orchard
We enjoyed a nice hike through the orchard and adjacent mountains.  During our hike, another contest ensued to see who could grab 5 leaves as they fell from the trees.
I won again.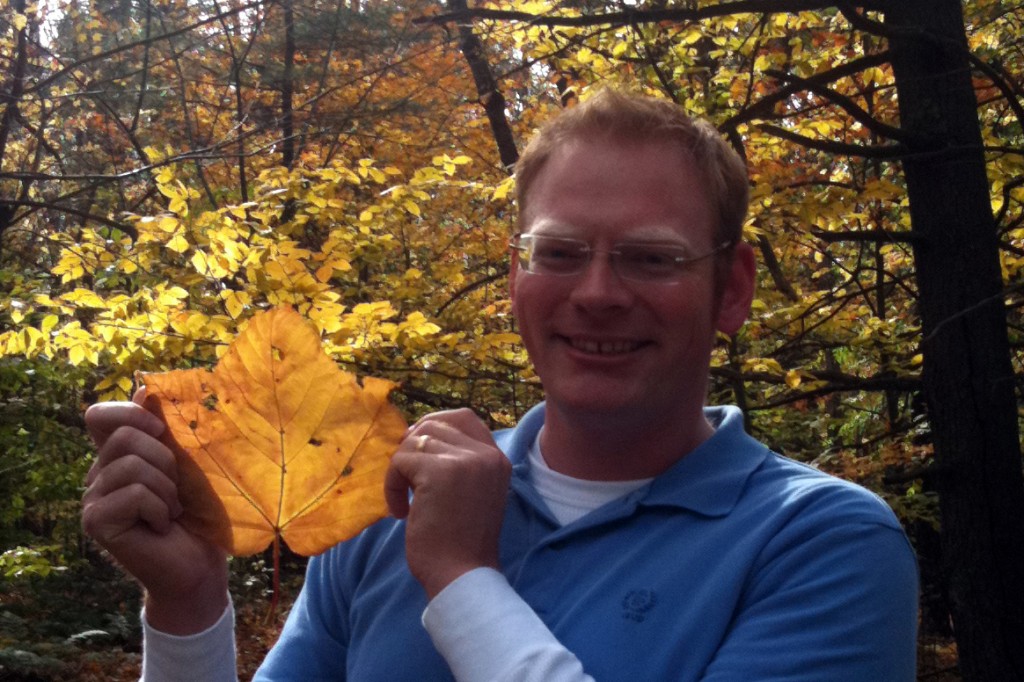 Berkshires Mall
We also hit up the Berkshires Mall for some local mall-rat observation as well as to look for Halloween costumes, both of which were wildly successful (and quite entertaining… who knew you could have that many piercings)!
I also witnessed a JC Penney employee accost two teenagers who she thought were shoplifting a pair of jeans.  That was fun too.
Basketball Hall of Fame
On our way home, we had time to kill before jumping on the plane, so we stopped by the Springfield, Connecticut Shrine to Michael Jordan Basketball Hall of Fame.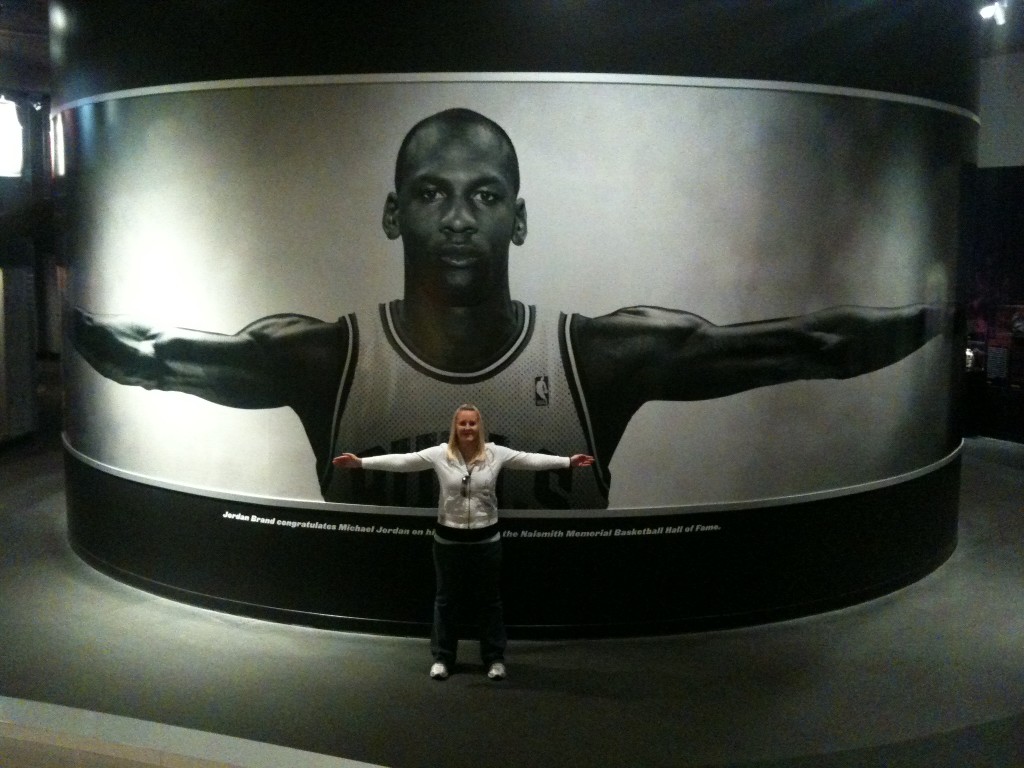 Little did I know that there is an actual hall-of-famer who was born in my hometown of St George…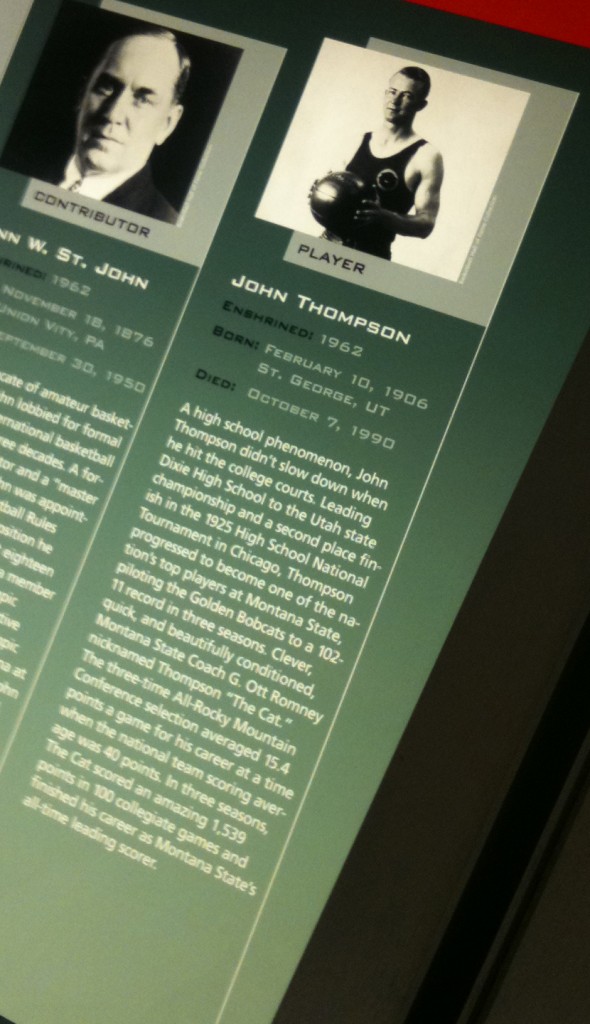 At the Hall of Fame, I showed off my play-calling skills that I learned from years of sitting by the radio personalities at the BYU Home Games:
[flashvideo filename="/video/conn-play-calling.flv" /]
The Towns
We stopped in several little towns.  My favorites were:
Lee, MA – beautifully restored downtown with shops
Stockbridge, MA – Norman Rockwell's hometown… very picturesque
Riverton, CT – where we saw the most incredible artist's gallery I've ever seen…
Observations and Takeaways
New Englanders are not afraid of color.  All the homes are painted orange, yellow, blue, brown, purple — whatever the owner so desired.  If the home wasn't painted some vibrant color, the door at least was.
New Englanders are absolutely crazy.  We asked one lady how cold it got, and she said that it dumps 1 foot of snow on you one day and 2 feet the next. Last year they had long power-outages due to the terrible winter weather.  People died.  This begged the question: "Why don't you just move some place warmer?!?"  But I restrained myself…  Apparently they love it so much they don't mind dying from living there.  (Of course, this goes to that whole age-old debate about whether the #1 cause of death is actually life)
The weather was beautiful… as long as there is no rain.  It POURED on Saturday.  All.  day.  long.  There is a lot less you can do in the wet weather.
There are little New England churches EVERYWHERE!  They are small, quaint, and beautiful, but a dismal number of them are anything more than a preserved historical site.  I'd love to spend some time reading about and/or cataloging the churches in the area and their history.  It's a history that is certainly dying fast in the increasingly godless Northeast. (no offense to Godless people… it's just really obvious there)
I have a new appreciation for New England as a literary 'brain' of the country.  Books and television shows which are written by northeastern writers seem to have a flavor distinct to the Northeast.  While I had already tasted the flavor, spending a weekend bathing and swimming in the flavor now makes it more pungent than ever.
We went a little late.  Fall foliage peaks about 2-3 weeks earlier, and you can enjoy some great events and festivals if you are a touch earlier.  However, being late meant that we missed the crowds!
You pronounce it BURKE-sheers
We had a great time and somehow turned a vacation which is typically embarked on by 40-90 year olds into a young, hip, fun, great time for some 20-something marrieds.  (Which just proves we can pretty much do anything in the world!)