Saturday, we spent ALL afternoon shopping for tables.  We went to Ashley, Rooms to Go, The Room Store, Furniture Liquidators, Thomasville, and Haverty's.  We found two or three tables we really liked, but don't know if we found 'the one' just yet.
Here's what we found: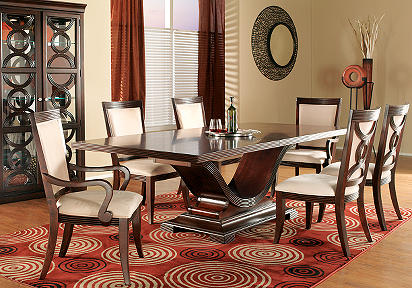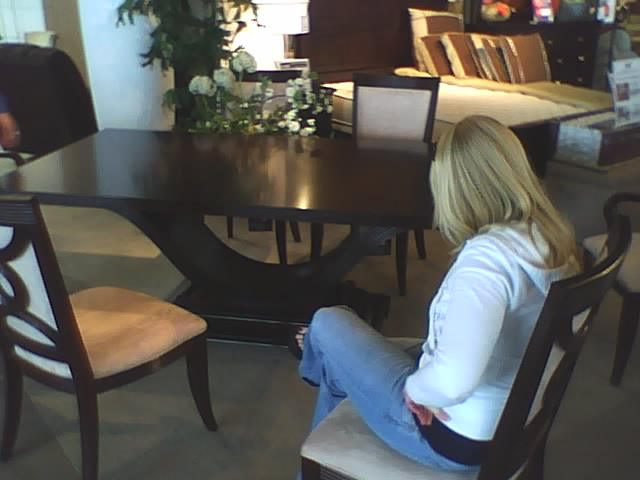 This is what we liked at Rooms to Go.  It has a very modern base, and a nice, thick, chunk of a table.  It's' quite sturdy and the chairs don't feel too mushy.  I like the backs of the chairs.  My only concern with this one is that it's 76″ long without the leaf, but it extends to 96″ with a leaf… a good Thanksgiving sized table!  It comes with 2 leaves which This is about 4″ longer than our max length, which means the table will look a little big for our space, and will spill out a bit into the hallway.  It is within our price range, too, which is nice.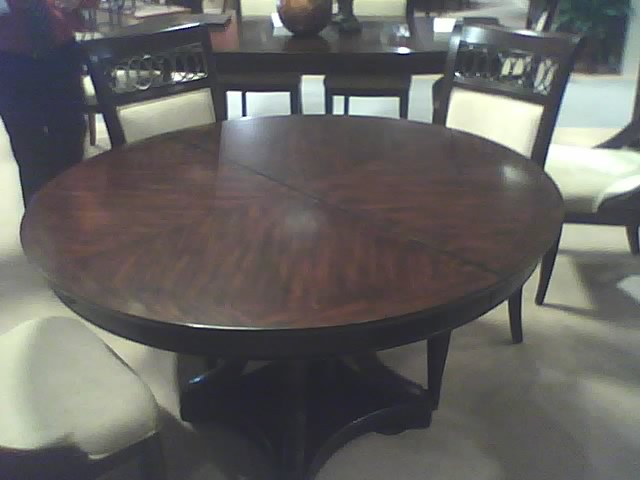 We had seen this table online at Haverty's, and loved the base.  We loved it more in person.  It is 54″ round, and with the addition of a leaf goes to 72″, fitting 6 nicely, but doesn't go any larger.  It is an oval, which we liked, and was pretty sturdy.  The guy tried to sell us on Haverty's quality — but it's still a veneer table… so you still have to be careful not to scratch it. But everything is a veneer these days… Oh yeah, and this package was slightly out of our price range, too.  Ouch.
Except for these guys…
We ran into some guys who were selling some rustic looking furniture in front of a furniture liquidation shop.  They have their stuff made in Mexico, and the owner of the business was there.  He offered to make us anything we wanted.  Solid wood.  I'm not sure where we will land on price on that, but he was selling us two end tables for $400, to give you an idea.  Not sure if it will be in our budget, but I'm VERY intrigued at the idea of getting to design our own table.  They can do solid wood or even marble inlay if we want.
What to do…
The guy prefaced it by saying "if you're not in a hurry" to which I responded, "I've been shopping for table for 3 years now.  Trust me, I'm in no hurry."