One of the most distinguishing features of the Brazilian cityscape is the prevalance of the "Orelhão."  Translated directly, this means "big ear."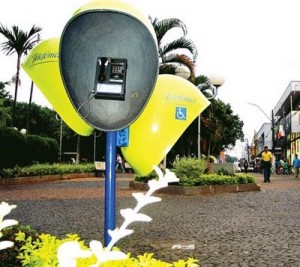 The Orelhão is the Brazilian public phone booth which, rather than being coin operated, runs on a preloaded telephone card that you can buy practically anywhere.  You simply insert the card, make a phone call, and watch the "unidades" (credits) on the card drop to 0.  When you run out of unidades, you have to buy a new card.
This makes these little "cartões do telefone" awesome collectibles.  Because they are so temporary, they are often graced with beautiful designs, photographs, or time-sensitive celebrations.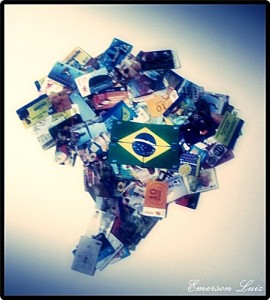 The design of the Orelhão is quite ingenious.  It is inexpensive to make, acoustically shielded from the noisy street that it is on, and beatiful in its curves, shape, and color.  It is modern, fun, and adds quite a bit of flair to many otherwise dreary city streets.
Near Sao Paulo, in a small city called Itu, there is a really big Orelhão, a shrine to the Orelhão's wide adoption and beautiful design.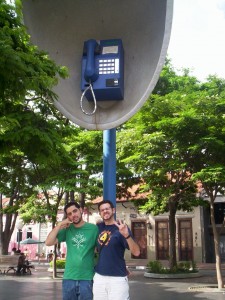 I wasn't a Texan when I lived in Brazil, but seeing this now certainly appeals to my "everything's bigger in Texas" mind set.  GO ITU!