Congratulations go out to David…Cook!
I will admit, my prediction was wrong yesterday, and I am a wee bit upset that my usual formulaic American Idol Finale didn't quite pan out with the youngest contestant winning.  I guess all of the negative comments toward Cook last night drove America out of Simon Cowell's arms and into David Cook's.
.. and thanks to all who came and made the Finale Party so much fun!
A few tidbits on the finale…
I'm really glad they included the SYTYCD dancers in some of the numbers.  They should have used them more and better.  Great idea, just underdone.
I got most jazzed up when Syesha came out to sing early…. With Seal.  If only she had worn the Red Dress…
I was most fulfilled when Renaldo came in to sing, and was totally surprised with the Marching Band accompaniment.  I was assuming it would just be the regular band playing.  Nice touch!  How they kept him with the band, I will never know.
Thank the heavens above that they retired the 'golden idols' that they started two years ago.  Hopefully it sends a message to the freaks who audition just for the chance for a glory invite to the finale (I'm thinking of the man who appeared in his muffins and underwear only).
I think Archuleta singing that really famous song with that really famous guy who played the piano (I'm such a Pop Music idiot… I can't remember his name) was definitely the musical highlight.  Those are the type of songs he should be singing.   It was a natural fit.
The outtakes from the Ford music videos were classic.
The girls were hideous in their red dress group number.  Amanda stormed across the stage like some kind of extra-terrestrial.  Will someone teach her how to walk?
Step-touch was WAY too overused this year in the group numbers.
Oh how wonderful it was to see Chickeze.  I wish he would have gotten a bit further.
I thought Jason did a better job on Hallelujah, but the working himself up and shaking the mic for lack of a real emotion was just a bit over the top for me.  Take it down a notch, buddy.
George Michael's song was absolutely boring, but wins the award for best lighting and projections.
Most hilarious unscripted moment was when Ryan Seacrest almost ran himself off of the stage on the magic flying carpet.
Once again: congrats to David Cook, congrats to David A.  Congrats to myself, and congrats to you my dear faithful readers for yet another smashingly successful year of American Idol blogging!
WhiteEyebrows… Out!
PS> Oh yeah, and here's the promised photo: me as Simon…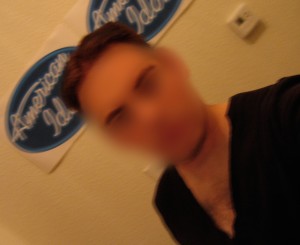 Yes… that is my beautiful red hair and WhiteEyebrows all blackened up!  Can you believe it?!  And with PERMANENT DYE too!
Out of control