You know it's gonna be a bad month when you log into Mint and see this graph for your monthly spending: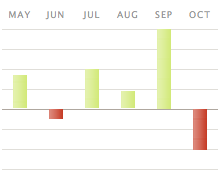 That is what a small vacation, a huge car repair, new tires, and a couple trips to wal-mart will do to your monthly cash flow… 🙁
I guess it could be worse…
1. I could be FavUnc and see that bar getting longer and more negative with every pre-wedding month…
2. I could be the Federal Government and not have seen that bar anywhere near the 0 mark for the last 75 years.
I suppose I could always raise my wife's taxes for being married to me… who says I am "tight"?