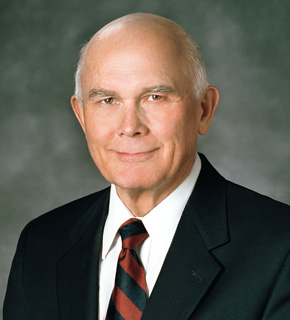 Elder Oaks visited our Stake Conference last sunday, and here are a few things that struck me. If you were in any of those sessions, or just want to make something up, feel free to add anything that struck you.
"Answer a question you don't know with something you do know." Take opportunities to testify to your children and pray with them. This teaches them spirtual self-sufficence.
He emphasized the need for a 3 month storage in the new pamphlet "All is Safely Gathered In". I dont' know about you, but 3 months sounds so much more doable than one year…
The church is a "hospital for sinners," not a "retirement home for the righteous."
Regarding senior missionary service, he told a story of a couple who served in eastern europe who wrote him to say, 'We feel more a part of the church here than at home in our High Priest group of 85 where we just argue about nothing.'
Regarding non-member spouses or loved ones he says… "Remeber there is such a thing as spiritual growth outside of this church." And stated that "patience" and "kindness" were the two greatest attributes that lead to their eventual church membership.
He talked at length about revelation, and shared a few experiences with this common theme: sometimes we need the revelation experience more than we need the revelation itself! This was brilliant to me. I had never considered that a personal revelation might come for the sole purpose of teaching us how to receive revelation, and not that the content of such a revelation is of great importance.