First, a word about the new set design… I love the old school "shell" look with the cool projections and the band sitting on top. I'm still emotionally attached to the old set, but this one will grow on me.
Now to the singing…
Syesha
It was all right, but just all right. I feel like she has yet to hit one out of the park, like she did in Hollywood week. Her time to make a splash is quickly passing, though, as the other contestants are consistently bringing their "A" game.
Chickezie
Wow… this was totally off the hook. He came out, had nothing to lose, and left it all on stage. The arrangement was fun, but most important, he performed the heck out of that song. It was really great. We were a little unsure about his green tie, but it turned out all right.
Ramiele
Sometimes when I work at the chinese joint, I go home smelling like soy sauce. Wow.. deep. When Paua leads off with "you look amazing tonight," you know you're in trouble… and it was super boring. She gave us no reason to vote for her. pouty pouty… her annoyance factor is growing a lot with all the pouting and 'cutsie' crap she's pulling.
Jason
Nice 'woop' shout out to the Texas A&M folks. For you non-texans, you won't understand the 'woop'. It is very special to all those aggies.
The singing? I kind of liked it. It was a slower song like Ramiele, but not boring like Ramiele. Whats up with the vest, though… is it blue, green, slate, paisley… should have definitely ditched the vest.
Carly
The 'pretty' thing isn't really working for me. I liked it when she was a little more rough around the edges. The tats don't really lend themselves to the glam. Plus, I think she forgot a key undergarment… I'm just saying… What is going on here? Is this reality show a makeover show or talent show?
Check out what I mean… here's her original audition vs tonight's performance.  What is up with the 'high glam' look?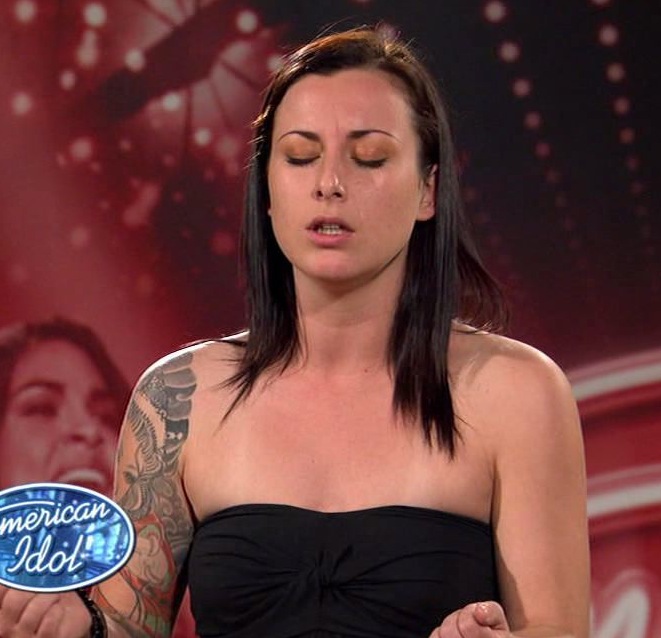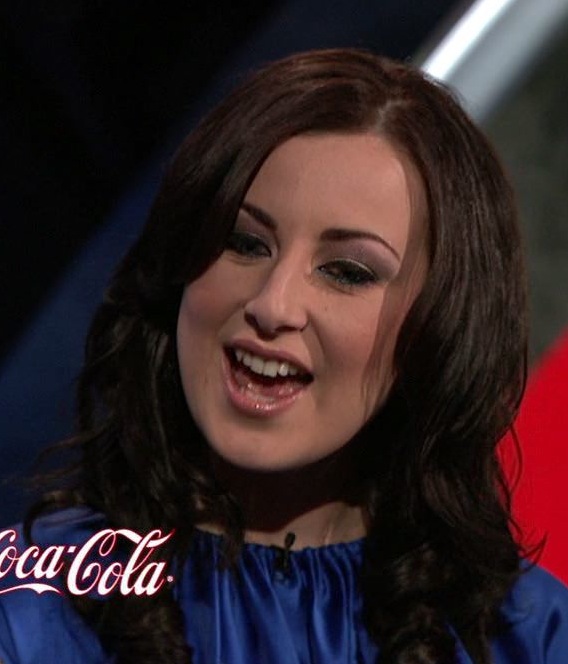 I like the Beatles version of this song SOOOO much better. I think she did an all right job with it, and really gave it a lot of energy, I just can't get the original out of my head. I am getting a little tired of the Judge's favoritism toward her… she is such a favorite child of the judges.
David C
David has painted fingernails.. and they didn't look like they were a solid color, either. So he is super-cool and a rocker now, cause painted nails are HARDCORE! He definitely thinks he's a rock star…
I was super skeptical of Eleanor Rigby working as a rock overdrive song. But the more I watched it, the more I bought it. By the end in the replays, it really stood out to me as one of the best performances of the night. Mr. Archleta et al, you don't quite have this puppy sewn up yet. We've got a live one there!
Brooke
Thank you, Thank you, Thank you. Stop saying thank you. Her annoyance factor keeps going up.
I think this song choice was a problem for her. Let it Be is on par with Imagine as an incredibly special song… and yet she didn't do much to make it special. She has a very memorable voice, but picking that song was a little safe for her.
David H, Amanda, Michael
I didn't get to see these three performances tonight because my recording crapped out. But from the recap at the end, it looked like David was just so-so, Amanda did pretty good, and Michael was just so-so. You'll have to enlighten me with your opinions here.
Kristy Lee
Nice to have some variety with country… I think"dolly parton on helium" is like one of the best quotes this season. I think Kristy Lee is in trouble this week. Deep trouble. Good bye, honey. As Tamara said, I hope you don't go this week so we don't have to hear you sing that song again tomorrow…
David
David didn't really work it out on that song for me. It was awkward for us all, but I'm not surprised. The guy had to have an off week sometime. It's just too bad that it had to be the week when you have some of the greatest songs ever to choose from.
…and now a word about Ryan Seacrest…
Ryan was just super awkward tonight. What was up with the whispering sweet nothings into Simon's ear? And all the awkward banter between the two. It's really reaching awkward levels. Almost like an inside joke that no one, not even them, is a part of.
Conclusions:
Chickezie's stock went up the most tonight…
Best of the Night: David Cook
Going home: Kristy Lee Cook
Also, me and the Brauns got talking afterwards about artists whose songs we would like to hear this year. If you have any ideas, post a comment.
Here's our list:
Neil Diamond
John Denver
Bono / U2
The Police
Rod Stewart
Johnny Cash
Simon and Garfunkel
James Taylor