I had promised a run down of my recent Disneyland vacation, so I thought I had better get it done before it was totally wiped from the slate of my memory (which we all know doesn't take much).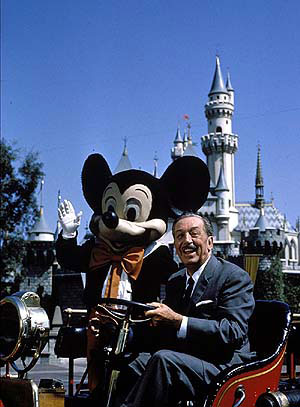 Walt Disney was a visionary and a genius. And also an evil sorcerer.
When you leave the public streets and enter Disneyland, you go to an alternate reality. Disneyland is more than the park and rides. Disneyland is the parking, the tram, the ticket booth, and the turnstile to get in. It's the smell of roasting chestnuts on Mainstreet Disney. It's the street sweepers, the wandering characters, and even the lines you wait in. Every experience from start to finish is awash with the "disney magic."
Disney Magic is simply attention to the finest details and the sparing of no expense. It's a new (sometimes unexpected) discovery around every corner. When you walk through the turnstile at Disneyland, instead of hearing a clunk clunk, you hear a magical wand sound. When they scan your ticket, instead of hearing a grocery store beep, you hear a magical whoosh. This noise must get annoying to the ticket takers, but they don't seem to let it phase them.
To understand what I mean by the attention to detail, just look down anywhere you are in the park. Even the concrete has been systematically planned and artistically executed. The stamped patterns, textures, and even reflectiveness of it is cohesive with whatever section of the park you are actually in. The illusion is all encompassing. It's felt from the texture under your feet to the smell under your nose, to the touch and feel of the walls, rails, and barricades.
… And you find yourself unable to keep from smiling and enjoying.
Now, making a leap deeper, I have to go back to my literary theory classes (Thanks Professor Jones!) to make my argument why Walt was also an evil sorcerer.
Jean Baudrillard, a french philosopher, wrote a theory called Simulacra and Simulations which alleges that the original human experience has been replaced by only a simulation (an illusion) of what we perceive the human experience to be like. Wikipedia says it a little better:
Baudrillard claims that modern society has replaced all reality and meaning with symbols and signs, and that the human experience is of a simulation of reality rather than reality itself.
Baudrillard theorized there were 4 levels of simulacra that are possible. I will illustrate using a popular Disney ride, the Mark Twain riverboat:
Original: The original riverboats paddled up and down the Mississippi in the 19th century. None of us have ever been on one, so we have no primary knowledge of the exact conditions on one. We understand they were an effective mode of transportation, but like many things of the era were still technologically primitive, dirty, prone to running down and problems.
Faithful Copy: A fully restored riverboat that today sits in a museum where people can experience what it might have been like to be on such a riverboat. Such a display is an attempt to understand and faithfully copy what it must have looked and been like on a riverboat.
Unfaithful Copy: A retrofitted riverboat, which uses modern propulsion techniques rather than the inefficient Steam/Coal/Paddle boat, but which preserves these mechanisms to give the illusion that they are powering the boat. This puts new technology and new comforts above the actual historical preservation.
Unfaithful copy replaces the original: The retrofitted riverboat becomes so efficient and predominant that all old riverboats are forgotten, dismantled, and destroyed. The very perception of what a riverboat is now changes to the unfaithful copy. Children are raised to think of it as the riverboat itself.
So by the middle of day 2 I started to ask myself, where have they fallen on Baudrillard's scale of simulacra? I think they are somewhere between #3 and #4. For children who have limited world view and experience, they are certainly #4.
This led me to wonder, what is the morality and implications of Disneyland? Is it right and responsible to create such an all-encompassing world view and expect (successfully) for the masses to buy into it (literally with their wallets)? Do they do us a disservice by leading us to believe in their plastic, idealized, pre-packaged world view? Are they generations down the path to simluation #4, where our children's children will believe that the big matterhorn is only 7 stories tall?
On the other hand, do they do a service by creating a simplified "it's a small world" escape for people to temporarily suspend their outside problems? After all, people haven't forgotten that they also have lives and jobs and outside concerns.
I think I agree with some of the philosophers that the "hyperreal" is taking over our human reality. In an era of digital images, and the ease of distorting and changing them, we actually are creating alternate realities, and realities that don't even exist. (I look happy in this picture, I look skinny in this picture, etc) We become more wrapped up in the perception of ourselves and our reality that we lose track of the actual reality itself.
Where I disagree is that I think there is a core in each human, call it a soul or spirit, that will always bring that person back to the essence of who they are. That even while in simulation #3, in Disneyland, I still can look inside me and find the same hopes, fears, likes, dislikes, and problems that existed before.
Hmm… sorry to get all crazy there. It's fun sometimes to dabble in that theoretical crap.
But, the real joy of Disneyland is the excitement and energy of the kids who you are with, or people who are seeing it all for the first time. All theories aside, it keeps them happy and entertained, and gives them an experience unlike anything else they have ever seen before. One they will remember (but hopefully not substitute for reality) for a long time.