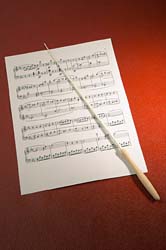 Recently I was called to be the choir director for my local church congregation. (In my church, all such positions are filled by volunteers from the congregation)
This seemed like a nice fit. I have sung in choirs all my life. I have had music lessons since I was eight. I have sung under some pretty awesome conductors in my life, and done it on all levels and gradations of professionalism.
However, none of those experiences quite matched what happened to me today. Today, for the first time in my life, I took the "baton" (there was no baton, i'm speaking figuratively) and conducted my first choir performance.
I have decided conducting is much more scary than performing.
When you conduct, you have to keep yourself from singing, but you have to mouth the words so everyone else can rely on you for them. It's hard to do, especially on pieces you have sung before. I even caught myself singing once during a women only part, too. That really quite awkward, the one lone male voice…
Then there's the anxiety… What if no one shows up to sing?  What if I miss bringing someone in? What if I'm taking it too fast or too slow? What if the whole thing falls apart? What if the ceiling collapses from the natural vibrations of our double or triple forte!!! (the possibilities are endless)
Well the miracle of Church choir is that it just works out. In some strange way, and for some strange unknown reason, it just works out in the end. You always wonder how it will, when you're two weeks away and you have 6 people (four altos and 2 guys) show up at your second to last rehearsal, but it just works out.
To illustrate the miracle even more, at one point someone asked me during our warm-up/rehearsal time if I had an extra piece of a music for the song we were singing. I was sure I was out, but I moved my piece to the side, and !voila! behind it was another one. It was almost like a "loaves and fishes" moment. "It's a Christmas miracle!" I exclaimed.
And it was.