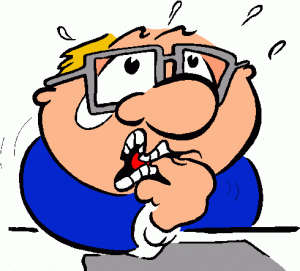 I'm officially sick of politics and completely over this upcoming election.
What I'm most sick of right now is the "politics of fear" that iEveryone (you know, everyone's internet-based alter-ego) is completely wrapped up in.
What do I mean by politics of fear?
I have friends on all sides of the political arena, and I get about 5-10 emails or facebook messages a day from them saying "I'm just scared of what <insert other guy's name here> will do to our country.  And here's why…"  followed by lies, rumors, speculations, and unsubstantiated drivel!
I, for one, am sick of the false notions and pure crap that is spewing all across the internet about both candidates, campaigns, and platforms.  I'm sick of people thinking that if they just whip their friends up into a fear-induced frenzy with counterproductive, dishonest whisper campaigns, they can somehow influence the election.
More and more, the dishonesty of politics is not in the candidates or even in their campaigns. The dishonesty of politics is making you into an accomplice.  A hack.  A liar.  Yes, you, the faceless people who innocently sit at your computers all day, forwarding email after email of conjectural, unsubstantiated lies which are meant to discredit, defame, and inspire fear in either of the party's faithful.  You are being dishonest, and I am calling you out.
It's sad to see that most of these are religious people who pride themselves on their honesty and integrity, but who seem to have no crisis of conscience when spreading rumors and lies about a politician.  (All in the name of getting votes.)
Ask yourself: Can you independently verify it?  Does it really represent your views and stand up for your ideals?  Are you ready to sign your name to that statement you just made?  (At least the media does that.)  Would you stand up and say it in church?  Would you say it out loud? Or would doing so just make you sound like an idiot?
It's destroying your soul people, and making you look like an idiot.  Wake up.
So why all the politics of fear?  Why do we scare so easily?  We are the United States of Freakin' America!  Buck up, people!  Get over it.
Remember, we have little revolutions in this country every so often.  They're called elections.  If we don't like the way our elected officials are running things, then we can change them.
Together let's raise the level of political discourse in this country! Let's get passed party-politics hackery and try to actually address the problems facing our country!