On our trip to Washington DC, we enjoyed some of the worst food and some of the best food of our lives!
First, I don't think they have real cheese in DC.  Instead, they use Velveeta on everything.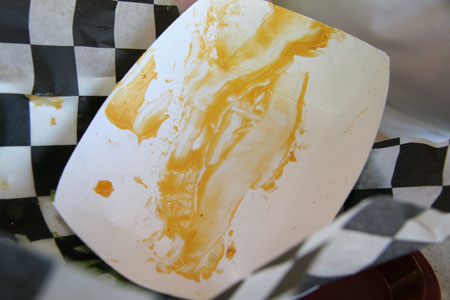 Even when my Uncle got a supposedly "gourmet" burger, it was covered in squeaky cheese.  Behold the pile of napkins that resulted from such a drippy, cheesy mess!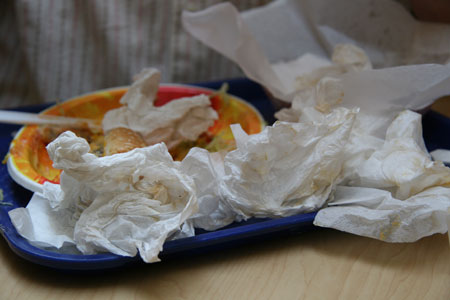 The absolute worst meal we had was at Mount Vernon.  We were really excited to eat in their restaurant, which featured servers and staff dressed in colonial attire, and partake of their supposedly tasty colonial-era foods.  We got in line to be seated 10 minutes before lunch seating ended, but they shut it down 5 minutes early.. so we were stuck with the "food court."
I opted for a chicken sandwich; a safe bet at a non-branded fast food court.  Sadly, the poor chicken lost its life in vain.  It was absolutely tasteless.  More tasteless than tofu.  The bun was dry.  The fries were nasty. The diet coke was weak.  Everything was sub-par, even for fast food.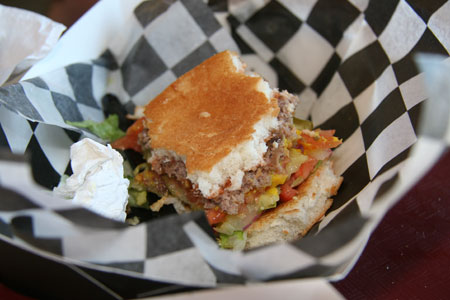 (This cow gave its life in vain…)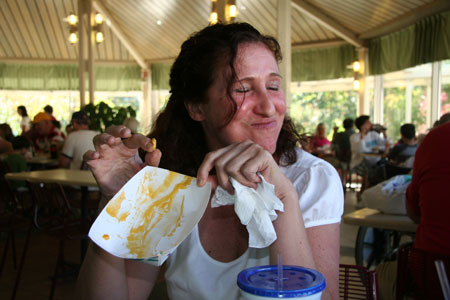 (but Julie enjoyed her nachos!  YUMMMMY!  more Velveeta!!!)
To make up for it, we decided to eat one night at McCormick and Schmick's, a really nice seafood and grille.  The food was absolutely wonderful, and the service was good too.  It was the best dining experience of the trip… almost…
The best food we had was at a restaurant just to the east of the White House and Treasury, a place called Old Ebbitt Grille.  The food was wonderful, the service was very friendly and fast, and the prices were very reasonable.  I had a salmon salad the first time, and a french dip sandwich the second time.  The food was absolutely wonderful.  The restaurant has the feel of a high class place, without the pretentiousness.  We ate there twice during our time there, we loved it so much.
I just had to get a photo of me embracing Old Ebbitt!