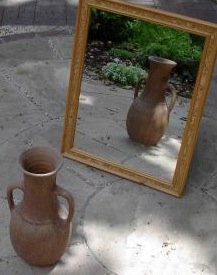 When I posted on my facebook status that I was having trouble coming up with an original thought for my blog, I got some really interesting responses.  Most of them encouraged me to be self-reflexive… that is, to talk about blogging, originality, thought, or even…ferrets.  (OK, so ferrets have nothing to do with blogging or self-reflexivity.)
However, I was taught in school that answering the question by simply restating the question is a cop-out, and that you can't use a word in its own definition.  So why, when I say "I can't find an original thought for my blog", would people respond to talk about "originality", "thought" or "blogging"?  Hmm..
But, as you are my readership, I will indulge you this once, and talk about this little blog addiction enterprise endeavor.
I started this blog over a year ago, imported a bunch of old stuff about American Idol I had written, and went off to the races.  At first, I wasn't interested in 'blogging' at all.  I just wanted a place to post my American Idol reviews, and to share a few laughs.
Then I naturally stepped up onto my soapbox.  (It's a very natural progression for people of my surname)  I realized I could use this thing as my own personal bully pulpit… and who is going to tell me no?  Free speech, yo!
Then, as I began to read other people's blogs, and got into this whole blogging world, I noticed a few things:
Most bloggers are women
Many blogs were about people's life events… family, friends, trips, etc
Some blogs contained personal details and information that people would RARELY ever confide in their friends, no less total strangers
I decided that those were the reasons most people wrote blogs, but were none of the reasons why I wanted to blog.  I wanted my blog to be about things, not about me.  I didn't want to share the boring, personal, intimate details of my life, and I also didn't want to just be a photo album or personal website to show the world how awesome (or pathetic in my case) my life is.
I wanted my blog to be about things; basic ideas, belief systems, and a different way to see the world.  I wanted it to be substantive, original, and humorous, with real thought being given to the topics that are posted.  I wanted people to come to the blog for a fresh perspective, a good laugh, or to learn something they might not have known before.
I started out not wanting to be personal at all, and now I realize that by blogging in this way, you might actually have come to know me quite personally indeed!   By sharing with you some of the innermost things that make me tick, you, the reader, have come to know me in a very unconventional way.  You know me not by what I do, but by what I believe (or don't believe).
I am often surprised and delighted that there are many who have never even met me who frequent this blog. It makes me wonder what kind of image you might have of me.  What your perception of me is…(yo peeps… make yourself known in the comments)
I will end this self-reflexive blog with this… I have WhiteEyebrows.  And they are all-natural.  Thank you.