Today is my first day in my new cubicle.

This really shouldn't be that big of a deal… a cubicle is a cubicle, right? They all have the same grey and green speckled walls with beige steel cabinetry.
I should be happier here in my new home, because I was able to choose the configuration for the desk, and I added another circular piece so I could face the doorway rather than have my back to it all the time (no more people sneaking up from behind).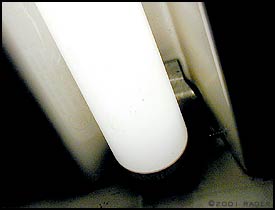 And yet the universe seems a bit out of whack. For one thing, it's too bright here. In my other area, we had all the lights turned off, so you just had the steady glow of your monitor staring you in the face.
Also, I had humans around me that I had had around me for the last 2 years. I was used to the click-clack of their keyboards and they're sneezing. Now, I have to get used to a whole new set of sneezes and click-clacks.
Well, at least the one constant here at work is that things will change. Maybe I'll just bring a slingshot and shoot the bulb out with a pen or something.