Let's start with two important points:
1. Of all our contestants, who do you think would be the one to mix it up this week? Who is going for the freaky arrangement? Not David Cook… Yes… David Archuleta! Surprise!
B. For years now, I have been trying to put into words exactly how I feel about Paula's clapping… and now Tamara has done it for me…
Paula claps like a child that just discovered her hands.

-TLB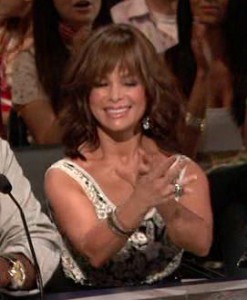 Now to the reviews…
Syesha
Wow… wow… wow.. she looks hot. She could be singing the ingredients off of the cereal box and we wouldn't care. This was, undoubtedly, her best week. And the red dress and beautiful hair made it all worth it.
I think Syesha might have a career on the stage. You know what I see in her? I see a mini Audra McDonald in her.
[flashvideo filename=video/top6-syesha.flv /]
Jason
After we see Syesha's hot, hot hair, we cut to Jason's nasty nasty hair… eww.
"I've never seen a man sing Memory with Dredlocks!" says Lord Andrew.
The singing? OHHHH… how hideous. He totally ruined this song! He betrayed everything that this song is in Musical theatre. He was absolutely clueless!
"It identifies your unique being…" [as an elf] (The Brauns says)
All I can say is Thank you Simon for saying outloud how terrible it was!
Brooke
Well, Brooke. I had high hopes for you this week. I think you picked a perfect song for your voice, but then with your terrible false start at the beginning… I don't know… how do you recover from that?
I think Paula, as a performer, had every right to rip her a new one like she did. It might have been the first downer comment she has ever given in her life. But when you are on stage, you don't get a chance to restart. You forge ahead, even if you have to sing "watermelon, watermelon"
David A
"Littl' David.." as Lord Andrew said…
As an Andrew Lloyd Webber purist, I didn't like this arrangement the first time, but watching it back it really grew on me.
If you didn't notice, he totally blew the lyrics near the end of the bridge… and he just totally made it up. Brooke, did you see that? That's how you do it.
Carly
Yes, yes, yes. Bless Andrew Lloyd Webber for sparing us the sappy ballad that she would have totally sucked on and letting us into some of your lesser known hits. JC Superstar was perhaps the best choice for her! That was awesome. One of her best performances in a long time.
Andrew Lloyd Webber practically invented the rock musical… thank goodness someone paid a little homage to that!
David C
One thing's for certain, David Cook opens his eyes much better than David Archuleta.
I was not a believer at the beginning of this song. I thought he was going to totally tank on it, and he made me eat my words by the end…
Conclusion
The order based on tonight's performances:
Syesha
David C
David A
Carly
Brooke
Jason
I think it's pretty well a lock that Brooke will be going home this week. So long my little Mormon American Idol. We'll miss you.
Bonus Quote from Jordan:
Was that from Joseph and the Amazing Technicolor Raincoat?
Oh, and PS… Can I get a WHAT WHAT for Lord Andrew's red velvet pants? What a strange and awkward little man.