Day 3 – Friday
View of the Capitol and Washington Monument from Iwo Jima
Jefferson Memorial
We went to this memorial early in the morning, and the light was just cutting through the pillars beautifully!  I thought it was going to be a major hike, because it looked so far away on all the maps, but it wasn't that bad after all.  I really wanted to do a paddle boat in the Tidal Basin, which would have been really fun if it were in the middle of the hot summer, but alas, there was no support for that idea among my party.
Inside, the most memorable part was the inscription on the inside frieze of the memorial: "I have sworn upon the altar of God eternal hostility against every form of tyranny over the mind of man."
I just love Jefferson! (Maybe because he was such a prolific writer?)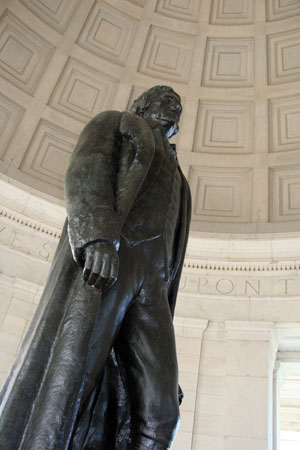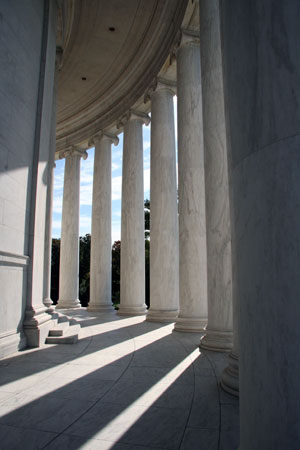 Holocaust Museum
This museum is a very interesting experience – very emotionally taxing.  The permanent exhibit is 3 floors of history and artifacts detailing the rise of the Nazi party and the persecution, relocation, and extermination of millions of Jews.  I was a strong, objective, observant participant throughout most of it, until I got the wind knocked out of me in this room: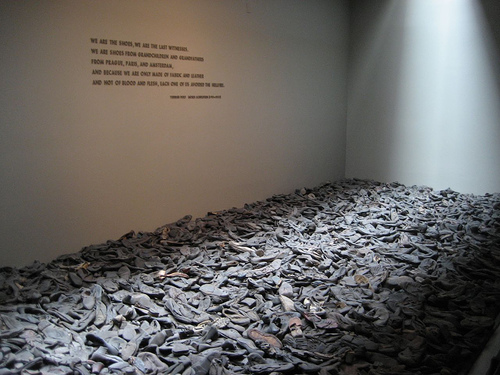 You walk down the center of a room which, on both sides, lay hundreds of shoes.  These shoes were removed from the people immediately before they were gassed.  A dank grey glow rests upon them, and on opposing walls a poem is written, one side in English and the other in Hebrew:
We are the shoes, we are the last witnesses.
We are shoes from grandchildren and grandfathers
From Prague, Paris and Amsterdam,
And because we are only made of fabric and leather
And not of blood and flesh,
Each one of us avoided the hellfire
– Moshe Szulsztein
It's a punch in the gut.  This is quite possibly the best museum in Washington DC when it comes to providing a cohesive, all encompassing experience to the patron, with a very specific message: to never forget the horror of the Holocaust.
Air and Space Museum
My brother already got mad at me for calling this the Junk Museum, but I have to explain myself… this museum is just stuff.  It's really cool stuff, and stuff I'm glad I saw, but there is no additional value to looking at the stuff the longer you look at it.  It doesn't speak to your soul or provide additional meaning or help you transcend your life like an art museum or Holocaust museum might.  It's just a "yup – I saw the Wright Flyer" experience.
That being said, I did see some pretty cool stuff in here, including the Spirit of St. Louis and the Wright Flyer.  Having done some research in college while writing an educational theater piece on the history flight, it made it even more meaningful to see these artifacts in person!  (And yes, BigBro, it was really cool!)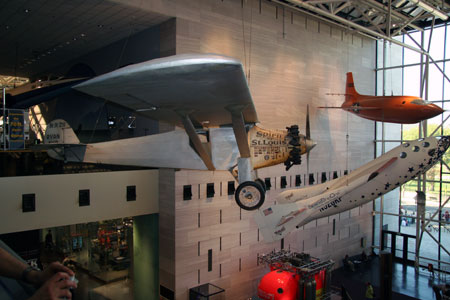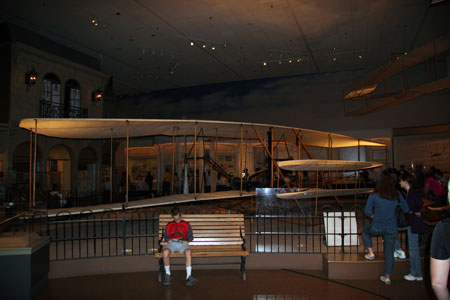 Also, I will say that this is one of the most 'accessible' museums in Washington.  By 'accessible', I mean understandable and appreciable by all ages, backgrounds, and mentalities.  While I love art museums, I also acknowledge that not everyone enjoys or understands them in the same way I do.  So I can really appreaciate a museum like this that can be enjoyed by such a wide variety of people.
National Museum of the American Indian
The best part of this museum is the architecture.  The outside is all very natural, organic, and curvy, a stark contrast to the angular Air and Space museum next door. The natural landscaping and waterfalls make it a great place to sit and relax on a nice day.
This museum is unlike the others as it focuses on individual people and discusses generally unimportant and unimpressive lives.  The idea of this museum is not to wow you with stuff (like Air and Space) or emotionally bowl you over (like the Holocaust), this museum just politely offers a glimpse into the native cultures and their particular artisan works.  Very little in this museum is actually recognizable and they do a poor job of relating each tribe, item, or display to a reference point for a single white male in his mid twenties.
One great find was at the end of the hall on the uppermost floor… this large bronze statue: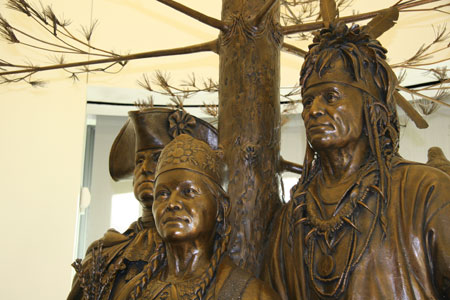 … with this beautiful girl carved into the back.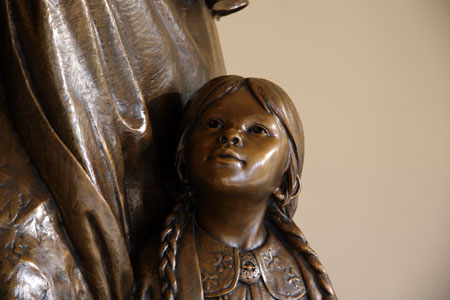 As I read about the sculpture, I was shocked to realize that the artist is from my hometown, Saint George Utah. (I forgot who it is though… sorry, dude-who-sculpted-it)
Iwo Jima Memorial
We went to see this memorial on a tip from our family member.  We asked what is the place we should go that usually everyone misses or skips, and she said "Iwo Jima."  It is across the Potomac, near Rosslyn VA.  We stopped on the way back to the hotel and got a beautiful view of Washinton DC from across the river (see the first picture on this post).
I was also impressed by the scale of this monument.  I had seen it before in photos, but was unprepared for it's massive size!  (to give you an idea, the black granite base is about 7-8 feet tall)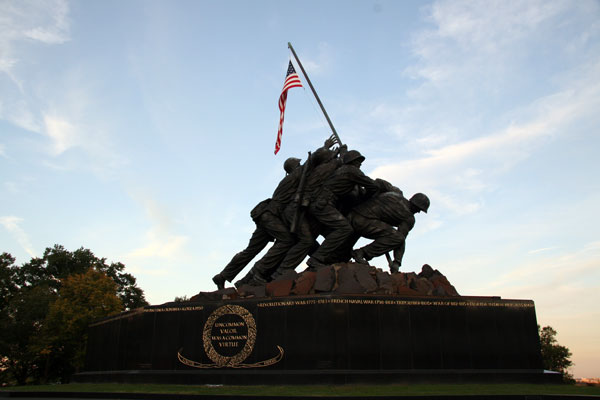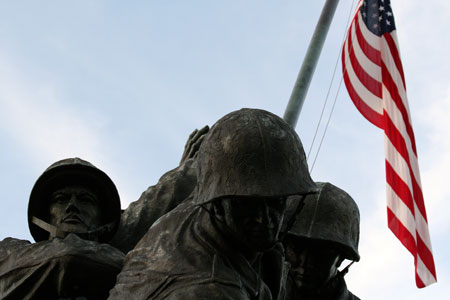 Some Bonus Tips
On day three, my feet started hurting… a lot.  When you go to DC, make sure you take well cushioned, supportive walking shoes.  My uncle (a podiatrist… he should have known better) took sandals, and ended up with bandages all over his feet.
One of the best things about DC is the proximity of all the sites and museums.  You don't really need a detailed itinerary, just decide which area of DC you want to explore in a particular day and set out on foot.  There is always a plan B, C, or D waiting for you just around the corner.
If you go outside of the high season, you won't even have to spend much time in security lines, and the weather is much nicer!
Whew… we're only halfway through the trip now… are you tired of travelogues yet?