Day 4 – Saturday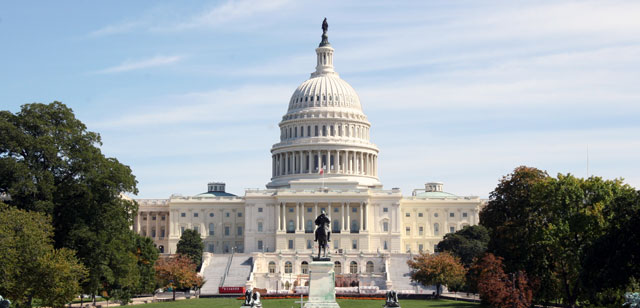 United States Capitol
(They had already closed the front lawn and steps off to prepare for the inauguration in January)
Eastern Market
This was a tip from our family member when we asked for something that the common tourist wouldn't know about Washington DC.  She said that on Saturday mornings, Eastern Market was the best place to get breakfast (and it was!)  It is located about 10 blocks east of the Capitol – a bit of a morning walk, but worth every second.  There were booths set up with artwork and crafty things for sale, but there was nothing I was particularly interested in or could carry onto the plane.  It was a nice moment to just rub shoulders with the locals.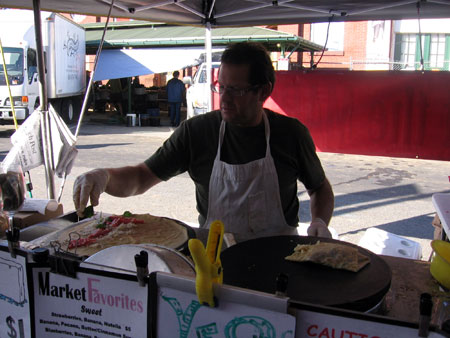 Library of Congress (Outside)
We went past the Library of Congress (all 3 buildings) but didn't go inside.  Not much to see.  At this point, I was just checking things off my list…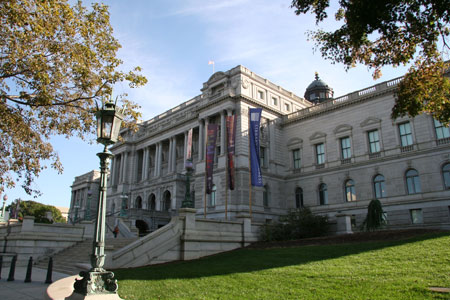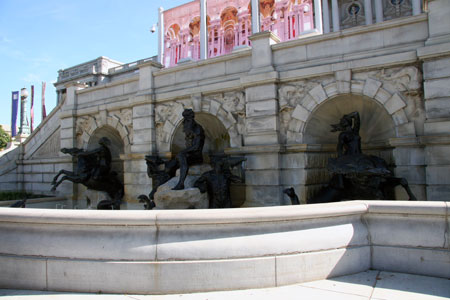 Supreme Court (Outside)
Again, this is an important building with some beautiful relief work in the outside architecture, but on the inside all you have are 9 stuffed shirts in black robes!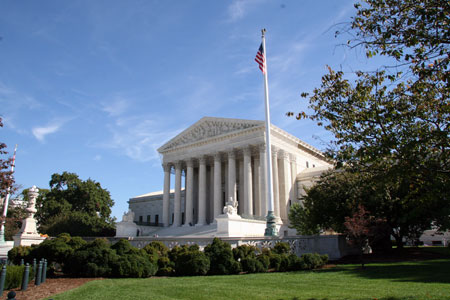 Capitol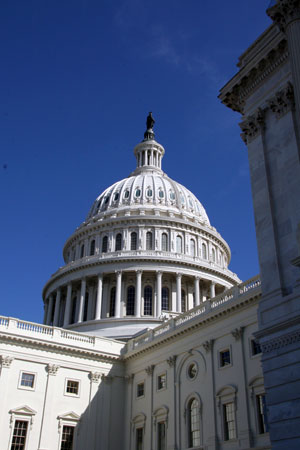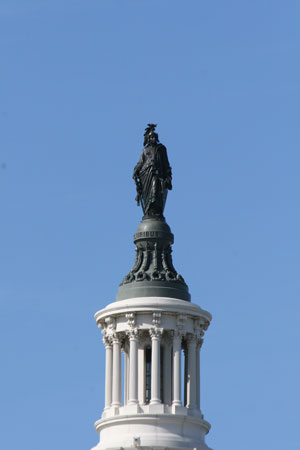 Getting tickets to go into the Capitol was a pain, but I guess getting up early at least one day on this trip wasn't too bad.  We were in line by 8:30 for the 9:30 ticket distribution.  At first, I wondered if they would have enough tickets, but became more confident as the line grew to about 3 times the size it was when we arrived.
The tour itself was nice.  It was the only tour where we had an actual tour guide… apparently they are a dying breed in this country.  Our tour guide was fabulous.  She knew everything about everything, and you could tell she truly enjoyed her job.
Tio was her star student, hanging on her every word and responding to her every question.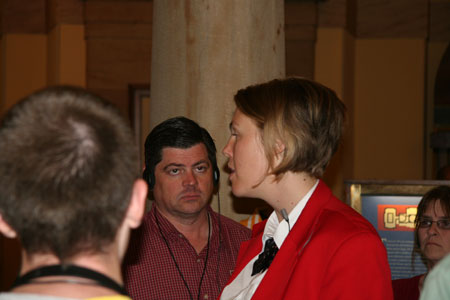 The tour was very short and simple, the Capitol Rotunda, the old senate chamber, and the crypt downstairs (where they were going to bury the Washingtons).  That's all they'll let you see… but it was enough, I think.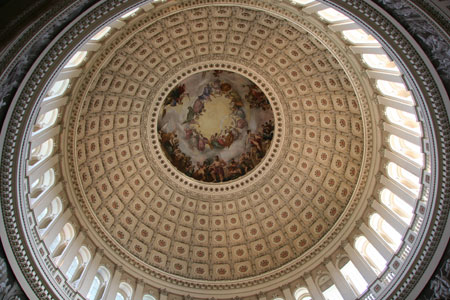 Looking up into the dome in the Capitol Rotunda.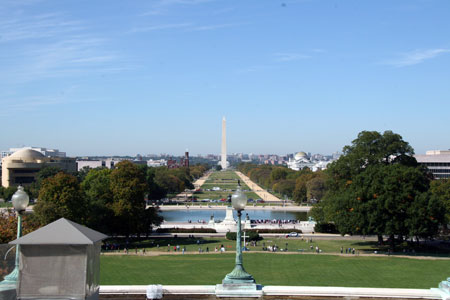 Looking off of the front Capitol steps down the National Mall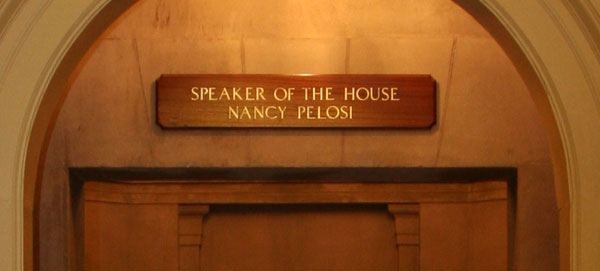 This was Tio's favorite place in DC… the placard over the door of the Speaker of the House's office!
Botanical Gardens
This is the part I wish my Mom were with me to see.  She knows everything about plants, and all I know is that they give off oxygen and remove carbon dioxide from the atmosphere.  So I sat down and rested my feet while my Aunt and Uncle enjoyed this one…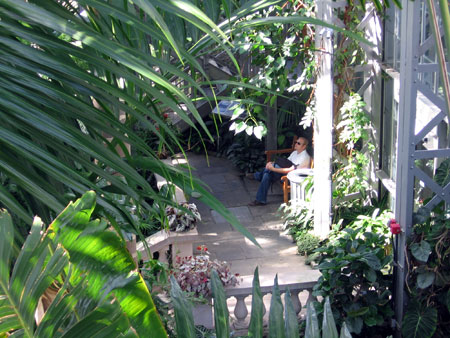 National Museum of Art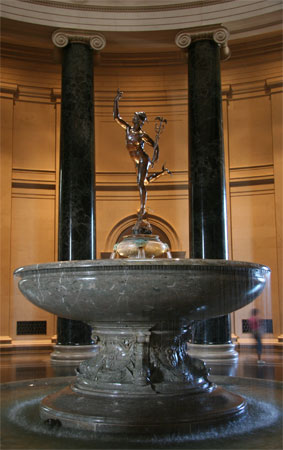 Those black pillars were HUGE!  Where does one find such huge pieces of black marble?
This is the largest museum in Washington, and the place where we spent the most time, I think.  It was gargantuan, endless, and had some of the most incredible pieces of art in it.
My favorite piece in this museum was the Rodan bust of George Washington as well as the only DaVinci painting in the Western Hemisphere: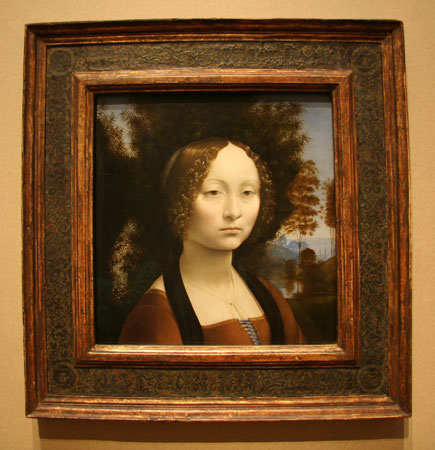 When you looked at this painting beside the paintings of his peers, it is a night-and-day difference.  DaVinci was truly a master!  The shading, dimension, and coloring were unprecedented for his time.  The detail and life he breathed into the subject was breathtaking.  The lips were amazingly executed… and there it was right in front of my face!  A painting over 500 years old by THE MAN himself!
A photo doesn't do it justice, but oh well: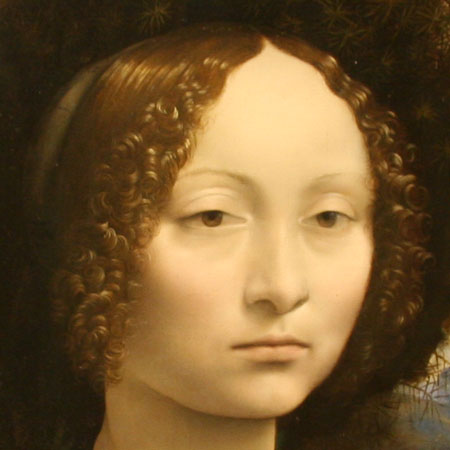 There was one more piece that I just have to mention.  This was a smaller piece, but it caught my attention and made me look at it for quite a while.  It's called "Fallen Tree" by Alexandre Calame (~1830).  I absolutely loved this oil on canvas: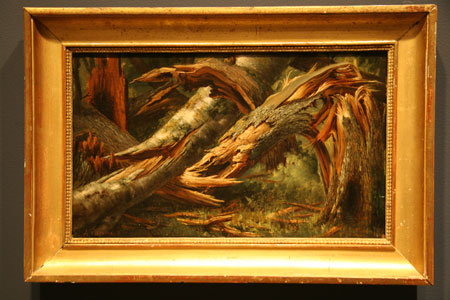 I've felt like this tree before.
Museum of American Art and National Portrait Gallery (Again)
We loved it so much, we wanted to go back to finish it.  This time we spent time looking at all the portraits of the Presidents, which were absolutely gorgeous.  My favorite was of George H.W. Bush.  The artist's work was impeccable.