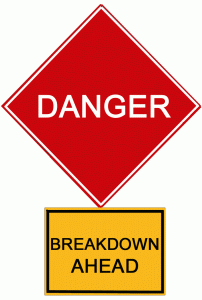 This question might be best answered by analyzing the way I first wrote the title:
"Am I Loosing My Edge," I wrote.
"Loosing?"  Really, WhiteEyebrows?  "Loosing?"  Yes, I almost fell victim to one of biggest black holes of the English langage: Lose vs Loose.
I remember in 3rd, 4th, and 5th grades doing endless worksheets on words pairs/trios like that:
lose/loose
their/they're/there
where/were
will/shall
should/could/would
etc etc etc
I remember thinking those were the easiest chapters of the English book, because it was always so stupidly obvious what the answer was, as long as you knew the rules to follow…
…And I like rules!
(p.s. I always hated the units on comma splices.  As you can tell from my writing, I'm dreadfully prone to comma splice!)
Last night I was at a Cuatro de Mayo/Birthday Party when a friend noted that my blogging had dropped of significantly during and since my recent marriage.  I agreed with him.  My posts have not been as high in quality or frequency.  The insights have been fewer, and the originality has been nil.
This is supported by looking at my statistics.  In the last few months, the most popular posts on this blog were one about a spice rack and one Google anomaly which is sending everyone who searches for "10 worst things" to my blog on the ten worst things ever.
Really?  Is that all I've got?
I look at some of my featured posts and realize that I haven't added a featured post in quite a while.  Have I lost my edge?  Have I just said everything that needed to be said?  Will this blog now turn into some lame daily journal about whether or not I had a solid bowel movement in the last 24 hours?
(This concern (about bowel movement-esque topics appearing on the blog) is only magnified with the future prospect of children coming into our family.  (No, that's not an announcement – just a logical projection into the distant future.))
So, I have come to the conclusion that a man's brain slowly starts turning into mush after he is married.  I have less time and inclination to think, reason, project, theorize, conjure, and… crap… I even ran out of other metaphysical verbs representative of my struggle for this sentence.  It's bad!  But really.  I feel myself having fewer and fewer original thoughts.
What is the solution?  Do I just need to try more?  Do I need to get back into the mental gym and start pumping iron?  Maybe I just need to get a 'cause' that I can go off on now and again?  Or is this a temporary thing while the 'honeymoon phase' passes.  Will I regain my faculties after we've become used to living with each other and sick of seeing and listening to each other?
Or is my life just this boring now???
Help!