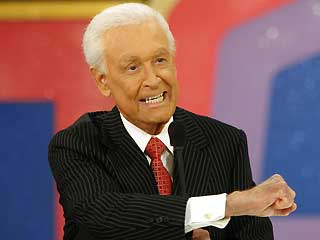 Last year, one of my television idols, Bob Barker, finally retired from hosting "The Price is Right." Ever since that day, I have been mourning in denial of his absence. But now, my grieving has ended, and when I saw "The Price is Right Primetime Special" on my program guide, I decided I would give Drew Carey, the new host, a shot.
Drew is just missing one irreplaceable quality of Bob's… his grace. Watching Bob was like watching a professional figure skater. He was effortless. He glided across the floor from pricing game to contestants row, and always said just the right thing at just the right time. He never bungled an explanation of a game. I doubt he ever tripped on a word.  He never took a cheap shot at a contestant for laughs, no matter how stupid they looked or acted. Bob walked on a cloud of air.
As far as the 'new' show goes, I was surprised to see they hadn't change it much at all. It had the same folding curtains, the same Barbie models, the same microphone on a stick (which HAS to be custom made… heaven knows they don't' make those anymore!) And even the same sign off tag at the end of the show, reminding people to "spay and neuter their pets." (what hit show could possibly stay a hit with a tag line talking about de-sexing animals!) They even kept the tacky video overlay of the blinking light bulbs as camera ballyhoos during the show's start as they tell people to "come on down."
They changed the set design a little, with a little less felt everywhere, and going for a more 60's retro look. And Drew also calls the models by their first names (or stripper names?) with annoying frequency… But, all in all, they have kept a carbon copy of Bob's show.
You just might be asking yourself, "Why does WhiteEyebrows care? This is kind of creepy. Is he like secretly a 60 year old lady?"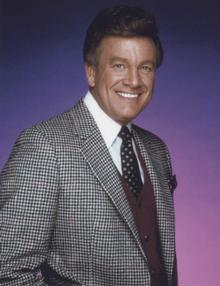 Ever since I can remember I have wanted to be a game show host. The best part about summer for me, was that I could to watch all the daytime game shows, all day long. I spent days of my life watching Wink Martindale play Tic-Tac-Dough and all the other hundreds of silly game shows. I especially loved Press Your Luck, with its funny "Whammy" animations, but nothing could beat that golden smile and the perfect row of bottom teeth that belonged to Wink Martindale.
This was even before the "Game Show Network" … back in the day we had to carefully plan which networks to watch and when to catch our favorite shows.
So yes, I'm done grieving for Bob, but I'm still pretty upset that I was not even considered for his position. Not that I could come anywhere near his grace and poise, but if I ever get cancer and get to 'make a wish', I know what mine would be…