As my wife has mentioned in other nooks and crannies of the interwebs, I have mostly taken the lead in the cooking portion of our marriage.  I'm not that great of a cook, but I know my way around a kitchen and can follow a recipe.
I do grill a mean steak, though. This is one thing Texas has given me. (Thank you, Texas)
Having recently found out that women can't live on grilled meat alone, I have been trying to venture a bit out of my comfort zone, trying a few new recipes to vary the pallette of my dear wife.
Last night's menu was tilapia with rice, broccoli, and cheese.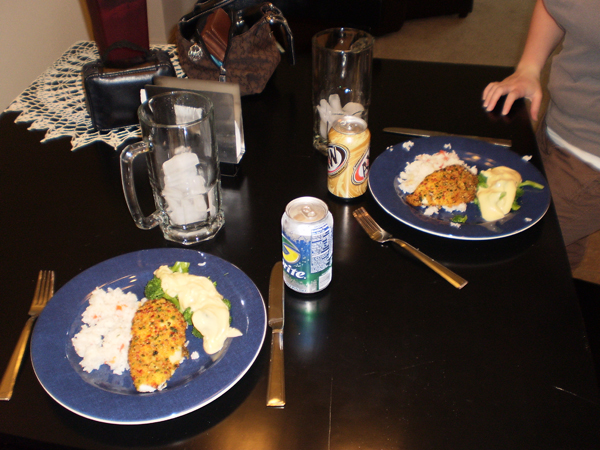 I learned:
Fresh garlic would have been MUCH better in the rice. garlic powder is nasty.
you don't really NEED cheese on broccoli.  might have been less work and more tasty with just the freshly steamed brocooli and maybe some butter and salt.
I should have used less water in my rice when adding other juicy substances (like tomatoes)
I love Costco.  The tilapia was the best part of the meal, and it came directly from their freezer section… just 10 minutes in the oven at 375.
And here is what my wife thought of my meal: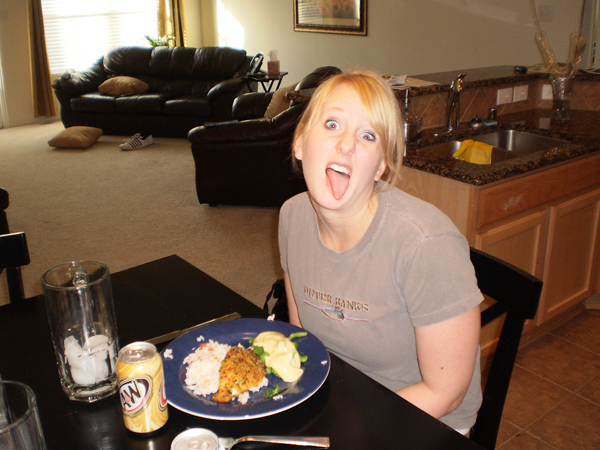 But that's OK, because she has to do the dishes.
So here's to developing your talents and trying new things.  As long as your wife doesn't barf later.