What do the following cities have in common?
Ottawa, Canada
Phoenix, Arizona
Aurora, Colorado
Denver, Colorado
Peoria, Illinois
Springfield, Illinois
Springfield, Virginia
Ft. Myers, Florida
Elkhart, Indiana
South Bend, Indiana
Williamsburg, Virginia
These are the cities that President Obama has visited in this first month of his Presidency.  While travel has been cut off almost entirely by most corporations, apparently the recession has had no effect on the ability of Air Force One to operate.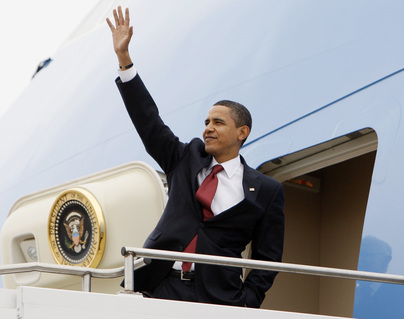 I could be wrong, but if one of Obama's main goals is to 'clean up Washington', wouldn't it actually be necessary for him to do a little more than sleep there every night?
I wouldn't care about the intensity of his travel, except he doesn't look like he's Presiding out there – he looks like he's campaigning!  He holds rallies everywhere he goes, for pity's sake — all that's missing are the placards and chants.
Case in point: last night.  No "State of the Union" speech is typically given in an inaugural year, but he went ahead and called everyone together for one anyways.  This means that during his ONE month in office, he has already monopolized four hours of primetime television for his speeches.  This is more time than Bush took in 8 years of Presidency (outside of State of the Union addresses) which, if you recall, included an above average number of terrorist attacks, wars, and natural disasters.
It would be interesting to know how reluctant or eager the networks are to have the President monopolizing their airwaves. I'm guessing networks like NBC have no problem with him as their square-jawed, gravitas-filled news anchors consistently get better ratings than any of their dramatic or prime time programming.  In fact, Obama is the only show in the nation that can successfully unseat American Idol from it's Tuesday night time slot.  (Cue more groaning at the other networks – now they have to compete with American Idol and Obama in one week… there goes $10,000,000 in ad revenue…)
I guess he's the President, after all, and he can do what he wants – but that doesn't mean I have to sit here pretend it's working. What ever happened to actually governing?  What's wrong with sitting down in Washington and getting some things done, rather than gallivanting across the country in a very expensive Boeing 747.
I recognize that part of an executive's job is to be out among the issues he is trying to solve, and that he is probably trying to muster more approval from the American people to gain leverage in congress… But if he is just going around hoping to elevate American consumer confidence, couldn't that confidence be just as easily buoyed up by having a calm, collected, active force working the back channels of Washington DC rather than parading across the United States kissing hands and shaking babies?
My personal approval rating of Obama is dropping until I start seeing some real results.  Not just talked-about ones.