Is it just me or does it seem like AI is really struggling this year to get the live shows off the ground?  Something is off in the universe…
Aw well… here we go with the individual reviews…
Jasmine Murray
I'm totally disappointed by Jasmine. I had high hopes for her as a candidate for "Mahhh Woooman", and she totally tanked.  She sang all the way around that song, and just messed everything up.
I'm also already tired of the judges lamenting, "but you're so commercial!!!"  Is that a compliment?  It's not one to me… "Yes, you could be like a ham sold on the open market." Ugh!
Matt Giraud
Our dueling piano player… who I also had high hopes for… but the song choice just absolutely slayed him.  Why even try to take on Viva La Vida?  Bad idea, bad idea, bad idea.  This song is still so freshly  and indelibly linked to Coldplay.  Bad idea.  And he didn't do anything that showed his biggest assets in his voice.  He just kind of sang it…  Bad Bad Bad.
Jeanine Vailes
Here is another person (so many in this top 36) that we never got to see at all – and she knows it.  She was a little resentful in the comment to the judges about America not being able to 'get to know her'.
But from what we saw, we don't really want to know you, honey.
She totally hit the hallmark of an untrained and inexperienced singer, she pushed down on notes she held.  Not even push down – she just sat on them and let them sag like a plastic surgeon's 90-year-old widow.  She even broke into an entirely wrong key halfway through that song.  She couldn't carry a tune in a bucket, even if it was strapped to her track-star thigh muscles. Overdone. Twice baked. Pitchy…I agree with Randy:
Would have been better if it was in tune.
– Randy
Yeah.  That's kind of the baseline around here…
Nick Mitchell (Normand Gentle)
Wow!  All I can say is Wow!
Will Normand Gentle be the undoing of American Idol?  I think so!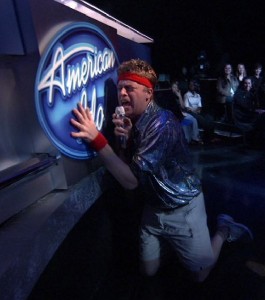 All the truly awful contestants who come on the show (from William Hung to Sanjaya) all have one thing in common – they think they can actually sing, and they really believe they can be the American Idol. They buy into the concept of the show and we all laugh at them for not knowing how bad they are.
Nick, on the other hand, is not a bad singer – but has created this character that is not a great singer – totally subverting the whole concept of American Idol.  Suddenly we now have a contestant playing by a different set of rules – rather than coming out week after week to peel paint off the walls and show off his vocal prowess, his strategy is to be so unexpected and outlandish and endearing that you can't help but smile and vote for him.
By appearing as his alter-ego every week and hiding is actual musical talent behind a comic persona, he is in part mocking the very concept of the show — and the best part is — America is digging it!
This has got to be American Idol's worst nightmare.  He threatens the very credibility of this program, just as Sanjaya did in Season 6.  If Nick gets into the top 12, the question is how far can he go?  Can he continue to entertain his way to the top of the program?
Well, sad to say it was the best performance of the night thus far.
Kara, in trying to explain his genius made an analogy:
You come out and wear the same shirt, like Simon, every week.
– Kara
[flashvideo filename="/video/ai8/36-normand.flv" /]
And before the commercial, Ryan really hits the nail on the head…
This is live, can you tell?
– Ryan Seacrest
Back after the commercial and wondering what we are going to do to top Normand Gentle… and we have Allison… who appears she is intoxicated during her interview, and not giving a coherent answer to any question Ryan poses.  Poor Ryan… he is having a rough night.
Allison Iraheta
So, Allison had something that none of the other contestants as yet demonstrated… and what I think is the key to the early rounds: to relax.  She was relaxed and had fun (even if it was due to the use of controlled substances).
I will say that she is by far most put together we've seen so far this season… even rivaling Danny from last week.  She has a great musky quality to her voice, but can really blow in the high ranges as well…
[flashvideo filename="/video/ai8/36-allison.flv" /]
Does someone have a drug test, though???  Really.  They talk about steroids in baseball?  I think we all oughta focus a little more on drugs in the music business!
Kris Allen
When they said he was singing "Man in the Mirror" we all heaved a collective sigh… I thought he was doomed from his song choice.
One thing is for sure: Kris is a proud graduate of the David Archuleta School of Hand Motions.  Man… he is awkward.
BUT
I am surprised to say that he really did a good job with the song!  He had good pitch, made it his own (as far as that's possible with Michael Jackson songs) and made me a believer.  He could go somewhere in this compeition.
It did have a distinct "white boy singing Michael Jackson" vibe – so it's weird – but he really sang the heck out of it.
Keep your eye on this one.
Megan Joy Corkrey
She picked the right song for her voice.  She does that kind of boring, slacker, bar singer thing pretty well…  I just don't think it's enough for this competition.  The format of this always favors the ones who can peel the paint off the walls and get people out of their chairs.  When she stays in the lazy, low register, she sounds great, but if she tries to get up into the rafters she just pushes too hard and it sounds like she is hurting herself.
And again with the selling people:
you could be very viable in this market
-Kara
Is that a compliment?  "I promise, you could totally sell yourself out there…"
I'm just about to label Kara the Grand "Madame" of the music business…
Matt Britezkie
Does Season 8 have enough heart for two blue collar worker dudes, or does having Michael in kill Matt's chances?  Will Normand et al steal too many votes?  The song was nothing special.  Didn't do himself any favors by that, and he is forgettable by my standards.  If he stays in, he'll be one of the first out – which is sad, cause I like him better than I like Michael Sarver.
Jesse Langseth
I do like her voice, and I liked her song choice.  It's a unique song that people might remember her for.  But she's kind of competing for too many other people's votes.  I think she comes in somewhere in the middle of the pack.  At this point you have to make a memorable splash, and I don't think this song will have done it for her.
She's does get the Brooke White award for totally trying to carry on a conversation with the judges, being impressionable and sensitive to their comments, and really genuinely caring too much.
Kai Kalama
Can someone give this guy a comb or a pick?  Either your hair should be in a fro, or not.  You are in a very dangerous middle ground that I simply can't support right now.
For the singing… meah…. I'm no fan.  I'm not sure he was connected to the music at all.  I think I would put this into the cruise ship singer category.
Mishavonna Hensen
She has nice self-indulgent moments in between each phrase.  She has nice a solid voice, and sounded alive.  She really engaged with her son, I think.  She is a comer… and is working hard for the girl slot.  The self-indulgence is off putting, though.  Simon and Kara were getting to that, but didn't quite get there.
Adam Lambert
Oh Adam… dear Adam… what do I do with you, my friend?
First, Adam is one of my people… direct from the musical theatre stage, so I understand him, and am qualified to break him down!  Musical Theatre stars have a huge problem – besides the fact that they tend to play everything too big for the screen.  The problem is that they live in such a netherworld of scripted musical reality that they have a hard time being truly creative and real.  They have very little human experience to draw from to add depth and meaning to their music.
Now, the dude has some crazy, crazy pipes, though he does get kind of nasally and shouty when he goes way up there – not like a typical rocker.  Musically, he is leaps and bounds in front of the others.
But there is so much that is wrong about him – that I don't like about him – and that I think America won't like about him in the long term:  the eyeliner, the bling, the self-assuredness, the feigned humility… I could go on and on.  He pushing too hard, too indulgent, too disingenuous. He has the "I practiced this too much in front of the mirror" syndrome with his whole fake smile/sneer lips, too.
Unless he can come across a little less put on, I don't think he has a long-term chance with the American people, despite his amazing talents.
My Top 3
Allison
Normand
Kris
Who is Going to Be Top 3
Adam
Allison
Normand
Getting In On a Wildcard
Matt Giraud
Kris