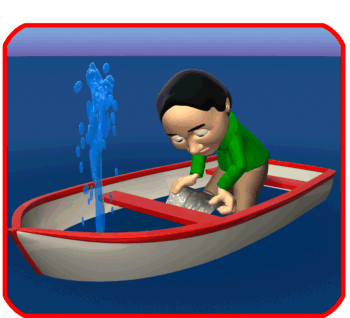 You were probably thinking to yourself, "I wonder what W.E. thinks about this 'bail out' thing that is all over the news."
Well, I'll tell you.
I was sitting at lunch today, and saw on TV that the House passed the Senate's "bail out" bill 263-171… which confirmed my suspicion about Monday's vote.  Monday's bill failed in the House because all those politicians needed to be able to say "I voted against the bail out."  A few days later, with a little pork thrown in to sweeten the deal, everyone piled into the bandwagon.
This really isn't a "bail out" anyway… it's the government buying a bad investment in hopes that it will not turn totally sour.  The truth is, the government is the only entity large enough to (gulp) consume these securities and hold on to them indefinitely, if necessary.  I mean what other major enterprise in this nation can run its books into the red by trillions of dollars, and still be running like everything is peachy?  Only our precious government!
So do we need this bail out?  I guess.  It appears the credit markets are dry as a bone, and the effects are starting to trickle down to the real people out there.  (I dare you go try and get a mortgage right now, or even some unsecured debt… yeah… just try it…)
Did the bill go far enough to punish the corporate executives?  Maybe not.  But really, the American people wouldn't have settled for anything less than someone's head on a pike.  Really, revenge is what we, the people, wanted out of this thing.  We wanted a pronounced punishment to be placed on Wall Street for getting us into this mess.  I don't think we got it.  Instead, they're getting someone to take their problems away from them.  Pretty sweet deal, if you ask me.
What needs to happen now?  Sweeping legislation for reform, oversight, and regulation!  It's gonna hurt.  It's not where I want the country to go, but we need to be taught a lesson.  And we need to set up rules for everyone to play by so we don't get into such a big mess again.
What is the lesson for we common folk here?  Live within your means.  Save some money.  Don't get caught up in the fake/play money (i.e. equity you didn't put into your house, soaring investments, or monopoly money you stole from the bank while I was reading my Commuity Chest card (BEN!)).