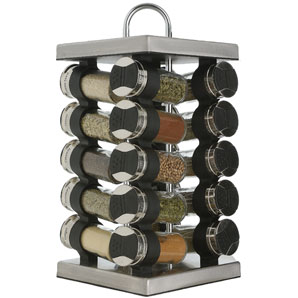 One of our wedding presents was a spice rack, which I was very excited for.  I'm trying to get better and better in the kitchen, and having an array of tasty flavors at my fingertips seemed like a beautiful start to my experimental ability to make each meal savory and succulent.
Yes, we wanted a spice rack.  We registered for a spice rack. But I'm not sure I was fully prepared for the disappointment the spice rack would be in my life.
As I set out our new spice rack on the kitchen counter this morning, I carefully un-boxed and placed each of the 20 bottles of spices into the shiny, chrome lazy suzan stand.  As I placed them in, I considered… "should I group them by alphabet or by most common usage…"
As I was considering this challenging question, I started to notice a disturbing trend.  There were absolutely NO bottles of spice in this set that I actually use!  For reals?!?!  Where was the garlic powder, garlic salt, paprika, sage, and cayenne pepper?  Salt and pepper, anyone?
Now there was parsley, oregano, rosemary, bay leaves, and thyme: spices at which I am not proficient but which I would like to learn about.   But other than that, there were 15 other completely useless spices to me, some which I'd never even heard of and others which I certainly will never use.
Then there was the useless "Pizza Seasoning" jar.  Great.  Now I have a spice that I'll actually use (if I ever get around to making that yummy homemade pizza dough I saw on America's Test Kitchen), but what if I like it?!  In no time it will be used up, and then where will I get more of this proprietary "Pizza Seasoning?"  I will, undoubtedly, have to go buy another whole spice rack by this manufacturer to get the same blend of scrumptious flavors!  I object! And what if I hate it? I will then have to empty the jar, relabel it "Salt" and then have a ghetto spice rack that just couldn't do the job in the first place?
Rude.
Spice rack makers of the world, are you listening? Make me a spice rack with the proportional sizes and quanities of spices that I actually will use… Thank you!
So the sad news is that I thought by having a spice rack I would be able to at least parially declutter my spice cabinet, but now it looks like I will be returing to the use of the spice cabinet for my oft turned to everyday spices, and using this new shiny spice rack for little more than an advertisment of my cooking prowess.
Yes, mother.  My kitchen is no longer a "show kitchen."