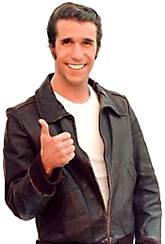 I was driving to work today and, while stopped at a stoplight, peered in my rearview mirror to see none other than THE Arthur Fonzerelli driving a car directly behind me. Yes, the actor's real name is Henry Winckler, but I'm not sure if it was actually Henry Winckler back there. All I know is I looked back and saw The Fonz!
Which brings me to today's subject, coolness.
Growing up, I was never really considered a 'cool' kid. In elementary school, I was kind of an all out geek; big Smurf glasses, relatively good grades, sucked up to all the teachers, terrible at sports, and generally awkward.
Then one day, I found out I could sing. This eventually led to me singing in a school assembly (drat those talent encouraging elementary music teachers). I'm pretty sure this made me a more famous nerd, but still not cool. My teachers thought I was quite special, but other students just looked at me as some kind of weird, red-headed, whiteeyebrowed singing freak. (I'm not sure if I actually had white eyebrows back then, because (as I've noted before) I didn't actually discover my white eyebrows until I was 15.)
Then I went to middle school. My family moved between my 6th and 7th grade year, so I was starting fresh; new school, new town, new friends. I ditched the Smurf glasses and got contact lenses, which was probably the only outward change I had. But I think the way I saw myself actually changed. I started to figure out how to be funny and make others laugh. I started being more confident in myself in spite of my quirky personality, my ability to sing along with Sarah Brightman (in her range), my slight lisp on my S's, and my affinity for useless knowledge and facts no one cared about.
Perhaps my 'coolness' peaked in the ninth grade when I successfully ran for a spot on the student council. (I attribute the success to my brilliant marketing campaign "I Want You" with the Uncle Sam on it)
So here's my Theory of Modern Coolness: confidence. It's owning who you are, no matter how awkward or different. It's learning to be comfortable in your own skin.
The biggest misconception associated with attaining coolness is that coolness = conformity; that somehow you have to do what the other cool kids are doing, wear what they are wearing, and talk like they are talking. While this is the way that people often achieve acceptance or fit in with the cool kids group, the truly cool kids stick out. They are unique and different…
..Just look at the Fonz.